Taking time for breakfast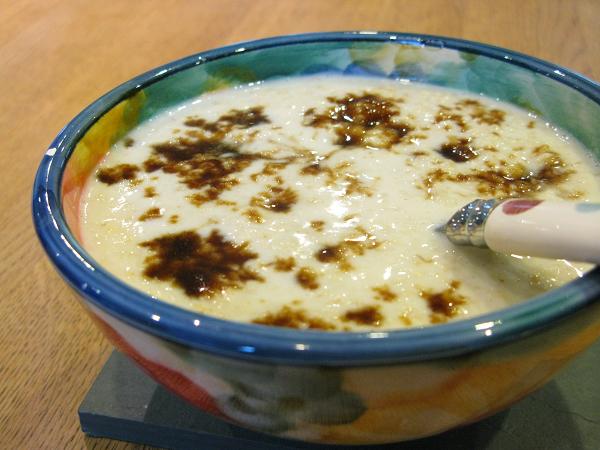 I like breakfast. It sets me up for the day. This time of year, I love a bowl of porridge. Not only does it work as a filling breakfast, but it is healthy for me. It is meant to help lower cholesterol and provide other health benefits.
There are some days when I have little time and I end up grabbing a quick bowl of cereal before rushing out the door, rather than cooking up a pan of porridge. I know it would be quick in a microwave, but you need a microwave to do that and its hard work to clean the pan after cooking porridge overnight in the Aga.
This weekend I sat down over a bowl of porridge and pondered about how I could have porridge during the week. I need more time. I could get up five minutes early, but that is easier to do when the sun is up and not hiding, as it is at this time of year. That leaves the second option. I need to streamline my morning routine.
A few weeks ago, I posted about integrating the FlyLady system into our lives. I've made a few more changes to the way I run the house and our lives, but I've not really tackled my morning schedule. Yet.
I lose time, each weekday morning, running around the house, finding everything that the children need to take to school, while the children munch away on their breakfast. A matching pair of socks, without a hole in them, I hate to admit, but it can set me back five minutes. Times three children and I'm losing time just finding their clothes. The FlyLady recommends that, the night before, you lay out your clothes for the next day.
I know, it sounds so obvious. Also, she suggests, checking your next day schedule, the night before, to see if there is anything that you can do to make your morning run smooth. I know I can hear a few tut-tuts and feel the shaking of heads, but I don't usually do any of these things. Up to now.
Last night, I laid out all of their clothes for the next morning, with their help for a change! Packed a swimming bag, sorted out lunch money and school bags before I headed to bed. Not at the 10:30 as she recommends. Still working on that one!
This morning, I had time for porridge, before rushing the well-prepared children out of the door to school. A little bit more planning means I have time to take care of me. It is so simple. So obvious. Oh, so much less stress for me. I want to do this every single day!
I'm joining in with Maureen's Taking care of Mama series again.  Hop over and find inspiration about taking care of you.
Anyone else taking time to take care of themselves, today?