We looked out this morning and it had snowed overnight. I was getting used to looking at all the green grass and mud. Now our surroundings are back to dazzling white.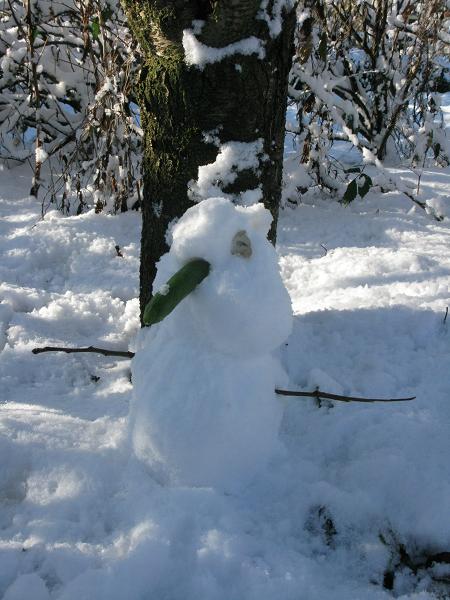 The children ran out in their new waterproofs and made a snow being. We had no carrots ( I know, unbelievable) but I did have some mini cucumbers. It gives it a slightly different look. They made snow angels. They wrote messages in the snow to Mrs Thaw ("Please go away, Mrs Thour"). Then they came in for hot chocolate and marshmallows.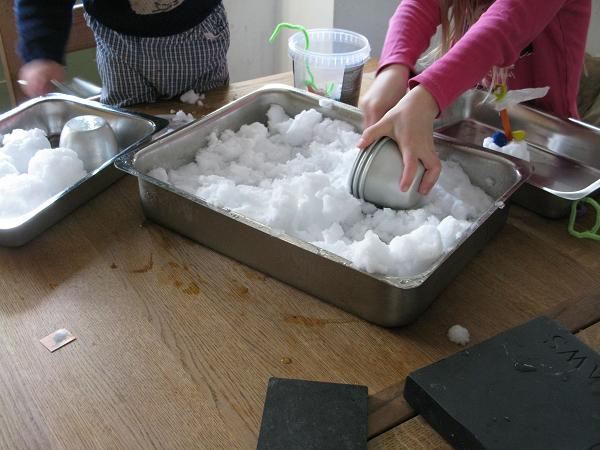 Not to be defeated, the snow followed them in. I used my biggest metal tray and filled it several times with snow. I was inspired by a couple of blogs. Turned into about an hour and half entertainment.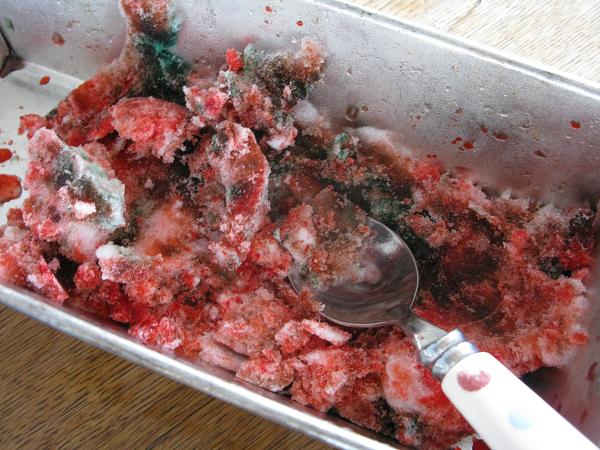 They coloured it with food colouring. I was impressed that they devised their own experiments and based them on theories. Rate of melting was popular.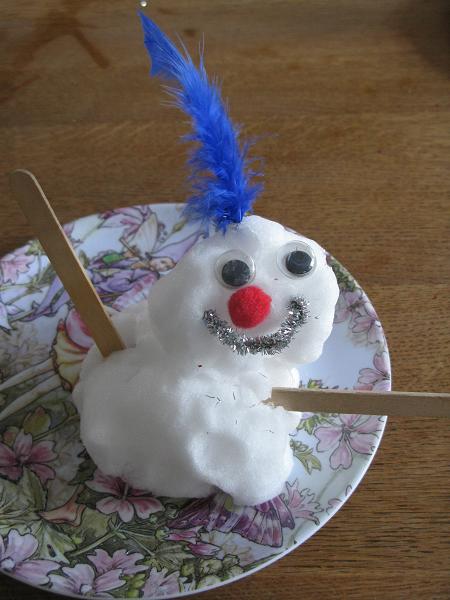 In honour of the Charlie and Lola: Snow is my favourite and my best story, they made mini snowmen.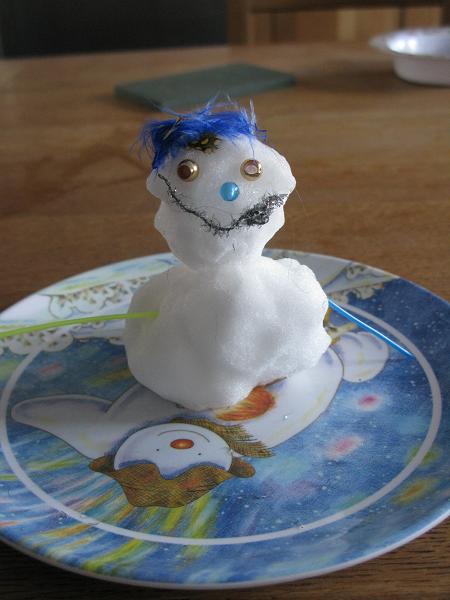 Isn't that an appropriate plate? They used beads and pipecleaners for features and then put them in the fridge to compare melt rates with snow in the kitchen and outside. I opened the fridge later to find the eyes of this snowman had dropped and looked like fancy shoes.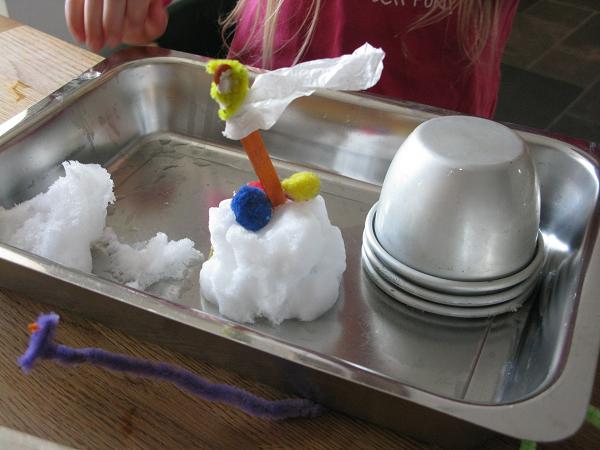 They made snow castles, using baking moulds. Maple syrup snow was a big hit and all bowls were polished off.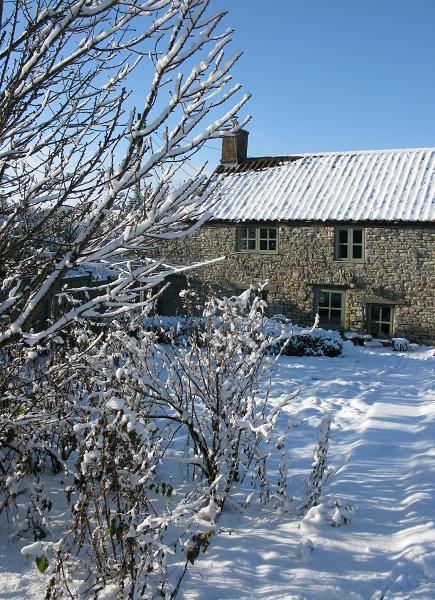 The snow made everything look pretty. Gwinny dog scootered round like a puppy. (Thank you for all your kind comments. She is on the mend, and I hope we don't have to put the lampshade collar on her. On this size of dog it is massive.)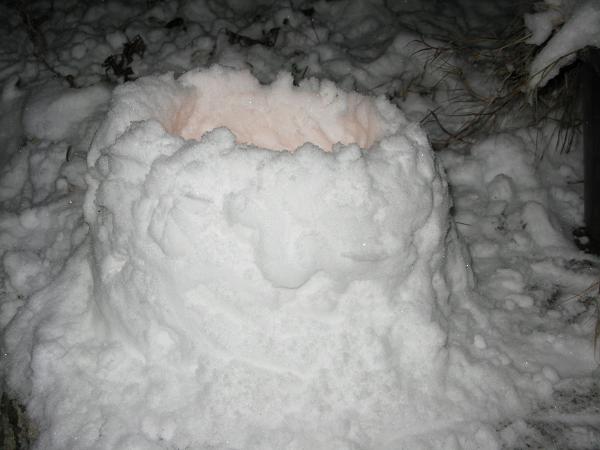 I did some snow crafting as well. A snow lantern. I've wanted to do this since I saw it on this blog last year. Our snow today is very powdery and takes a lot of encouragement to stick. I left it later in the day, once the temperature had dropped. It looks more like an erupting snow volcano than a lantern, but I can live with that!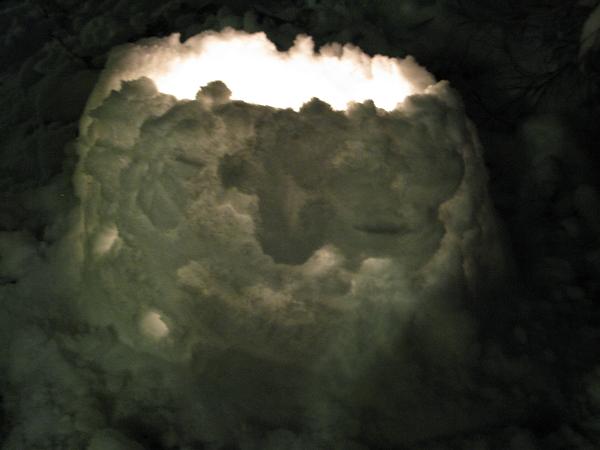 Once the candle was inside, it turned the outside snow black. I positioned it so that we could just about see it at supper.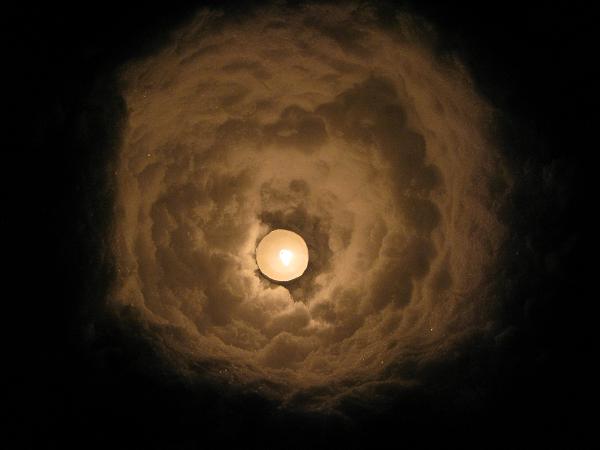 This is looking down on the candle, but it reminded me of the moon breaking through snowy clouds. It reflected the sky above. Almost as if the snow had gone full circle!
Hope you are all having fun packed Saturdays.