Peace on Earth… and a few extra bits.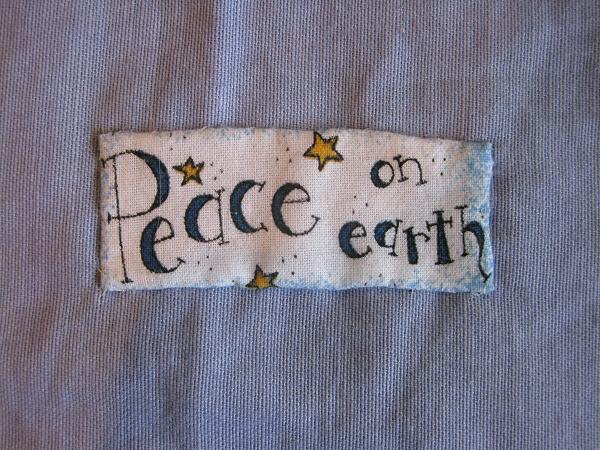 School is out. Yeh! Its been busy and I have loved it. We've had costume making, one pantomime, one nativity play and two carol concerts. We've had successes. One spoke clearly in church so I could hear her, one joined in with all the singing and actions and one danced gracefully and then played the harp (it's the welsh blood). I'm one proud Mummy!
We also had challenging moments. A dog took a bite out of Gwinny dog. The V.E.T. shaved an A5 size rectangle on her side and stitched her up. She is feeling sorry for herself, but is doing fine. She came home drowsy and wobbly. Not much fun when you have long legs. She swayed in an alarming manner.
Now one of the many advantages of school being over is that I can start to post more of my finished handmade presents.  At the beginning of the school year, I signed a permission slip for AJ to use the internet at school. There was no check box to opt out of her viewing my blog. An oversight, I am sure.  From today, I have more control of her computer time so I am safe to post a photo of one of her presents.
I made AJ a wolf cover for her millet heat bag. It works in the same way as the BL's polar bear cover. AJ loves wolves. When I was designing this one, I found it difficult to draw something that didn't look like a domestic dog. Then I hit on the idea of a howling wolf and it seemed to work. I scoured the charity shops for a grey jumper to felt. I found one, but then I decided it looked better on me. In the end I knitted up a square of grey aran weight wool (95p from a charity shop 20 years ago) and felted it. Sometimes it all comes together so perfectly.
Top photo is part of my mother's present, but as I don't control her internet access, I can only show a little glimpse of it.
Talking of glimpses… I know Val was interested in the dinosaur templates. I keep meaning to make a perfect pdf with precise instructions and fancy arrows, but that may have to wait to next year. Too late for Christmas presents. So in the meantime, here is a photo of the doplidocus template. I hope I've not taken too long to post it. Please let me know if you use it. I'd love to see the results and link to any posts.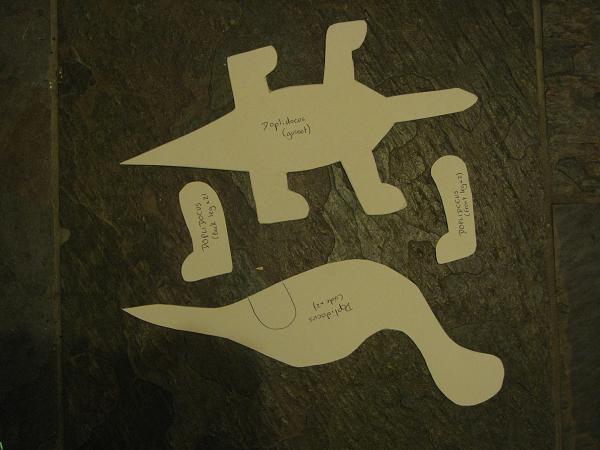 Edited: Have a look at Kate's dinosaur. She made a smaller version. So cute.
So wishing you all a peaceful and tranquil run up to Christmas.