The Polar Bear and a Toadstool
I've made a start on my homemade Christmas presents for the children. I have so many ideas rushing around my head at the moment, that it feels a true accomplishment to finish one of my projects. I am particularily pleased with the way my polar bear turned out.  It brings two ideas together. No, make that three.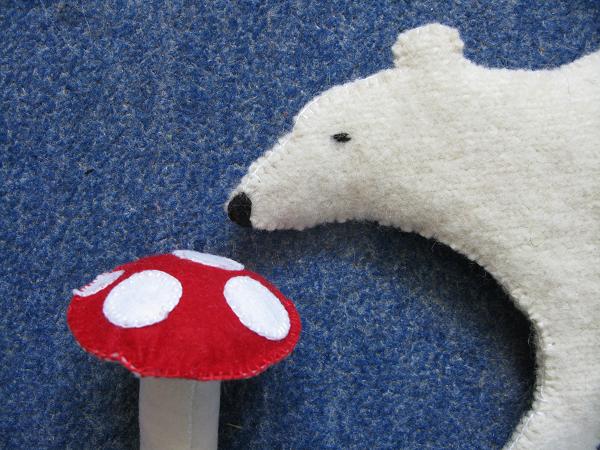 Firstly, BL loves polar bears. Every night she goes to sleep cuddling her polar bear toy. It is a very loved bear. She doesn't have a huge collection of polar bears, but she treasures the ones she has. For Christmas, I want to add to her polar bears, but not a stuffed toy.
Secondly, earlier in the year, I felted my legacy knitting collection. Among the items was one, lonely, white sleeve of a jumper knitted by my Grandma. It was knitted with 100% Falkland Island wool. I remember collecting the wool from the Falkland Island shop in Wells, for her. It felted up really well, with a slight fluffiness.
Thirdly, the children loved the millet bags I made last year, but I wanted covers for them. The bags are heated in the oven and are very hot when they come out. I wrapped the bags in jumpers, so that the children wouldn't find them too hot. During the colder months,we got into a routine of putting a millet bag in their beds. Warm and welcoming at the end of the day.
I started by drawing out a polar bear and using it as a template. I'm really pleased that I used my own design. Next challenge was to fit my template onto the felted sleeve. So much easier when using new fabric. I had to compromise by cutting the under-side of the bear on the wrong side. I would have positioned the sleeve's cuff as part of the opening, but it just would not work. I used embroidery silk to blanket stitch the three bits together. Added nose, eye and claws and Bob's her uncle.  Actually he is her uncle, but that is beside the point.
So the idea is that the millet bag is warmed in the oven and then put in the polar bear cover through the gap at the back. As the opening overlaps, BL should not accidently touch the millet bag.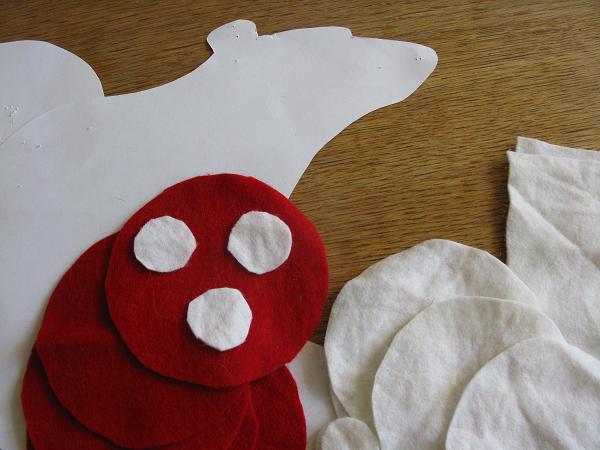 I'm making the toadstools for yet another project. They are pincushions, weighted with millet again. Lots of blanket stitch which is perfect to pick up in an odd few minutes. I'm not sure whether polar bears and  toadstools are found in the same location in nature, but I think they look good together. Also, wouldn't it make a good title for a story? The polar bear and the toadstool. Bet its already been written.
Oh and I have to share this photo.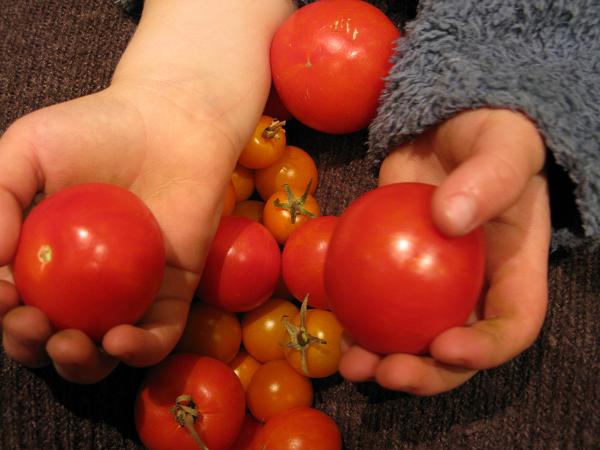 Tomatoes from our unheated greenhouse in November. Yeh! First year I've managed to do it.