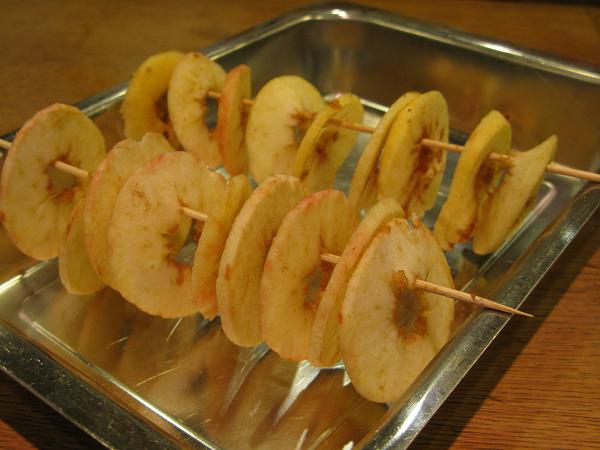 I truly appreciate my kitchen garden and little orchard. In a week that I have found frustrating and mind boogling on a parenting issue, the simple act of collecting apples and preparing them for later consumption, has felt so good. It is grounding and just what I need.
I have pureed apples along with making crumbles and pies to top up the freezer. I also rediscovered how easy it is to make dried apple rings in the bottom oven of my Aga. I used the eaters from our Scrumptious tree. After peeling, coring and thinly slicing, I sprinkled them with a light covering of cinnamon. Then I arranged them on a silicone baking sheet or hung them from wooden skewers.
The oven gives a low, constant heat that dries them to perfection. I use the same part of the oven to dry my meringues. The apples take about 2 to 3 hours to reach the crisp stage.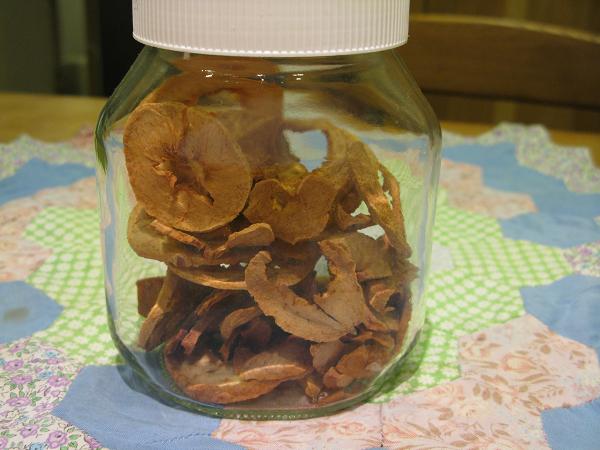 I'm sure a squeeze of lemon or dehydrator would leave the apple rings a paler colour, but there were no complaints in our household. The first jar disappeared very quickly. They loved their fruity crisps. I loved that I added no fat or sugar. Just a sprinkle of cinnamon. In the past I have found that they have a shelf life of a few months, but I will be lucky to keep any rings that long, now that the children are able to help themselves.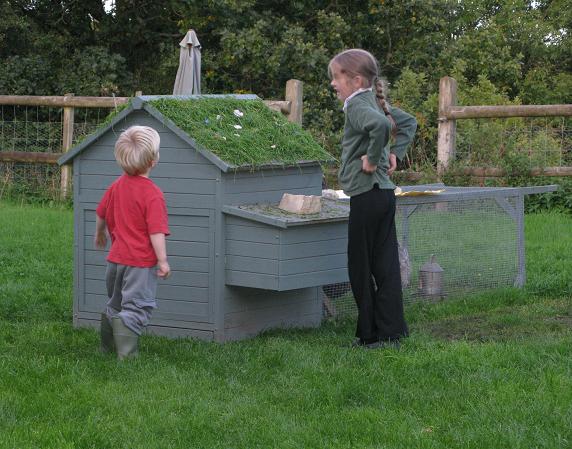 Apart from my orchard, the children keep me grounded. Their antics, and problem solving in this case, keep me focused. Inspired by our holiday in a thatch cottage, they decided to thatch one of the hen houses. No straw to hand, so they collected grass and rose petals. May other influences be kept at bay, so that their childhood can last …. oh just a bit longer. So many influences that want to turn them into little adults before their time. I know that there is a fine balance between wrapping them in cotton wool and giving into professional advice (read unwanted and misguided advice).
My frustration this week has been finding that balance. If this wasn't my happy place, I would be ranting and raving, naming names, but this is my happy place so I'll just say that I found the balance. The trick will be keeping that balance level. Any one got a parenting spirit level? No? Ok, I'll just make a few more batches of apple rings then.