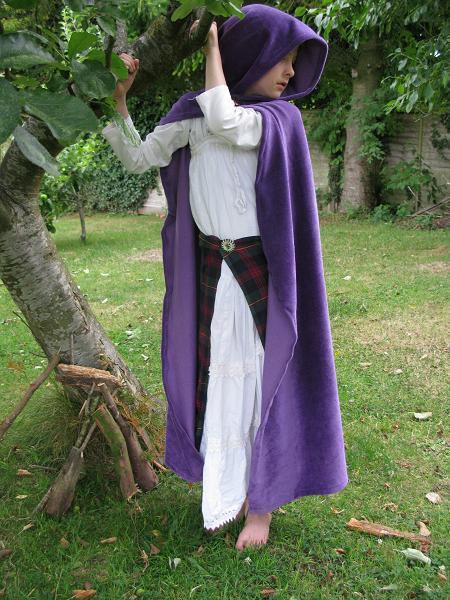 I finished AJ's cloak on Sunday evening. I cobbled together something for her to wear underneath. I used an old skirt of mine and a bit of tartan cloth that has been in my stash too long. Nice to use it.  I did this after the children had gone to bed, so it was guess work. The next evening I made some changes and turned the skirt into a summer dress, as it would not stay up. She is a slip of a thing. I used an old costume jewellery brooch as a cloak fastening and a scarf thingy (word has gone…) to keep the tartan overskirt in place. Voila. All done. Happy child.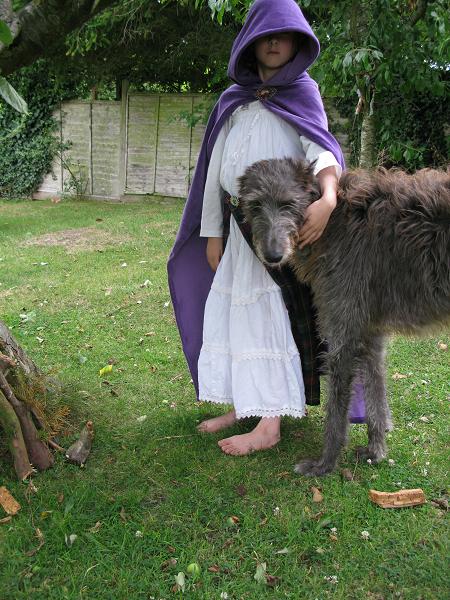 She is  part of the chorus for the "Scottish Play" that should not be named. Seems appropriate that she has a Scottish dog with her (Gwin is not appearing on the night). I am particularly pleased with the cloak. Its made out of purple cotton velour, which again has been in my stash for a while. I just took the scissors to it, used AJ as a tailor's dummy and pinned. After that it was an easy job to machine round it. Wish all my projects went so smoothly.
It wasn't until tonight, as I put her to bed, that I realised that I had used the same fabric to make a cloak for one of her dolls. It was three years ago, but I had totally forgotten.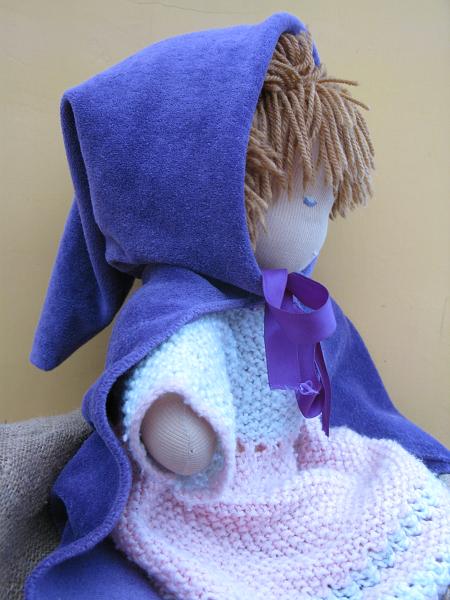 Can you see the similarity? I think the yellow wall has confused my camera and made the purple look more blue, so you are going to have to take my word that this is the same fabric. I love cloaks with pointed hoods. I'm going to have to make myself a hooded cloak one day.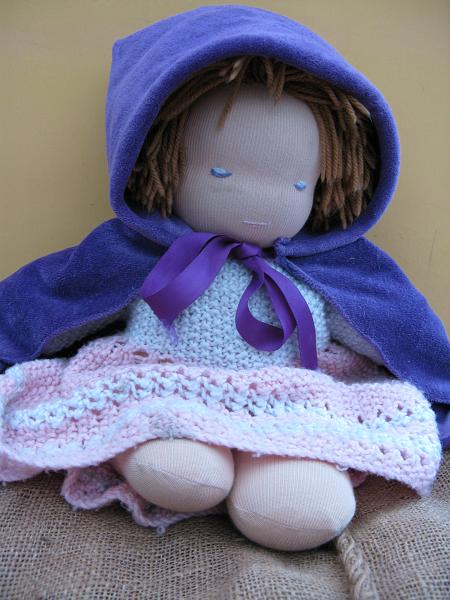 Meet Violet. I did not make the doll. She was made by a true friend for AJ's second birthday. I was five months pregnant with BL at the time. It was such a lovely, thoughtful gift. AJ still treasures her doll and she used to carry Violet around in a dolly sling. Her sling matched the one I carried BL in as a baby. This was also the first Waldorf inspired doll I had seen. I was intrigued, bought a book and have made several dolls since. Some gifts just keep on giving!