I'm not sure if it's the nights starting to inch in or the calmness I feel, as I gradually grow accustomed to  this not-normal being the actual normal, but my fingers are ready to be in constant motion, at the moment. I'm crafting again. Knotting yarn into place. Stitching fabric together. I find myself crocheting another round of a granny square, for my latest blanket, while minding the jam pot. Squeezing in craft time wherever and whenever I can. I feel comfortable creating again and full of ideas.
My craft mojo is fully functional and ready for duty.
I'm still working on my blue jumper. I've finished the front and back. The first sleeve is almost past the cuff ribbing stage. I'm sewing a tea dress, which I'm hoping I can couple it with, for the cooler days of autumn.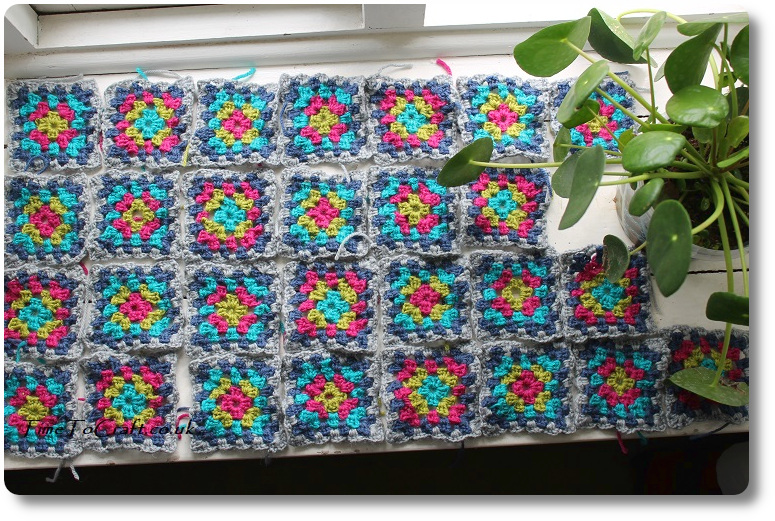 My crochet blanket is growing at a pace. Partly as it's easy to pick up and put down. Also we're watching The Umbrella Academy as a family, in the evenings, and I find I can dash through a couple of squares with no interruptions.
Something about the colours remind me of back to school. I think it's the grey and the blue, with a hint of pink, which reminds me of my old uniform. (Although, our school jumpers were deep red rather than pink, but you get the idea, I hope.) The brighter colours are summer, through and through. So the combination of the two, conjurors up memories of heading back to the classroom after the long, summer break, still hanging on to all those carefree days.
I wonder if I'll finish it in time for September, when schools go back.
Finally, my current book. I love a book that if I sit down, I pick up and am lost in it in no time at all. Even when I'd no intention to be reading, in the first place.  The Humans (affiliated link) is fun and light compared to my previous book choices. A bit of a relief, to be honest. Definite escapism, and shifts perspective in a thought provoking way.
"After an 'incident' one wet Friday night where he is found walking naked through the streets of Cambridge, Professor Andrew Martin is not feeling quite himself. Food sickens him. Clothes confound him. Even his loving wife and teenage son are repulsive to him. He feels lost amongst an alien species and hates everyone on the planet. Everyone, that is, except Newton, and he's a dog."
(From the blurb on the back of the book.)
It's the second of Matt Haig's book I've read and, so far, I'm enjoying it.
Right that's my lot, for the moment. Linking up to Ginny's Yarn Along. What's everyone else reading and knitting? Are you feeling more creative in the second half of 2020?