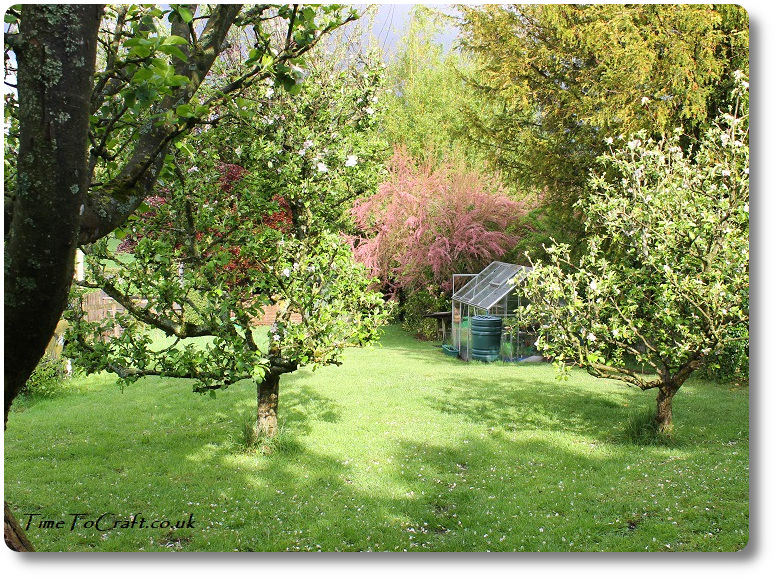 This week. Been all kinds of mixed.
At school, they used to have a poster of a polar bear, slumped on an icy surface. The words printed underneath declared "My get up and go just got up and left". Or was it got up and went? Either way, I've been one with the polar bear, this week.
It does sum up the end of my week.
Not that the weather has helped. Most of this week has been heavy rain or showers. My garden has loved it. Not so much the rest of us. I'm feeling a tad more motivated today, as the blue sky is making an appearance.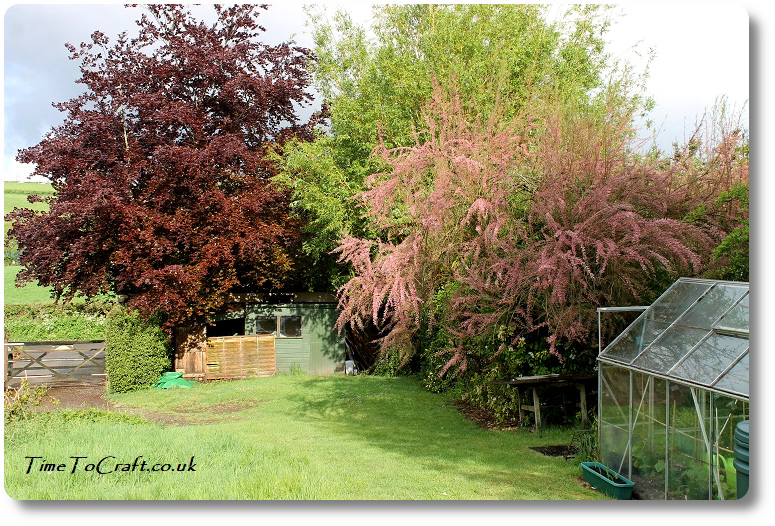 (through the orchard and down to the bottom of the garden)
The week started well. At the weekend, we dug another bed, ready for the next lot of beans. Lilac, the hen, has cottoned on to the concept that a human digging is food time. She sees no reason why she shouldn't be right under my feet as I dig. Darting in and out to grab worms and anything else that wriggles, as I uncover more ground.
I see her point. Why dig when you've got a human to do it for you? All the calories and none of the work. I am her best buddy, apparently.
I'm sure you can imagine that wielding a spade with a hen bobbing in and out of the way, takes the utmost concentration and slows me down. I want to avoid disaster and she is one determined, old bird. The children laugh as she chases me around the garden in her undying hope of a free lunch. And I mean undying in all the senses.
The children and I planted some of the sweetcorn too. I have more to go in, but they could do with a week longer in the greenhouse. I'm planting two types this year. About 45 of each. I love sweetcorn, but I also love having a small field of sweetcorn in the garden. Specially when there is a gentle breeze and the leaves rustle.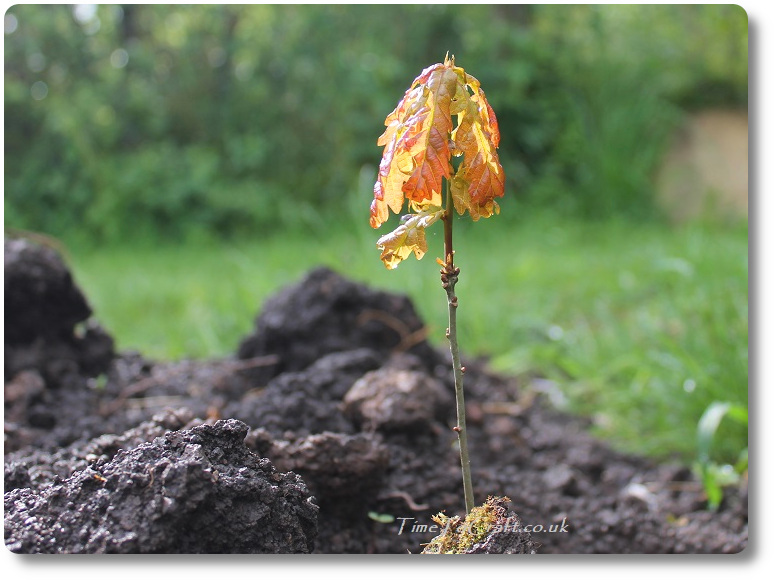 (Ollie the oak seedling. Found itself a place at the end of one of my potato rows. I find naming plants helps to protect them. "Don't dig up Ollie", I cry, hoping that none of the neighbours hear me and become concerned. Seems to work. We'll transplant him when he is a bit bigger in the autumn)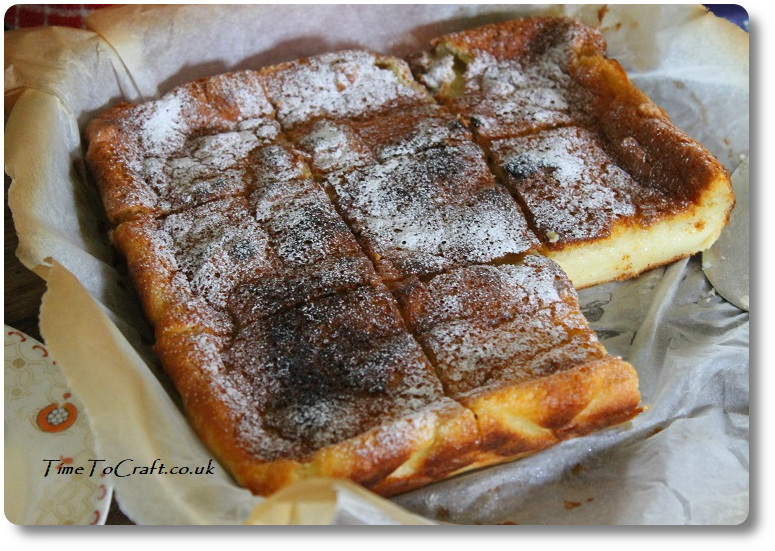 In the kitchen, I've been baking. I make cake most days. I'm trying not to get stuck in a rut, by baking the same cake too often. I think the family would be happy if I baked a chocolate cake each day, but I'd get bored. I need variety.
This week, I baked scones, flapjack, tray bakes and a magic custard cake. The last one is the sort of cake I love to pick up at a deli. Sponge and set custard. Yum. Anyway, it was a bit more challenging than just creaming butter and sugar.
Four out of five of us liked it, which is a win as far as I'm concerned. I mean, 80% is good. Must count as an A grade. I might try a smaller tray next time, to make the pieces deeper. The recipe is from here.
I should add that it seems like magic, as it goes in as a runny mixture and then, through the wonders of the oven, separates into three layers: sponge, soft set custard and a custardy crust. Magic!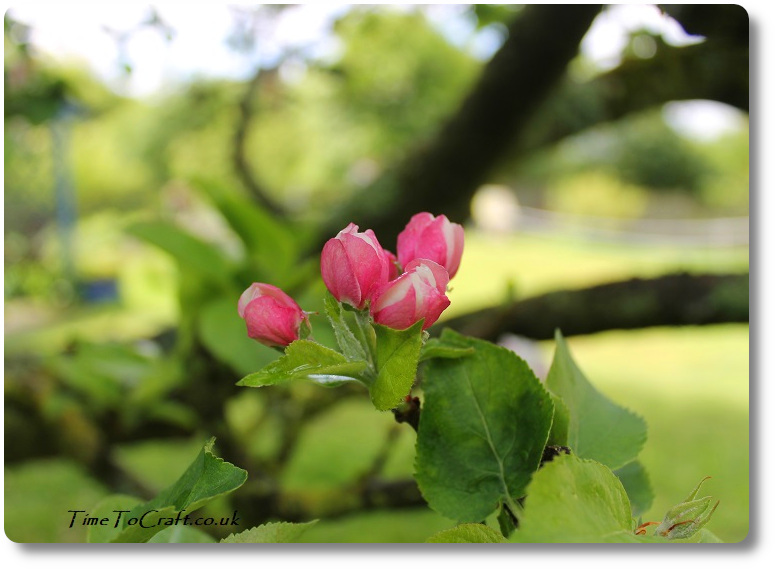 (apple blossom buds)
It has been full on at work, this week. I had deadlines that needed to be met, as deadlines do. Usually this would be plain sailing. I'd sit down and work through the day, grabbing a sandwich for lunch.
With the children home, I need to stop and start more often. Checking they are doing what they are meant to be doing and feeding them. Their motivation took a dive this week too. By Friday, I was ready to stop. I am 100% ready for the weekend.
We finished watching The Marvelous Mrs. Maisel too, which was brilliant. We're now on the look out for the next thing to watch.
(Scarlet tiger moth caterpillar on the agapanthus)
And the weekend? Well, more digging and planting, of course. If the wind drops, I'm hoping we'll play badminton. Otherwise a walk to the bluebells will be on the cards. I also have a new dress to cut out, which will be my first bit of crafting since the lockdown started. Seriously, I've not touched needle or fibre since it started. Fingers crossed, it will kick start my creative mood again. I need it.
How's your weekend looking? I've seen so few people this week and feel totally out of the loop, is anyone still out there?