10 – Happy 10th Blogiversary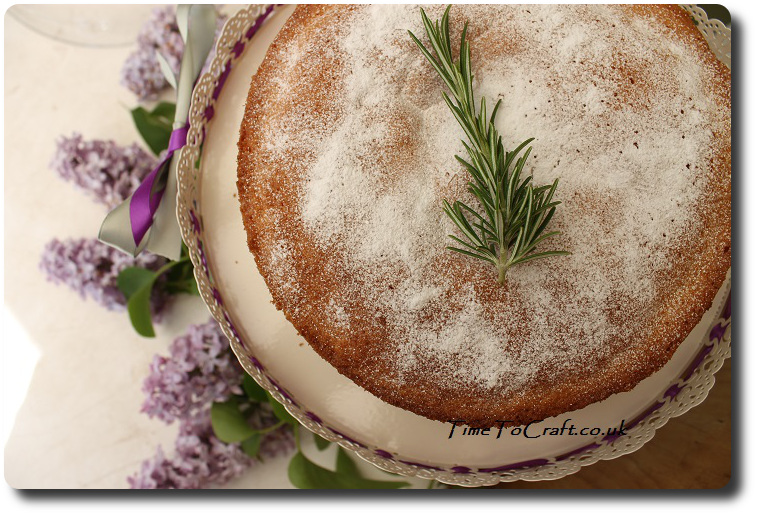 I've been blogging 10 years today. When I started, my children were 2, 5 and 7 years old. Now they are teens. In between our arts and crafts blog posts, there are glimpses of their childhoods. Inevitably, they have changed a lot over the ten years, as has my blog.
Ten years seems a long time. I started out needing to know about the technology for work. Not most people's route into blogging admittedly, but that was my starting point. Then I just carried on. Enjoying writing and photographing the pieces that we created and the places we went.
I loved how I could make contact with others, who I'd never run into in the normal way. Sharing ideas and inspirations. I've seen bloggers start and then disappear. I still wonder what happened next for them. I hope it was good.
Anyway. Ten years. How to celebrate? Thought I'd share ten makes from the last ten years. Believe me, it has not been easy choosing. So, in no particular order, here they are: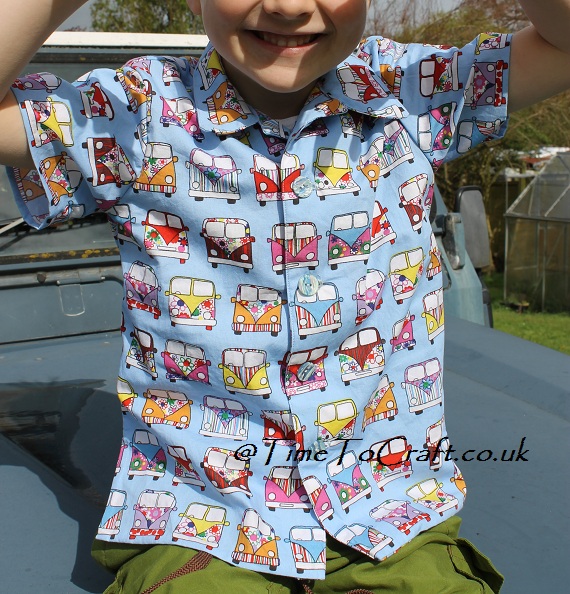 VW Camper van shirt
I made a shirt for Youngest, back in 2013, using the gorgeous VW camper van fabric. I had great fun matching the cars on the front button band. Even managed to position one of the buttons as a "nose" on one of the vans. Youngest was definitely disgruntled when he grew out of this shirt.
I ended up making one for his father too, out of the same fabric. Ironically, the bigger shirt is now too big for my husband, due to his fitness routine from the last couple of years. I wasn't expecting that!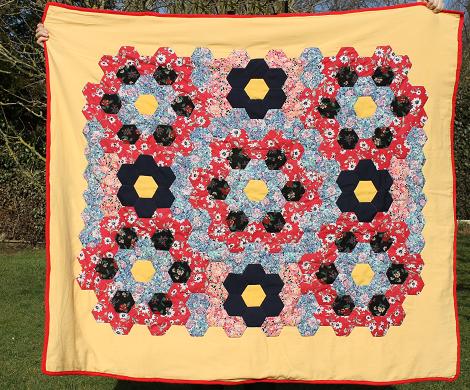 Handstitched patchwork quilt
This is still my favourite quilt. My first one completed. It is made using the English Paper Piecing technique. Each fabric hexagon is sewn to a paper hexagon, and then sewn to the next one. The paper is removed afterwards.
I love all these fabrics. They are mostly from my life before children. There are offcuts from my wedding dress, favourite work skirts when I was teaching, my very first dressmaking project and a dress I made to go to a best friend's wedding. The border and backing was from a toddler duvet cover, I made, and still has the three bears stitched on the inside.
All sewn by hand. Thousands of teeny, tiny hand stitches, plus a bucket load of memories. It now lives on my bed.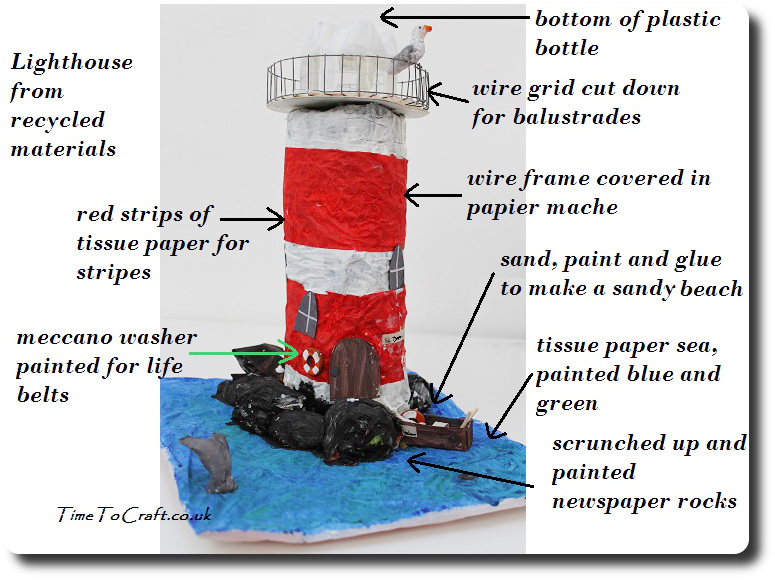 This is not my make. I helped a bit. Youngest, with the help of his older sister, made it. It's made from recycled material, which were more or less rescued before they hit the bin. These is my favourite type of crafting.
It was homework for school. To make a lighthouse.  Eventually it came home and lived in pride of place for a few years until it faded and lost its shine. Boy, did I find it difficult to throw away!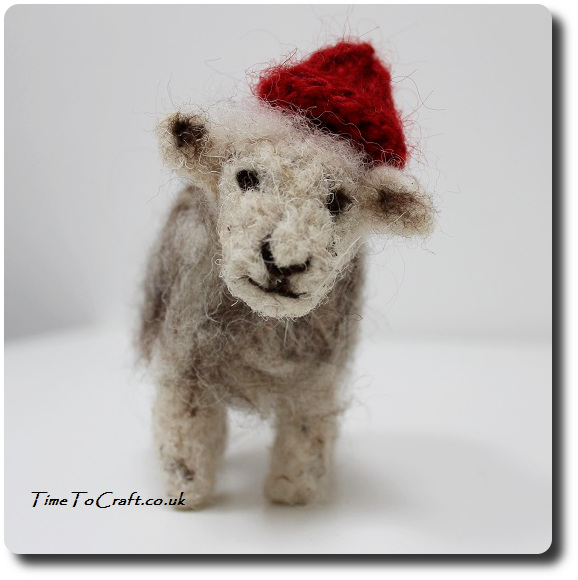 Needle felted Herdwick sheep
One holiday, in the Lake District, I gleaned a small handful of Herdwick fleece, rubbed off on a post by its owner. Just perfect to needle felt a mini version of the original. A mini herdwick with its characteristic teddy bear face. Needle felting is my go-to craft when I'm cross about something. By the time I've jabbed the needles into a handful of wool for a relatively short time, I will have calmed down. It works every time. Bonus is that I'll have a new creation to show, as well.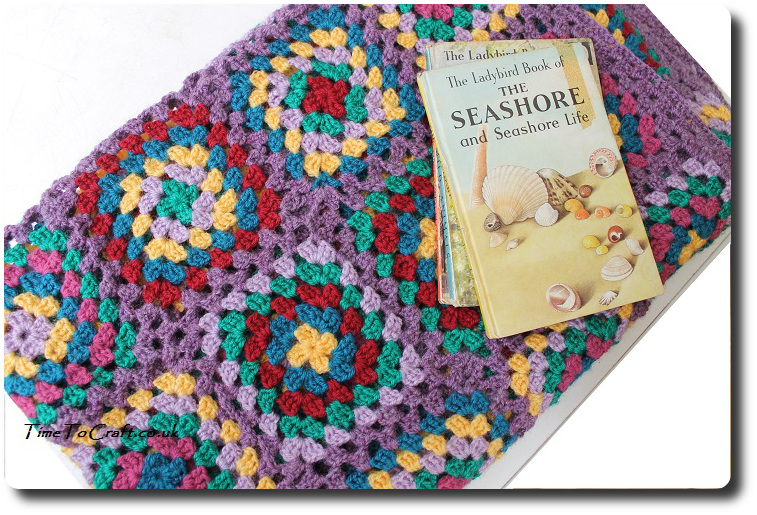 crochet blanket
This was my first crochet project. I am a knitter. I found crocheting difficult. I tried on and off for decades, to learn how to do it. Unwilling to let it beat me, I bought balls of yarn and a new crochet hook to make a blanket, and I did. I made a blanket. I'm still a knitter, but I can crochet now. I call it a win.
Still in daily use too.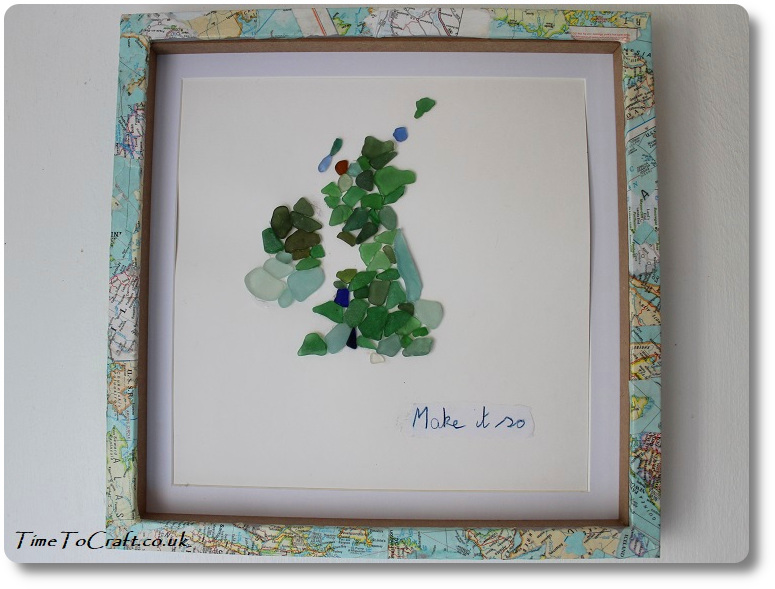 recycled map and sea glass picture
This picture hangs on our downstairs loo wall. I smile every time I look at it. The sea glass was picked up on various beach walks and the map had grown tatty on our wall. The frame had been in my craft room for a while, waiting for a project. It still entertains me that I've put countries together in a creative way. I wonder what world politics would be like if the new neighbours were real?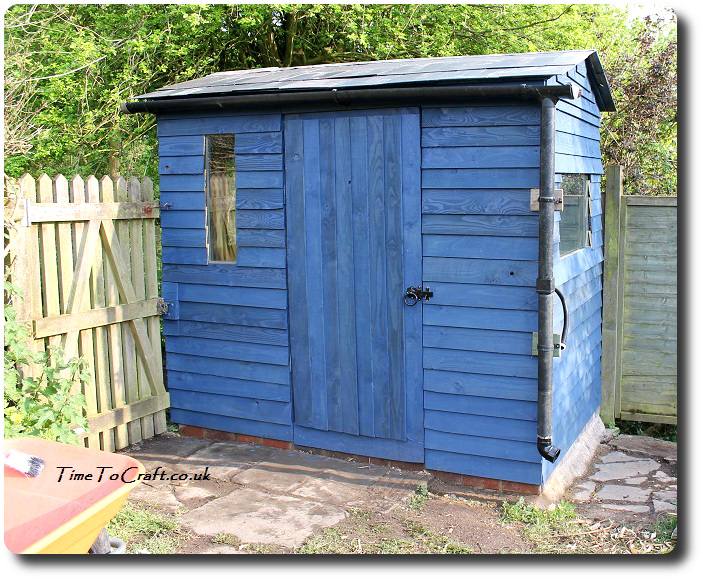 Homemade Potting Shed
Oh my shed! My husband made the shed from scratch. Mostly made from recycled materials. Even the double glazed windows were the result of a skip dive (with the owner's permission). I really appreciate potting up my seedlings, in the Spring, looking out the window at the back. Perfect.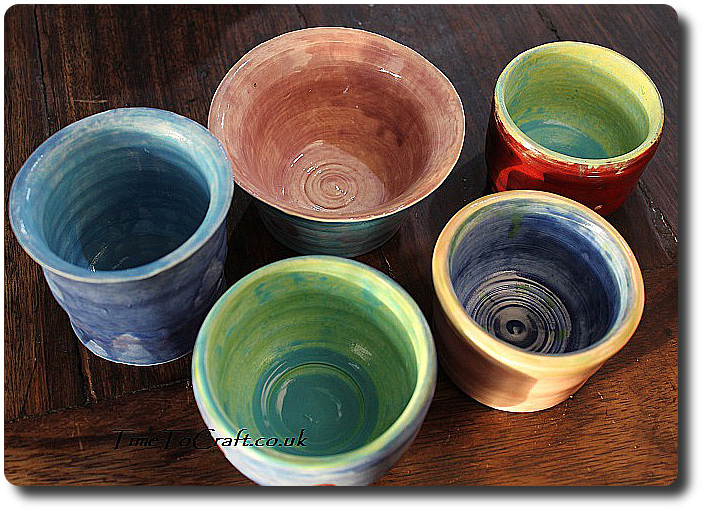 Thrown pots
For my birthday, a few years back, my husband bid on a pottery lesson at a school fundraiser. He won and I made five pots. It was a lovely couple of mornings in a very talented potter's workshop, receiving one to one tuition. I learnt to throw the clay and use a potter's wheel. I am so proud of my pots. They are all in use now. One is a pincushion that I use everyday. Another I use for special hot chocolates, when I need a pick me up. A "I made this, so I must be OK moment"
Home spun, home knitted hats
In the last ten years, I've leant to spin on a spinning wheel too. I'm not perfect. I don't do it often enough, but it is the most meditate craft activity I do.
The first decent yarn I spun, was knitted up into three hats for my three little children. They still have the hats. Not ones they'd choose to wear in the normal run of the day, but often the first to be fished out when we're off on a cold walk. These hats are warm.
handmade jewellery
Tempted to finish up with one of my latest knits, but instead I'll choose the sea glass necklace I made. The one on the left I wear practically every week. It is heavy enough to make its presence known to me. The glass was found on one of our beach walks and I used silver wire to wrap it. Always brings back happy holiday memories and my love of story telling.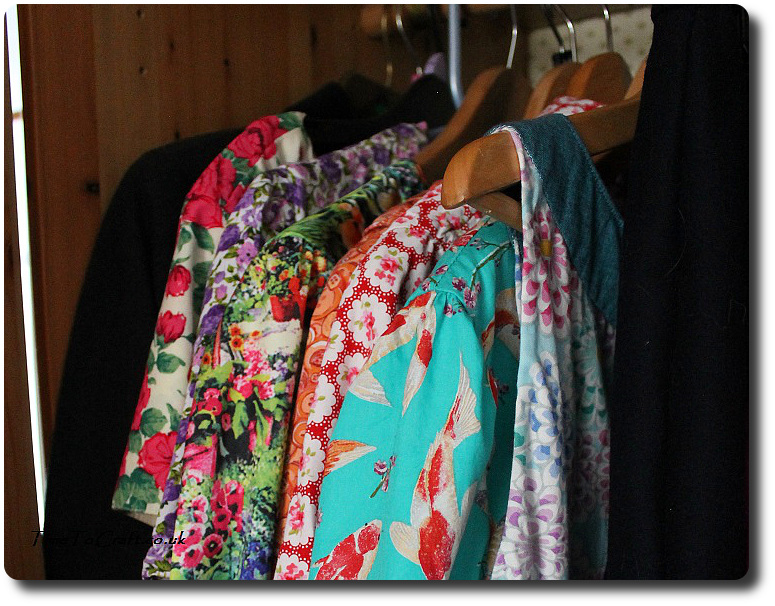 With that I wrap up my ten crafts. They are not necessarily the blog posts that got my most views, over the years, but they are favourites that I love. There are so many craft projects that I wish I could have included. Like the dress designed by Middle Teen, where we worked on together. Or one of the beautiful dresses I've made that now hang in my wardrobe. Or the dinosaurs I made from shrunken jumpers. Or the dolls house dolls. Oh, the list goes on.
I've loved sharing the creativity that goes on in our house. Ideas started by the children sometimes. Other times inspired by others, but mostly ideas that flit into my head without warning. I wonder what the next ten years will bring….
---
A big thank you to everyone who has read my crafting blogs over the decade. Thank you for all the encouragement you have given. You have no idea how much I appreciate it. Your lovely comments mean so much. I hope I've inspired others to give it a go.
A massive thank you to all my readers.