When I look back to my childhood, among my happiest and strongest memories are time on the beach. Most importantly, in the sea. Long after everyone else had got out and headed home, hungry for their fish and chip dinners, I'd still be there. Every time. Playing. Jumping waves. The sun heading into the horizon. My increasingly despairing parents, holding towels by the water's edge, pleading for me to come out and dry. Yes, I was that child.
I was lucky, my grandparents lived by the sea. When we stayed with them, I could enjoy the sea morning, noon and night. Walking the dogs first thing on the beach is something I still love doing. I love the emptiness and room to think. Sometimes dodging the tractor dragging the sand back into place. Before the beach towels and bucket-n-spade invasion.
I like the alone time.
We moved house a lot. I can only remember one house, where we lived close to the sea. I was a teen by then. I still loved it. I could swim for hours, given half a chance. We had a pool, too. I learnt to dive there. Later I discovered the fun of surfing  and windsurfing. First time I'd encountered wet suits, which stretched my swimming year out by a few more precious months. Then when boards made room for children, in the car, I fell back to hunting fossils and sea glass. Paddling or body surfing. Never one to sit and sunbathe.
The sea is my happy place. In particular, where the sea meets land.
I really want the children to have fond memories of the sea, with us.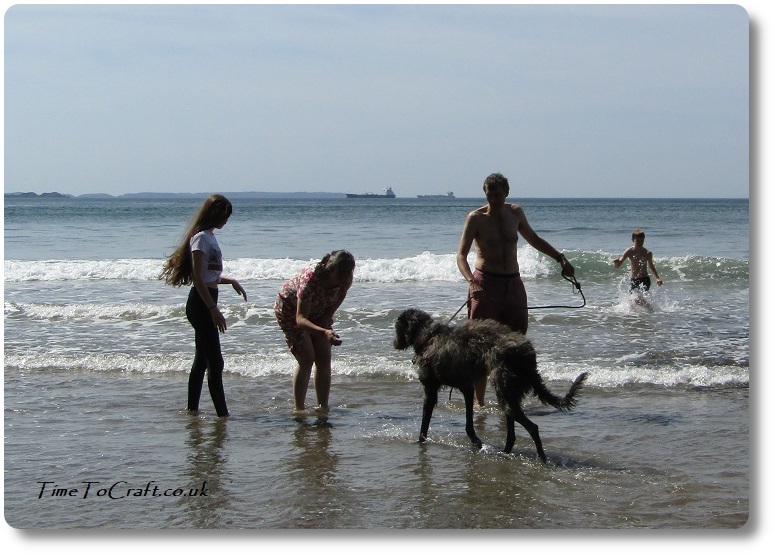 This holiday, we found a couple of beaches which were perfect. Coves all to ourselves. I could feel my body slipping back into the familiar. Being by the sea again. I forgot my swimming costume. It didn't matter. I could paddle and walk through the waves. I'd soon dry. Hero followed us into the water. Unphased, for the most, by the waves. Less forgiving of being submerging every now and again.
The children loved it.
I'm working on them to try surf lessons. Next time, I'm sure they'll let me book them in.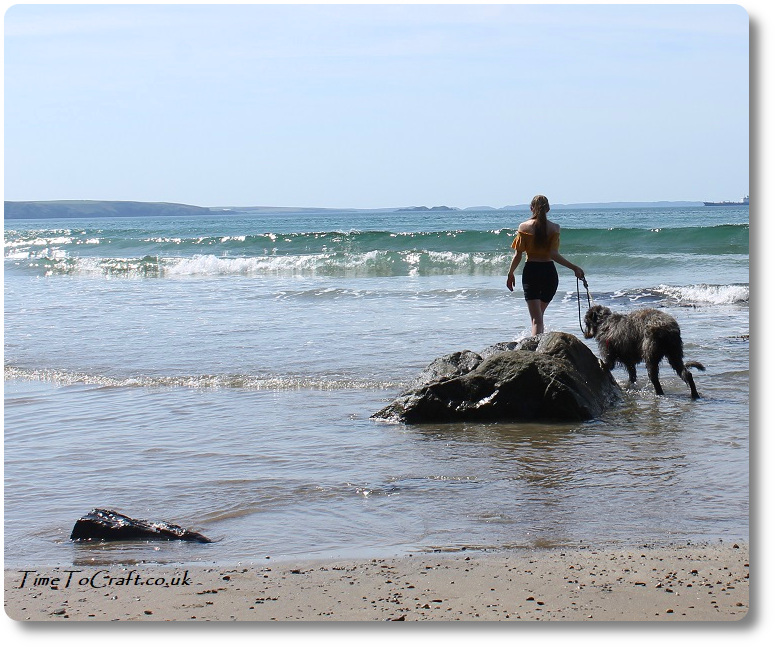 In the meantime, they enjoyed the welsh coastline.
Oh, and I got a taste of my own medicine. I have my very own "that child" now. I'm sure my parents would chuckle. Calling in Youngest when it was time to go. A deaf ear. Slipping back to the water, just as his towel was wet and he was dry. One last splash, or sea-surrounded rock to climb.
I don't mind. I understand. There is mer-people blood in our veins. This time was inevitable.