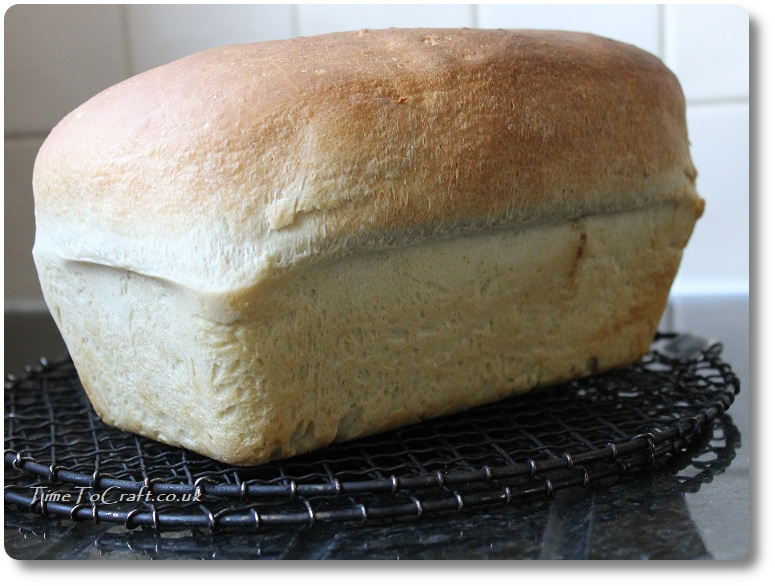 Happy St David's day! I'm making welsh cakes later, to celebrate the day and my welsh roots. I'll add fruit in one batch of cakes and chocolate chips in the other. It appeases one member of the family who wrinkles her face at the sight of dried fruit. Also, for the weekend, bara brith, which translates to spotty bread although welsh tea bread always seems a closer description, but each to their own. So long as it tastes good, I'm up for it.
I've finally opened my 16kg sack of bread flour this week. It's been looking suitably rustic and country inspired, squeezed between my wicker baskets and hand cranked sewing machine, in the kitchen. I'll be honest, I've been putting it off. I knew once I sliced into the sack, then I'm committed to baking bread on a nearly daily basis. 16kg is  a whole lot of flour.
This week, I've baked two loaves so far and they have come out as near to perfect as I can hope. The children have been digging in. They prefer it with butter. Every crumb is devoured. Even those pesty last corners of the crusts, that are usually left on the side of the plate as an unsaid offering to the bread Gods. All gone. Best part, they assure me.
I'm loving it too. I find our usual shop bought bread tastes bitter compared to my home baked offering. Even the packets of bread mixes have a taste, as if they contain something extra. I can vary the amount of salt I use too. Plus the fragrance of home baked bread is beyond words. Throw in the smell of a freshly brewed cup of coffee and, as sure as dragon eggs are eggs, I know I'm home.
On the sewing front, my Aldi fat quarter quilt is coming on a pace. I've managed to produce one square a day, although I missed yesterday. Still struggling with it being so pastel, but it does mean I'm concentrating on a plan to jazz it up. It's not me yet. So seven blocks down. Just nine more to go.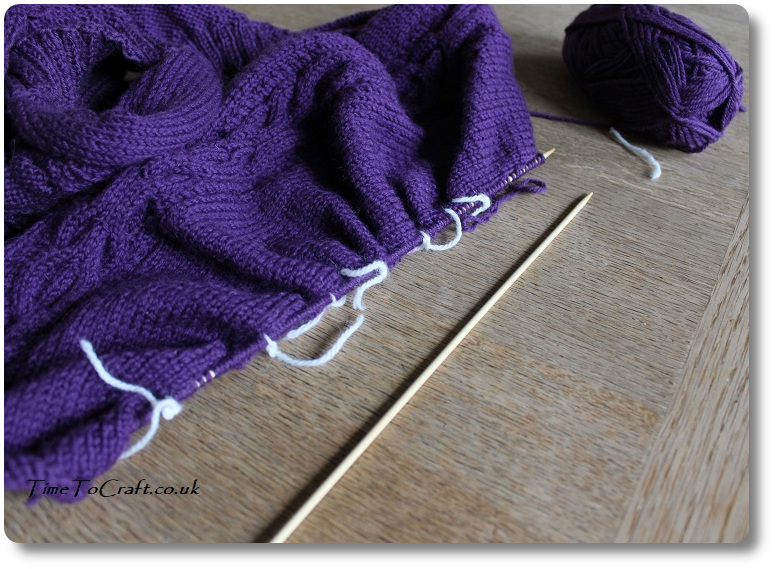 In the lovely contrast that life has a habit of throwing in to give you hope, I'm still loving the vibrant colour of my current knit. Nearly finished. I have reached my least favourite part. Picking up stitches along the front edge. Blah! I'm trying a different technique this time and I'm hopeful. Seems easier this time.
Other news
We've been making the most of the good weather. My tumble dryer is feeling neglected with all the outdoor, line, clothes drying time I've managed. Unthinkable most Februarys. Hero and I have been outside more. It's been so warm he's been seeking out the shade. Wise hound.
The car is back in the garage again being fixed. Third time lucky, I hope. I'm missing the freedom of jumping in the car and escaping running errands. My wings are clipped and I'm feeling it. I shall be so glad to get it back.
Finally found a book I can lose myself in again. I'm reading How to Stop Time. I seem to have had a run of hard to read books recently. This one I've had to pull myself away from. It's good.
Joining in with Anne's word of the week. Missed last week, due to half term. A week to be in the moment and feel no need to write about it. Felt good. Anyway, back this week with my word "make". Not that I don't make something every week, but it was the best fit this time.
What's your word?