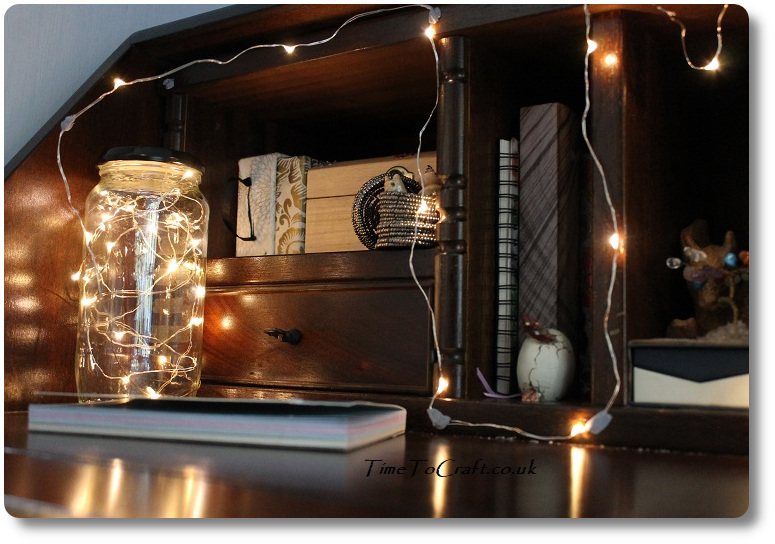 It's candle lighting season. Wood stove as well, but the candles have made an entrance. This is the week the breakfast table candle made it's tentative way back into our daily routine. Getting up in the dark was proving tricky for certain members of the family. So, first child down lights it.
I do love this family tradition. We have a week to go before half term break and this week everyone has been showing signs that they wish it was here already. They are tired. Oh so tired, and slightly less tolerant. The candle helps, in its small way, to keep the calm first thing and get them out of bed.
In a bid to keep middle teen focused, we finally got a desk for her room. I wanted to find a second hand desk, for eco reasons, but also we need something that would work in her room. A bureau style came out as the winning solution. Mr TTC found one in a house clearance. It is darker than I wanted, but she has dismissed the idea of painting it as she loves the inside.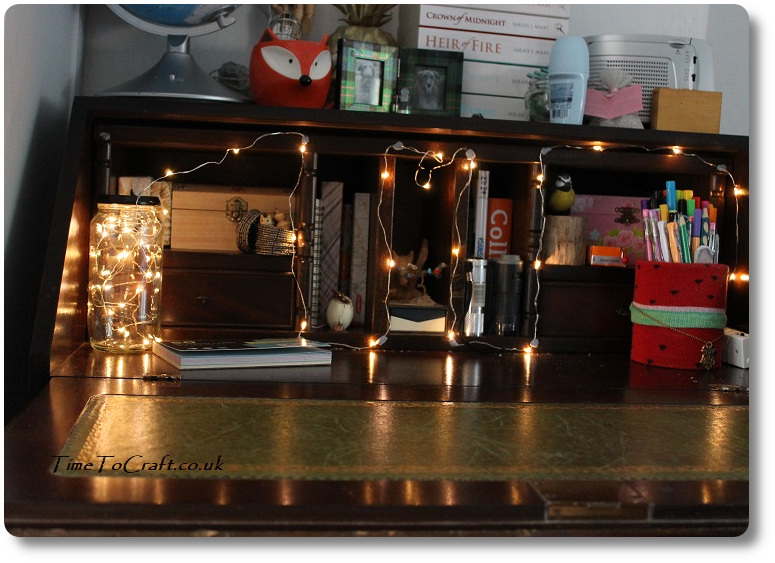 I know exactly what she means. I had images of Spanish verbs pinned up, maths equation workings loitering and history homework being completed in this space. They will be, but as someone who loves to draw, create and write, I can also see her composing nature journals worthy of the Spiderwick Chronicles here, as well as Harry Potter styled stories.
This is very her.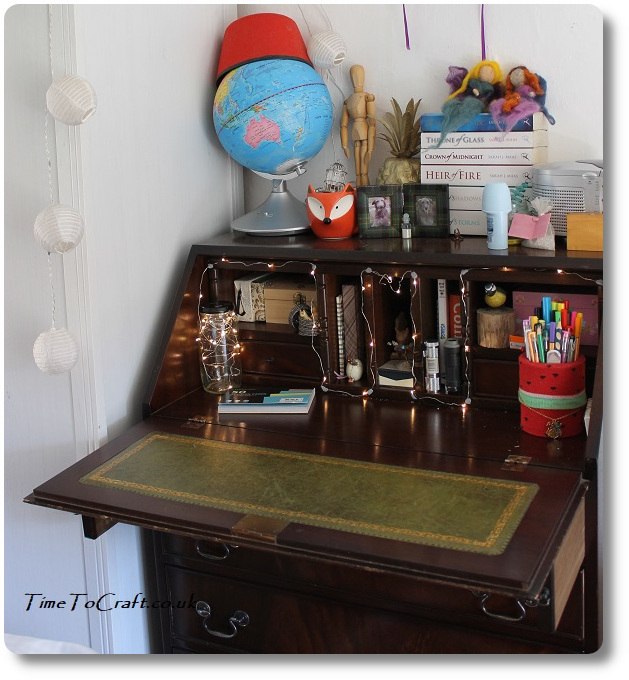 In an attempt to lighten the mood last weekend for the other two, I released the skeleton I had stored away for Halloween. Eric made an appearance in the bathroom first and has been moving around the house ever since. He is currently peering out of the front door window, waving, but I'm sure he will pick up his heels and find another spot before the day is out.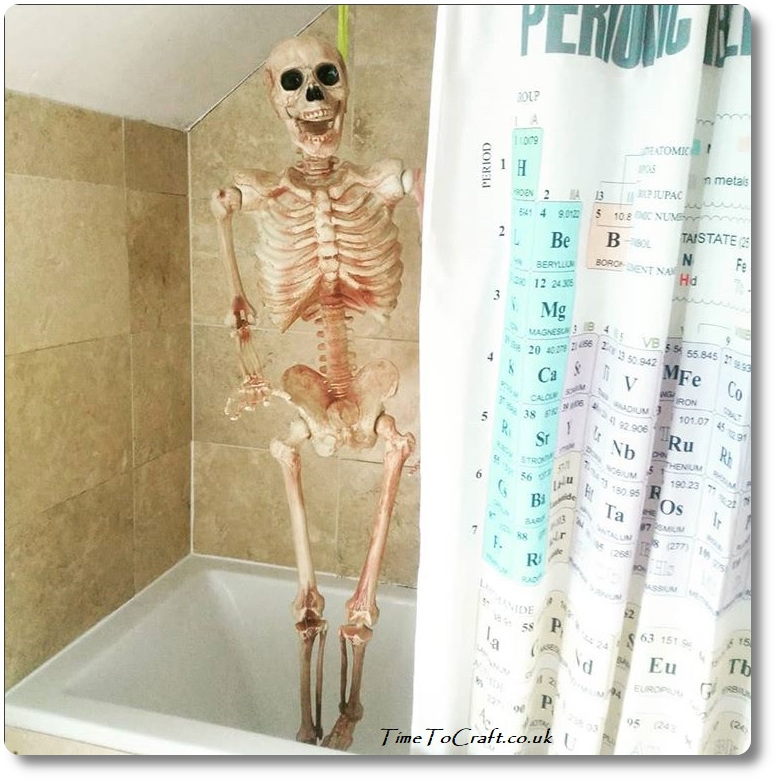 Can I say that I am having far too much fun with this one!!!
The apple trees are a bit lighter this week. The wind brought an avalanche of fruit down, along with two fence panels. I did laugh with next door, that, so long as they didn't mind the hound visiting, there was no rush to put them up. See, I am going with the flow and letting fate play out. Should add that it is their fence and I truly didn't mind, knowing how it works in Somerset. Slow. Two days later the fence was up. That must be a record. I'm guessing they prefer the bouncing pup in our garden!
Anyway, back to the apples. I've been collecting the apples by the wheelbarrow. Now the Aga is back on, we have had mini apple and custard pies on the go again. I'm not sure I can make enough of these as they vanish far faster than anything else I bake.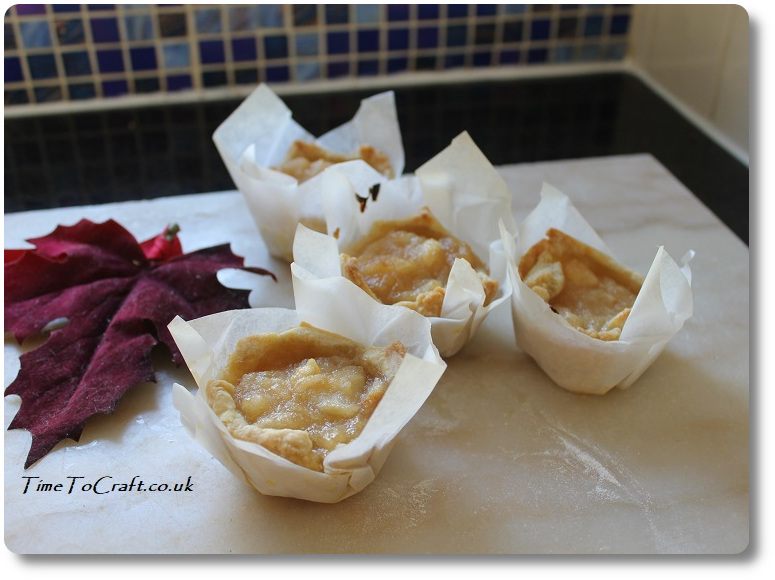 I'm still struggling with my new routine. Turns out that the school run has been more important for the structure of my day than I knew. Ingrained so to speak, after 15 years. Without it, I'm trying to fill the gap with probably more than I should. Like an over-stuffed holiday suitcase, it is ready to burst open. To add to the equation, school has changed its hours and the children are home half an hour earlier, so there is not as much extra time as I thought.
I work from home, which requires a greater level of discipline. I've formalised a cleaning routine. Much needed and I've noticed helped the children too in a way I hadn't imagined. The pup has also reached the stage where he needs more exercise. Trying to shoe horn everything into my day is challenging, but I will succeed. I will wiggle it all in, if it likes it or not!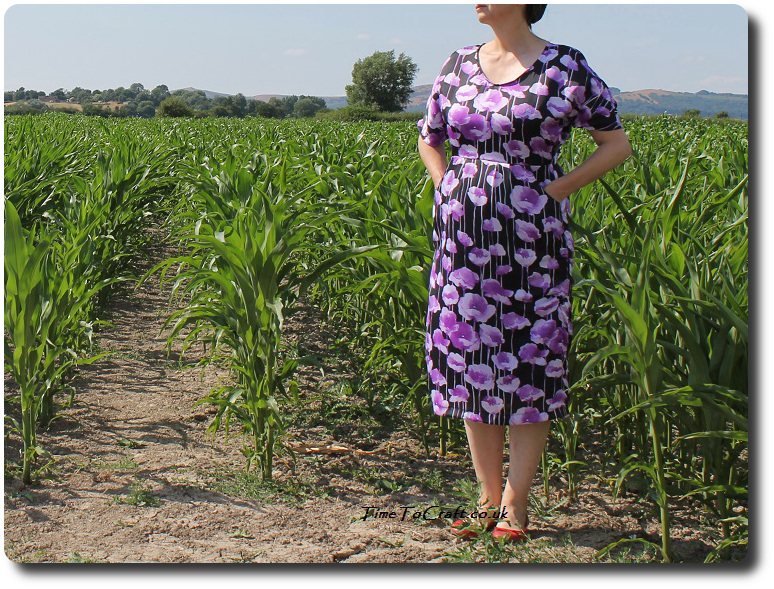 I'm hoping to win some more time to sew. I had a dress, I made, on the Minerva Craft blog this week, which has made me want to dig out some time to make more. I love making something new. Weekends are for sewing. Bring it on!
Joining in with Anne over at Raisie Bay. She has taken over Jocelyn's Word of the Week. Thank you to both ladies. Jocelyn has been a wonderful host and I'm sure Anne is going to be just as good. It is such a lovely community of bloggers that join in each week, I genuinely miss it when I skip a week. If you fancy joining a friendly bunch, I can recommend it. Do go and check it out.