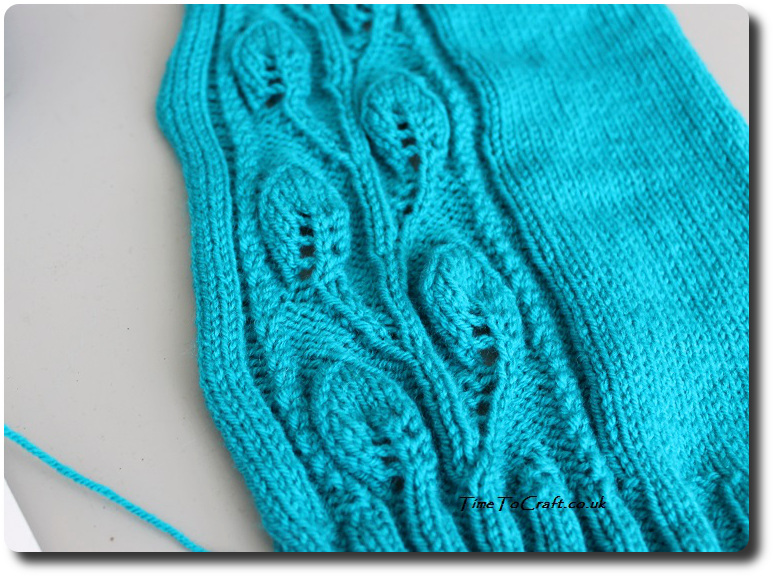 Happy Wednesday! Mid way through half term already. Someone, please pass me the slow-down controls. I have so many items on my half-term list that I'm never going to fit it all in. I purposely kept the week quiet, as this holiday is only a quick respite before we, and it does feel like "we", plunge head first back into the exam schedule. Eldest is officially on study leave now, which will take some getting used to. "Are you still here? Haven't you got a school to go to? (I'm secretly looking forward to it)

Anyway a list of "-ing" is due. My projects take so long to grow that there is only one finished one to show.
Sewing
I finished sewing my beetle blouse and wore it out this weekend. Very comfortable to wear. I do love this sewing pattern. Easy to make and easy to wear. What could be more perfect?>
I've moved on to my blue dress. It is cut out and I've started sewing it. I'm adding a little twist to this dress, which I'm slightly dancing on tiptoes about. It will make it just that bit more special and mine. Not that I have any events coming up soon to wear it, but it should work as an every day outfit.
Knitting
Knitting is a slow old business, especially when each row you knit is unquestionably different. The repeat is 24 rows, so no chance of memorizing it. I'm constantly looking back and forth at the instructions. I've finished the back and am a gnat's whisker away from casting off the left side. It isn't the easiest to follow, but I'm loving this knit. It may disappear when I block the cardigan, but at the moment the leaves are standing proud from the surface. As if it is growing out of the knit. (photo at top)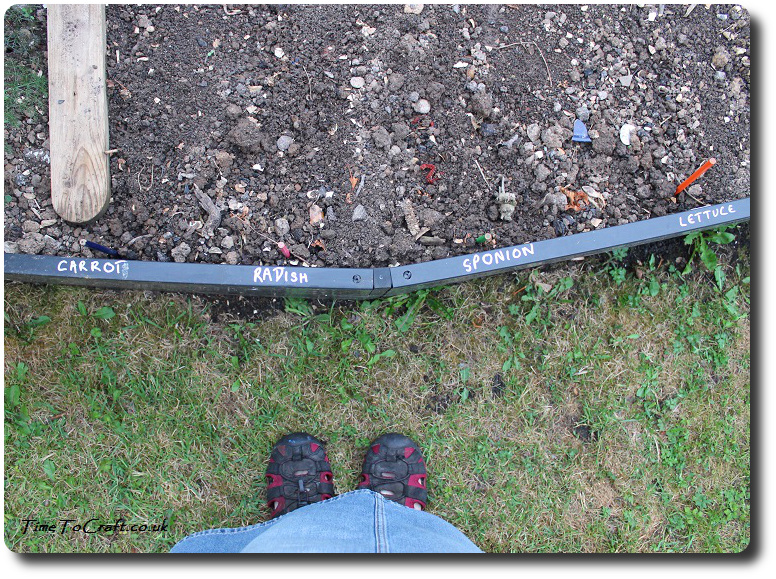 (In case you are wondering – sponion is spring onion)
Gardening
I've been gardening. One more of the raised beds is planted up with salad crops. The lettuce is doing well in the other bed, but apart from the odd radish, nothing else. They were old seeds, so I'm not surprised. I need to re-sow.
I've set up the bean poles for the runner beans and moved the hen run on to the area that will have peas, so she can clear it. We are down to one hen, at the moment. Georgina passed away at the respectable age of 8 years old. She laid the odd egg this year, but had clearly embraced her senior hen status. I'll miss her as she was darn good at clearing an area of weeds. Hope to add a few more hens soon.
Greenhouse plants going in today. I bought a few different varieties, in pots, at our local garden centre yesterday, to add to the ones I sowed a while back. Also found a couple of aubergine plants. I haven't grown any for so long. I love the way the flower looks like a gnarled hand holding purple petals. Anyway, youngest has been asking to make ratatouille – inspired by the film – so hopefully we'll have enough aubergines, courgettes and tomatoes to give it a go. I hope he likes it.
Still bucking the trend, my potting shed and swinging bench have been repainted in a gorgeous, cheerful blue. Slightly different shade this time. Is it just me, or does the current garden furniture and paint fashion seem to be various shades of grey? No way would it work in our garden. The shed would disappear. We need colour. So blue it is!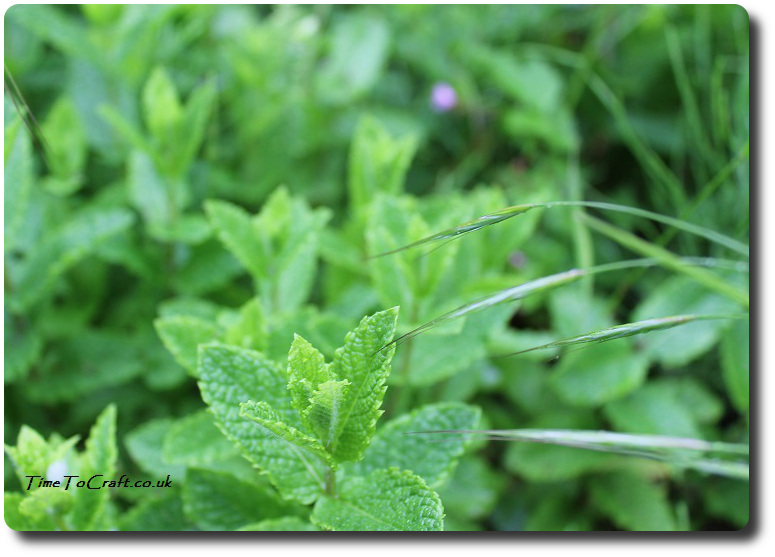 Drinking
I've been drinking a lot of herbal tea, straight from the garden. Mainly spearmint, fennel and lemon balm. I'm sure it has helped to ward off the feverish cold that the rest of the family have been going down with. One by one. I love this time of year, when the herb garden is bulging at the seam with all sorts of leaves to cook with and also add to tea.
Outing
Over the weekend, we went to the Bath Canine Society Championship show. We took Hero. He is too young to show yet and I'm not sure we ever will show him. It was more about meeting other dogs. Strangely, he seemed more drawn to the Irish Wolfhounds rather than his own breed.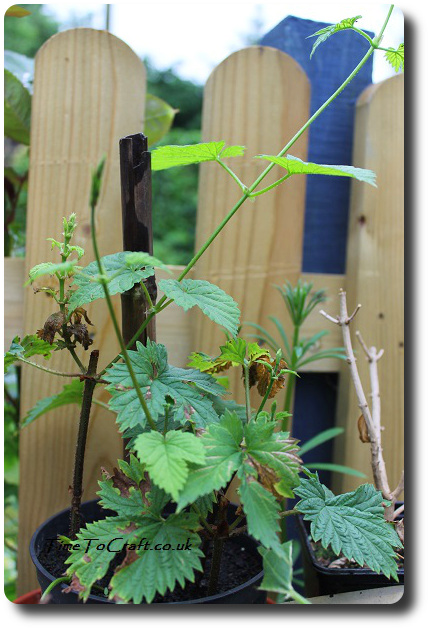 (my hop cuttings have taken and are starting to climb!!)
Parenting
Yesterday, I woke the children at 4:15 am. They've been asking me to do this for weeks. Seeing as there was no school, I didn't mind. Give them their due, not one of them turned over and went back to sleep. Instead they stumbled outside in their dressing gowns and joined me to hear the dawn chorus and to watch the bats come in to roost. It is quite a sight. In the region of 60 to 80 bats. The bats swirl around, before finally going in. Almost like a swarm. It gives a better view of them, than the evening exiting, where they drop out of their hole and are gone in a flash. It lasted over three quarters of an hour. So many questions, which fortunately, I could answer. Memories made, it was time to go back to bed.
(Instagram clip of bats returning that I posted 2 years ago)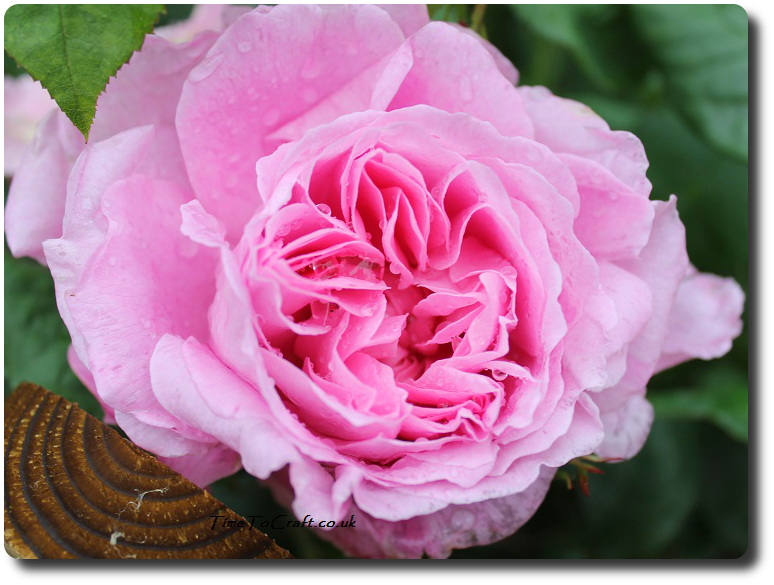 Right, I'm off to pot up some basil seedlings and plant another row of radishes.