A pot of seeds. A pair of gloves.
There is something about putting the first seeds of the year into their own pot of earth that seems to proclaim that the new growing season has finally begun. Trumpet fanfare, please. In my head, I look at these pots and can see a plant bearing beautiful red fruit, ready to be picked and eaten. I can smell the warm fragrance.
The sun came out for the first time this half term, so we headed up to the potting shed. And then back again. A wee bit too cold still. Not to be defeated, I set up a temporary seed area in the house. Little pots of dirt, labelled and covered. A promise of homegrown food. I cannot wait.
I had help. I finished knitting her fingerless gloves last night, so I think she was that little bit more willing to brave the colder temperature. The second glove took me only one evening to knit, which could be a record for me.
In any case, she helped. I love getting the children involved in gardening. Seems like a life skill they should have before they leave home. I see my legacy as an inability, on their part as adults, to start spring without a row of seed pots, sitting on a windowsill. Watching for the first signs of green breaking through the surface. Maybe comparing notes via email. Whose tomatoes appeared first? Produced the most? Wonderful meals shared together, in the future.
I can but hope.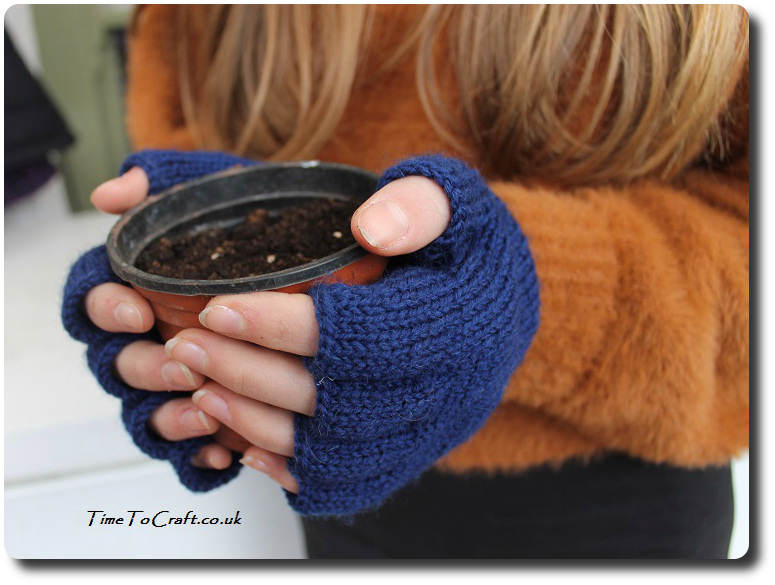 In the meantime, I'll encourage them to help. To learn how. To dream.
I'm not sure if they will ever take over the fingerless glove knitting. Maybe I need to knit a trunk full of gloves just in case, so they always have some available. You know. After I'm gone. Images of them visiting the trunk of gloves in an attic, to select a new pair each year, would tickle me pink.
So back to the present. Here's to a good growing season this year, and glorious homegrown food again. Yum.
Joining in with Deb's #keepingitreal linky. First one today. Whoo Hoo! Come and join in.