Turkey and Mango Sausage Rolls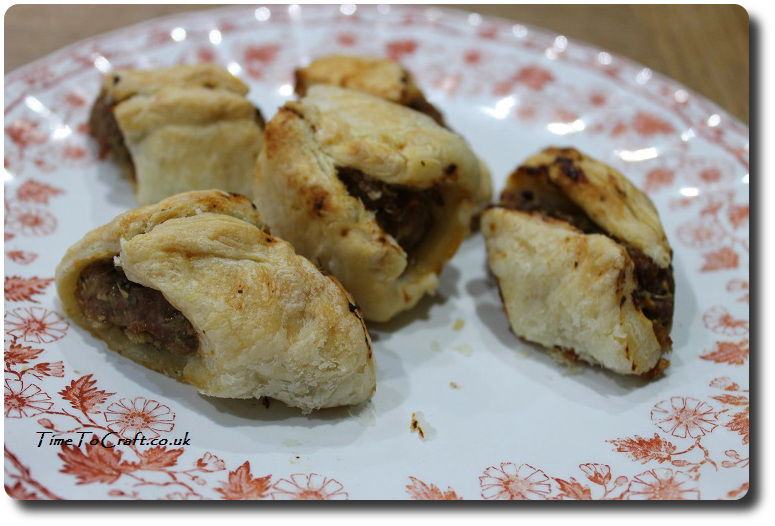 Left over turkey after the big day? How about turkey and mango sausage rolls as a light meal, the next day. One of my favourite light meals to make, over the Christmas holidays, is sausage and mango rolls. Easy to share while watching a festive film as a family.
The rolls can be made using just four ingredients. Quick and easy. Everyone loves them and I can enjoy the movie too, rather than being stuck in the kitchen. Making me a very happy person too. Win-win. Instant jig on the spot time.
Then a few weeks ago, I bought a pack of turkey sausages. Just to try out. I thought they might be an alternative for sausage meat, if I removed the skins. It worked. This might also work with chopped up, left-over turkey too. In just over a month, I'll be so glad I thought of this idea. I'll have enough turkey leftovers to make a dozen batches of these finger sized snacks.
In the meantime, I can use turkey sausage meat. Want to know how I made turkey and mango sausage rolls?
Turkey and mango sausage rolls
Ingredients
A pack of puff pastry
8 turkey sausages removed from skins and cut up
3 to 4 heaped tablespoons of mango chutney to taste
1 to 2 heaped tablespoons of dried herbs
How to
1. Mix sausagemeat, mango and dried herbs together thoroughly in a bowl.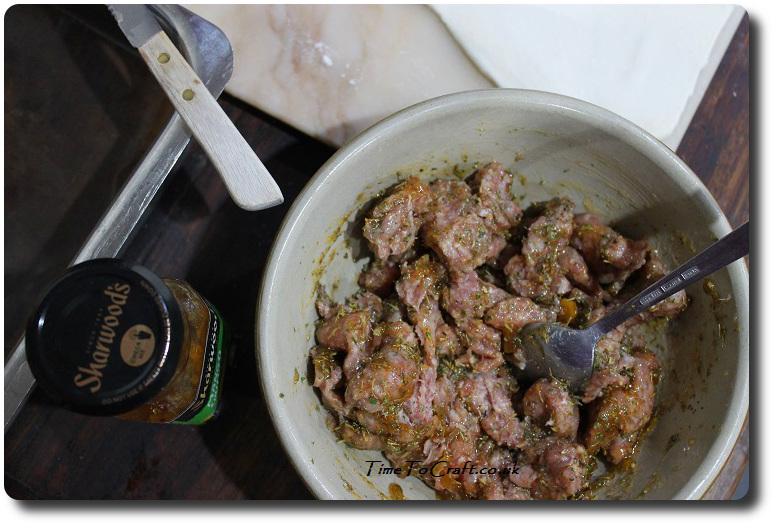 2. Roll out puff pastry into a rectangular shape. About 35 cm by 25cm and close to 3 to 5mm thick.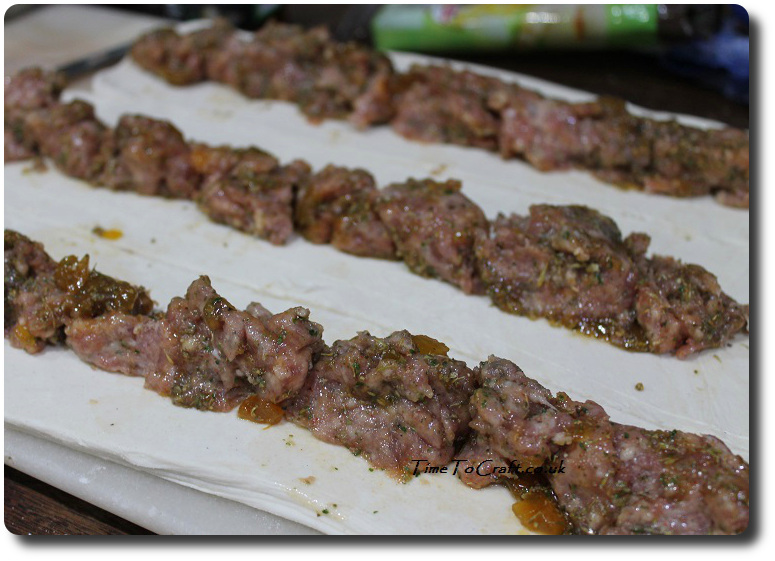 3. Split the pastry length-wise into three equal lengths, as shown above.
4. Split the meat mixture into thirds and arrange along the middle of each pastry strip, as a long sausage.
5. Brush water on the pastry either side of the meat mixture and bring the two long pastry sides up to cover the meat. Pinch the tops together and cut into bite size pieces. Brush the pastry with milk. Space them out on a big, lined tray. I use a re-usable Bake O Glide sheet.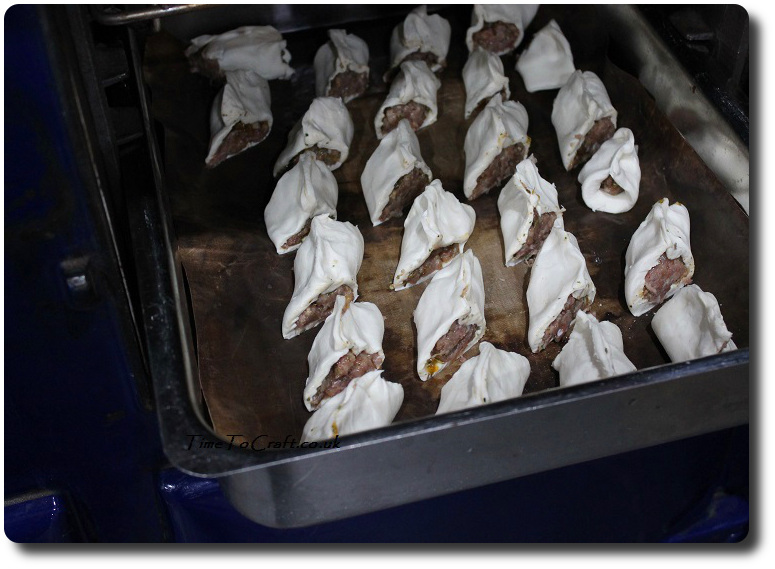 (whoops! forgot to photograph the unbaked version until they were just disappearing into the Aga)
6. Bake in the oven for 20 to 25 mins at 230 c, until the pastry is golden brown. Remove and pop the sausage rolls on to a serving dish. Aga note: I split the baking time between the third shelf  and the floor of the top oven in my 2-oven Aga. No soggy bottoms!
Time to eat
All done.
Note: I used a different brand of puff pastry than my usual and was not so happy with how it baked. Usually the rolls are a tad more greasy. This time they were much drier. Not sure if this is down to the turkey or pastry. I'm going to try again with the other pastry and see.
These sausage rolls are brilliant to serve in the evening of Christmas Day or during Boxing Day, when no one needs much more to eat. Add some cold meat, cheeses, scotch eggs and salad, and people can help themselves buffet style. I've taken the pork sausage version to parties too. (Ahem.. might have made a bit more of an effort in the presentation of those ones….)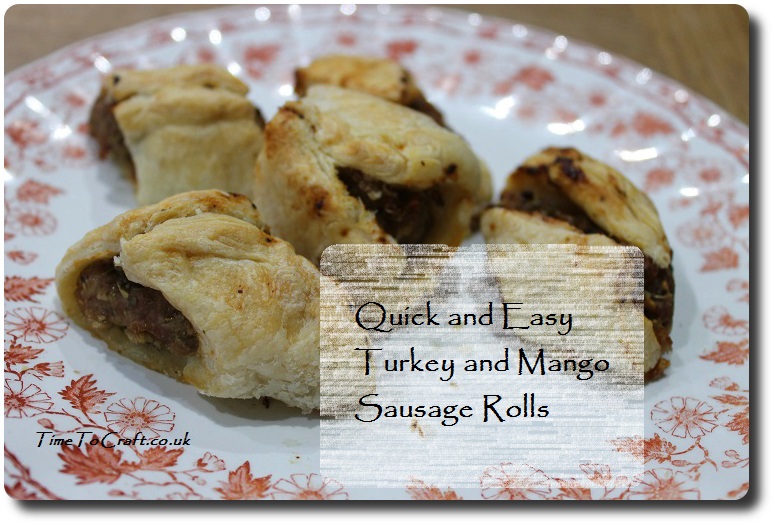 Anyway, these turned out yummy and I reckon will be brilliant to use up the left-over turkey, without being obviously left over turkey. They taste great straight from the oven or cooled down the next day. Although I prefer them warm. The mango sweetens and makes the rolls fruity. And moreish. Don't say I didn't warn you.
(*includes affiliate link)