Somerset pork and apple stew, …. and the Teen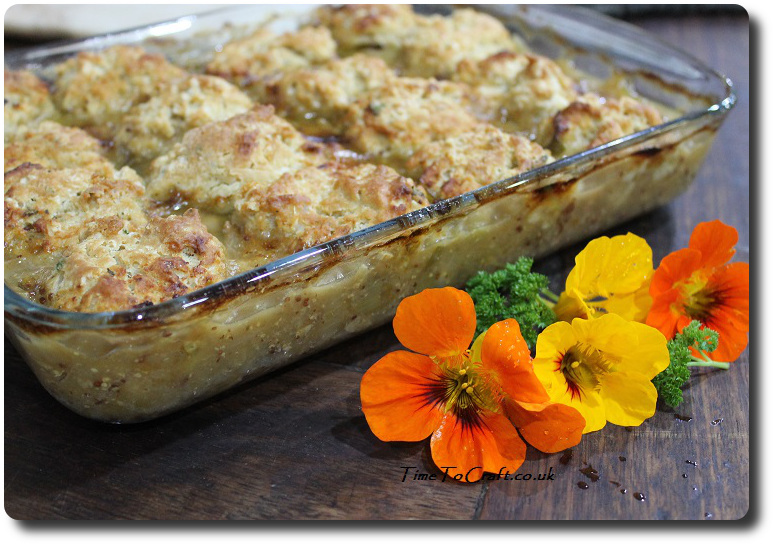 I'm going to come straight out with this. No beating around the bush. Here it goes. Ready? Brace yourselves.
Teenagers can be just as fussy as toddlers when it comes to food.
Goodness. Now that does feel better. Sorry to pop the bubble for all you parents out there with young children, who thought it would soon all be over. You're in for the long haul with this one.
Maybe I should explain. The difference is that teenagers give you reasons why they're not going to finish their meal. If you're unlucky, more than one reason, as you watch the carefully sculptured meal being rejected. Your gangly teen then adds insult to injury, by disappearing into the food pantry to rustle up a less than nutritionally balanced alternative.
Sigh.
On the whole, I'm lucky. My offspring have never been particularly fussy. Ok, one doesn't like yorkshire puddings and another hates squashes and coucous, but I have, on the whole, been blessed. Until recently. It started when eldest took against one whole food category – meat. Admittedly not all meat. Just enough.
It began when she had braces fitted on her teeth and found it difficult to chew. I made allowances. I thought it would change once the braces came off. No. By then a habit had been formed and she would no longer eat meat unless it was easy to eat. Not for ethical reasons.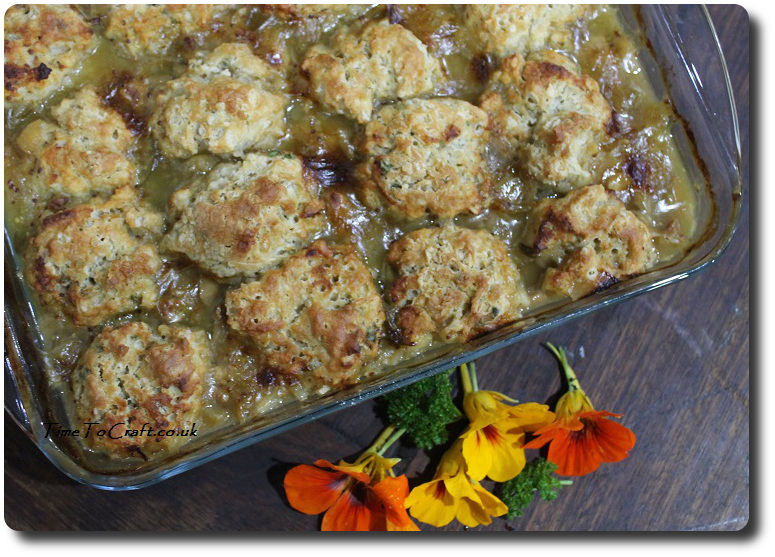 I'm not the first mother to encounter this problem, but there was a second complication. Soon after she was fitted with braces, she started to develop dry patches around her mouth, that became very sore. It was horrible and uncomfortable. Not only the braces to deal with, but these unsightly sores too. It knocked her confidence at a time she needed it most. You can imagine we tried a whole host of remedies to solve it. We visited the nurse at our surgery a few times and also researched. We thought it was set off by the orthodontic treatment.
Then one day, on holiday in Scotland, a pharmacist suggested it may be a vitamin B deficiency. That was a new one.  Needless to say, we upped her intake of vitamin B and, blow me down, she's not had a problem since. Just like magic, it was gone! It may have been coincidence, but I don't think either of us are willing to test that hypothesis out.
Vitamin B had not been on my radar at all. It made sense. Her meat intake had dropped, which is one good source for it and nothing had replaced it. I had compensated for the missing protein, but she must have been missing out on other important nutrients, I hadn't even considered. If she had given up meat completely, I may have clicked earlier.
I moved into action. Lesson learnt. Teenagers, and tweens, go through phases of dropping some food types. When they do now, I am much faster at substituting in another source, and I explain to them why I am doing it.
I'm also much more conscious about how I cook meat. No point serving up a tough piece of meat. One of my favourite ways is to slow cook it. The meat is tender and falls to bits in her mouth. She will eat it. Double benefit is that I can set it off cooking early in the day and its ready for us when we finally get home from an after school club.
Win-win.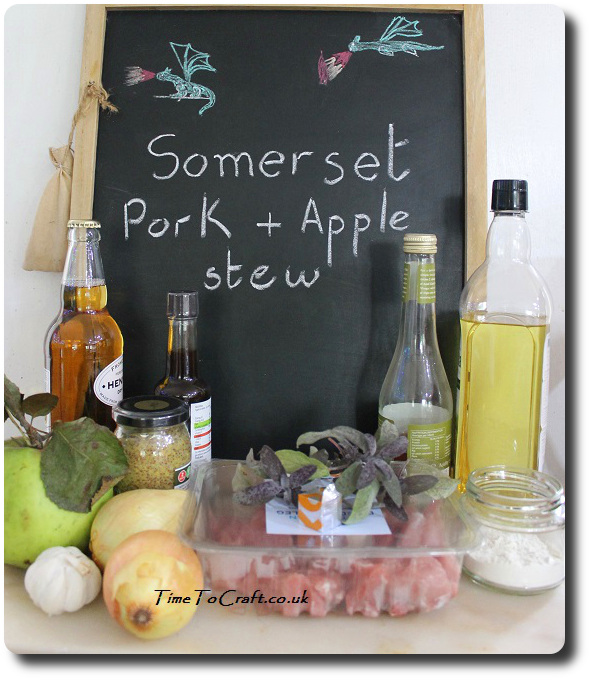 Time to share a recipe. A slow cook Somerset pork and apple stew. With dumplings.
Ingredients
For stew (for 4 to 5 people)
450-500g of Extra Lean Diced Pork Leg
2 onions chopped
4 garlic cloves chopped
1 chopped up Bramley apple
400ml apple cider or apple juice
300ml chicken stock
2 tbsp Wholegrain Mustard
1 tbsp cider vinegar (optional)
bunch of sage, chopped
1 tbsp oil
2 tbsp heaped flour
a dash of worcester sauce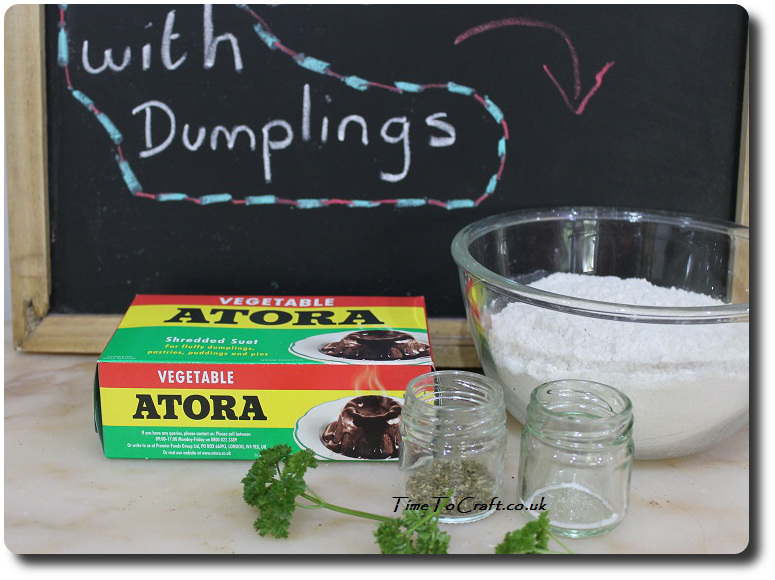 For dumplings
225g (8 oz) self raising flour
115g (4 oz) suet
pinch of salt
tbsp mixed dried herbs
cold water as needed
Note: I cook this in the 2 oven Aga, as it is perfect for slow cooking. Otherwise turn your oven on and set it to 190c ready to cook the dumplings, when the time is right.
For stew
1. Fry onions and garlic in the oil, until soft. (I used a medium sized Aga saucepan that goes in the oven too.)
2. Add pork and fry until it is sealed all over.
3. Stir in flour and mustard, then add in the stock, worcester, vinegar and cider/apple juice. Stirring and bring to the boil.
4. Stir in the apple and sage, and cover.
5. Simmer for an hour. With the Aga, I put the saucepan with the stew in it, in the bottom oven for 3 hours or so.
For dumplings
1 Mix flour, suet, salt and herbs in a bowl
2. Add water slowly and mix, until the dough is soft but not sticky.
3. Shape the dough into 16 walnut size balls.
For stew and dumplings
1 Transfer stew to a oven dish.
2. Evenly space dumplings on the top of the stew.
3. Put dish in oven for 20 mins, until the dumplings have turned a golden brown. In the Aga, I put it in the top oven, on the third shelf.
Serve. I served it with spaghetti squash, runner beans and crusty bread. (and a glass of cider for us grown-ups!)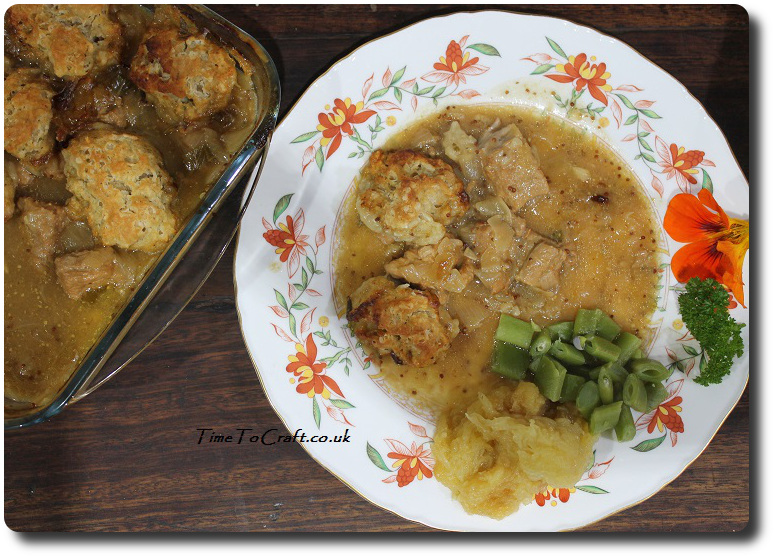 Approximate cost: £5.20
Preparation: 20-30 mins
Cooking time: 1- 3 hours plus
Family verdict: They loved it. Found it lovely and appley. Very filling. Suggestions that we have dumplings more often. Plates were cleaned. Happy to have it again.
This post is an entry for the BritMums #HealthyRedMeat, sponsored by the Meat Advisory Panel