Violet the Slug Slayer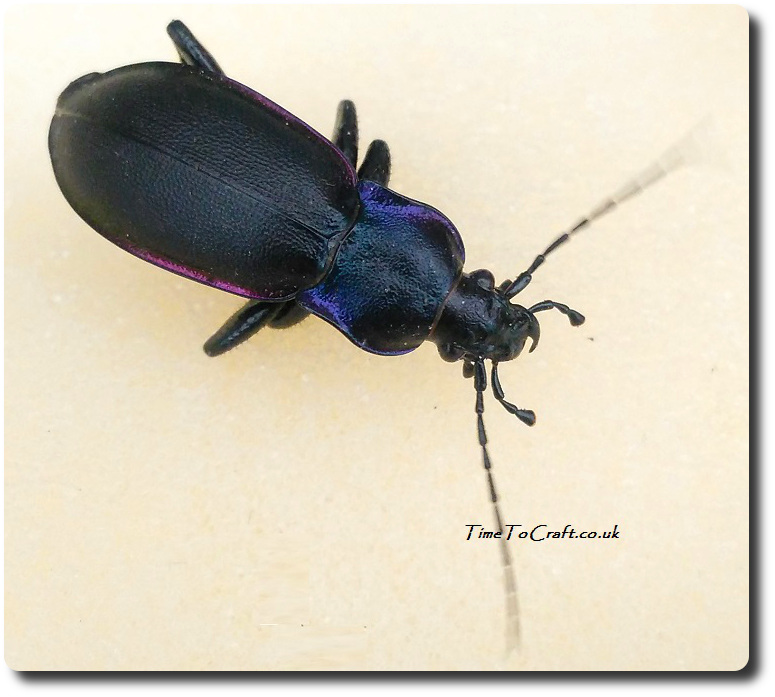 Meet Violet. She eats slugs for a living. Not just any old beetle.
To top it all, she has the most amazing colourful sheen that only reveals itself if you look closely. She is a Violet Ground beetle.
Fortunately, Violet is not an uncommon beetle in the UK. Some of her kin could easily be living in your garden already, chomping their way through your slugs and other garden pests. They start young. Devouring pests even in their larvae state.
How often do we look? How often do we lump black ground beetles into the same category?
Violet's an easy garden guest. She'll find her own food. Nothing special. She likes to rest under leaf cover, stones and logs. Also happy to sign-in to conveniently positioned bug hotels, if provided. So if you would like one, like her, to move into your garden, you know what to do.
Joining in #30DaysWild with the Wildlife Trust
23 Responses to Violet the Slug Slayer
There have been cases when people lifted my photos and words, and used them without credit to me or asking permission first. Using them for their own commercial gain. I have now added a level of security to deter people from doing this. Apologies to people who do play nicely. If you would like to use any of my photos, please contact me.
All my words and photos are copyrighted to me. They cannot be used for commercial benefit by anyone else. If you would like to use any of them, then please ask me first and don't just take. Written permission only. Don't pass my words, photos or ideas off as your own. It's not nice.
Cookie Policy
Our web pages do not use cookies however this website uses Google Analytics, a web analytics service provided by Google, Inc. Google Analytics uses cookies to help us analyse how people use our site. The use of cookies by Google Analytics is subject to change.