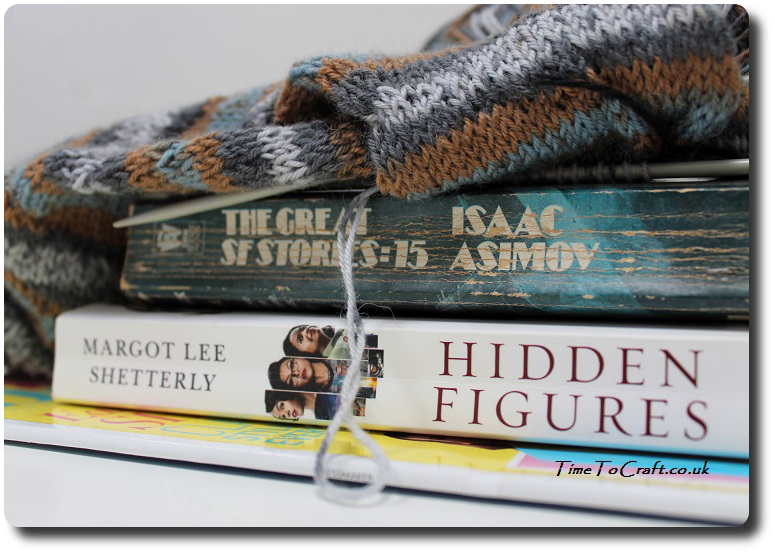 It's Wednesday. Time to share my knitting progress and current read. You'd be forgiven for thinking it doesn't look dissimilar to last week's offering. Despite appearances, there has been progress.
Knitting
I've turned the heel on the first sock. Always makes me feel like I'm on the homeward stretch. The yarn feels thinner than my recent sock yarn. I'm knitting it on dpns (double pointed needles) and was finding that moving from one needle to the next was leaving more of a holey ladder effect than usual.
I know most of the tricks to solve this, but they weren't working, so I've slowed down, to ensure the stitches are sitting closer together between needles, which seems to have sorted it out. May take longer to knit this pair, but at least my husband won't be wearing a socks with a lacey inset!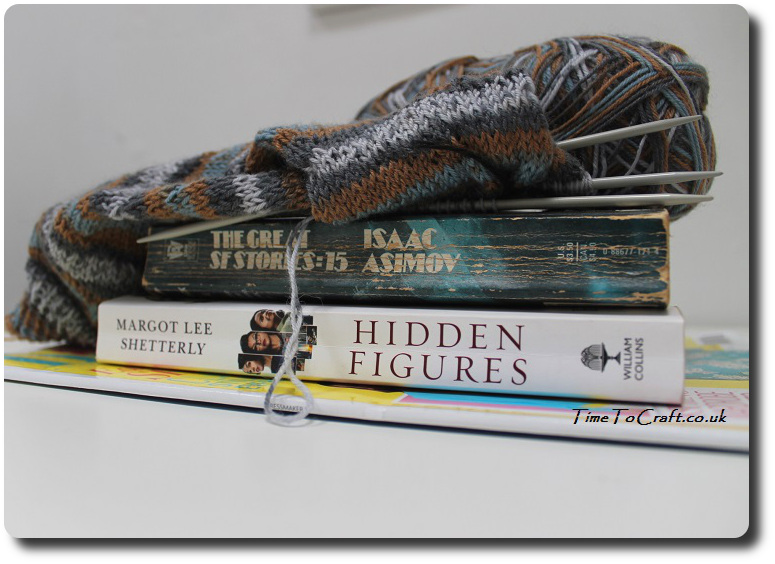 Book
I finished Hidden Figures  over the weekend. So glad I read it. I found the second half of the book with more touches of hope. They didn't seem so bogged down by people's attitudes preventing them from achieving the ultimate aim of their work. It was still there, but they seem to push on through. People helped each other to succeed and progress in their careers. There was a momentum. There was passion in their work.
I still found frustrating moments, such as the mathematicians not moving to Houston to follow the project, due to family commitments, but it has to be seen in the context of the time. If it was me, I would have packed the family up and gone before you could solve a simultaneous equation. A new adventure, but that is me. I've not walked a mile in these pioneering women's shoes.
Only problem with devouring such a fantastically, good book is deciding what to read next.  It's a toughy. Nothing in my pile of books to read, jumped out. So instead I chose a sci-fi short story.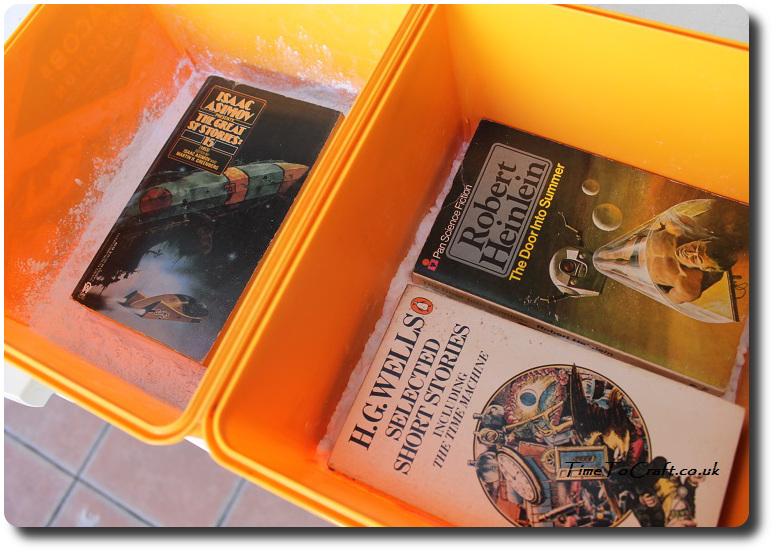 I've been running an experiment. Let me set the scene. We live in an old house. It is over 260 years old. No foundations. Walls that you could use to build a cathedral. It's the way they used to build humble cottages. The down side is that air circulation is not so great. Bookcases against walls tend to lead to musty books if left undisturbed for too long, which has happened to a bunch of my older sci-fi books.
So I did a bit of research. Not wishing to read musty books with a peg on my nose, I looked at a way to freshen them up. I ruled out fresh air and sunshine, as I started this experiment at the end of our UK winter. If they had mentioned heavy rain, that would have been another matter, but they didn't.
That left three possible alternatives. Kitty litter, talcum powder or sodium bicarbonate seemed to be the most popular. No cats in the household, but fortunately, I had large amounts of the last two options in my science kit, so I tried leaving a few books in each, sealed in old biscuit containers.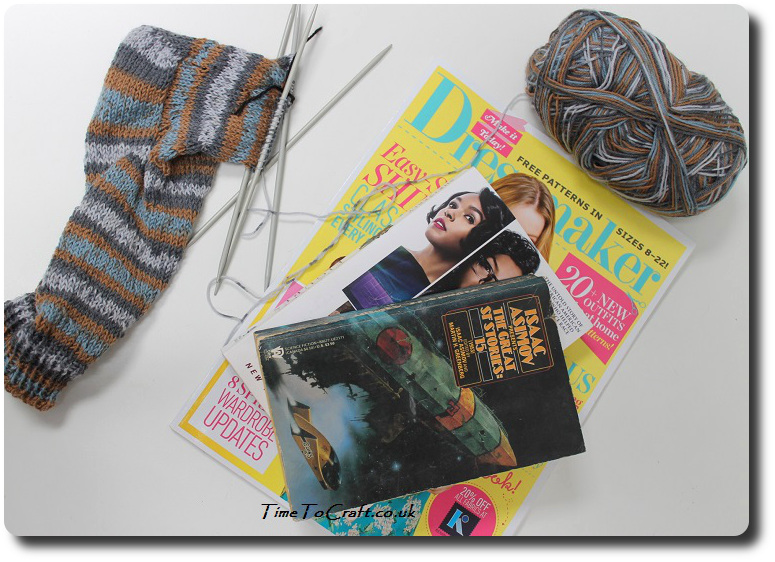 Result. Given time, they both worked to freshen up the books. The thinner books were fresh after a week. The thicker book took longer. Certainly after a month (hmm..I kind of forgot to check inbetween), I could read it without being bombarded by the terrible smell. So now I'm reading a good old Asimov, with a touch of talcum powder aroma!
Also reading a new-to-me magazine – Dressmaker. I'm trying to make something for me to wear every month. January, I made gloves. February, I made socks. March, I would like to add to my work wardrobe, and I quite liked the patterns they were including. Always interested to see dressmaking tips too.
So, joining in with Yarn Along again this week. What have you been reading and knitting?

(affiliated links included)
---