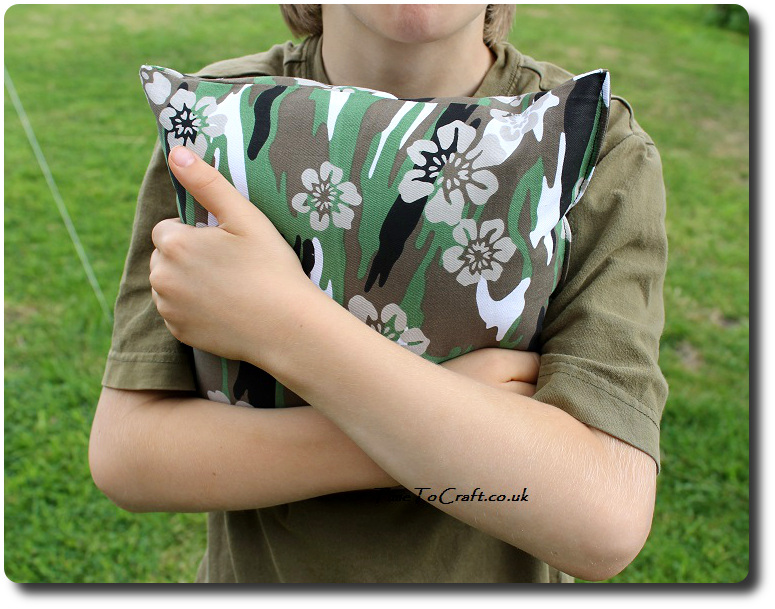 This may look like a cushion, but to me it represents a lot more.
As the children get older they ask less and less for craft activities. They don't seem to rush for a place at the table so often when I suggest making something.  I miss some of the fun projects we've created together. I miss the enthusiasm and the way the projects never turned out as I imagined. Usually morphing into something more wonderful. More them.
Other interests take priority. When they are creative, they opt for their own ideas. Other influences. That's fine. Occasionally someone will ask me to teach them how to knit or sew, but these requests are getting fewer and fewer. I don't push. It is up to them.
So when one turns to me and says that he'd like to make a cushion and can he use the sewing machine for the first time….it harks back to the former days of making traffic cones or dragonflies. Be still my beating heart. I suggest embellishments. Not this time. I suggest fabric. Not this time. And no, he doesn't want to add anything to it, to make it into a monster.
This time, it is all his idea. All I'm needed for is guidance with the sewing machine. Still. I'm involved and that's good. Right?
I love that even when I show him how to pin the two layers together with the pins going towards the edge, he adds his own flair. The pins must make a pattern, even if they are temporary.
I showed him how to tack the layers together, so he wouldn't have to dodge pins while machine sewing his cushion, or risk losing an eye as the pins or needles, or both, shatter on contact. It may be melodramatic, but at this point, he agreed to learn how to tack.
I smiled quietly when I realised that his grass stained knee, with mandatory hole, had made it into the picture. It shouts that he may be sewing but he is still the boy that likes to climb trees and skid along the grass. He can do it all.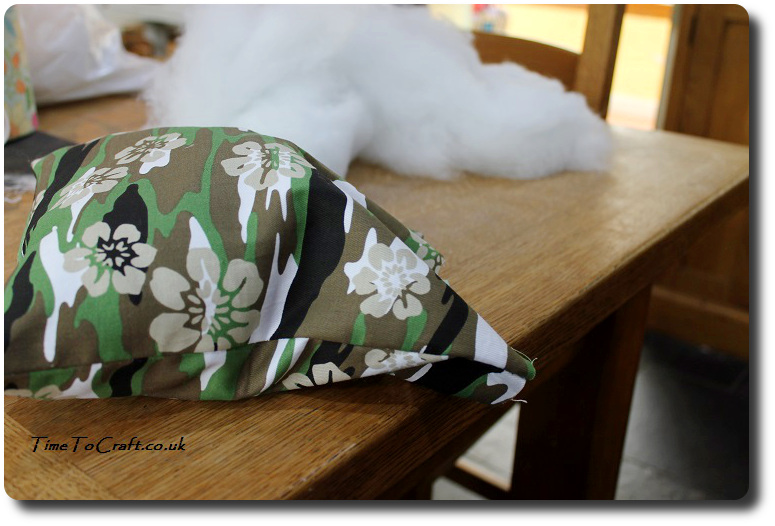 There was also time to play with the stuffing. I now have numerous photos of the children using it to sport fuzzy moustaches and beards that touched their chests. Not forgetting eyebrows and cushion-cover hats, that finished off the look. By the end, they looked like they were auditioning for a bit part in the Hobbit.
The sewing machine stage went without a hitch despite my reservations. A different experience to teaching the two older children. This time, I did keep one hand hovering over the off switch. Not that I needed it, but I know that he doesn't always stop when I tell him to. Better to be on the safe side.
The project was very simple. It was the perfect vehicle to learn a few new skills, and now he has the cushion he wanted for his reading nook. He wants to make more. We'll pick up a few cushion pads next time we're in town. Maybe I can show him how to make an envelope cushion cover. If he'd like to.
And what have I learnt? I might be putting them off by pushing my own creative ideas on to them. I have a tendency to leap ahead to complicated projects and I expect others to be the same. As a teen, I learnt to knit by knitting an aran jumper with cable twists (still wear it). At the age of 9, I learnt to dressmake by making smocking dresses for my dolls. Anything else would have been boring. To me. Why walk when you can run, seems to be my creative motto when learning new skills.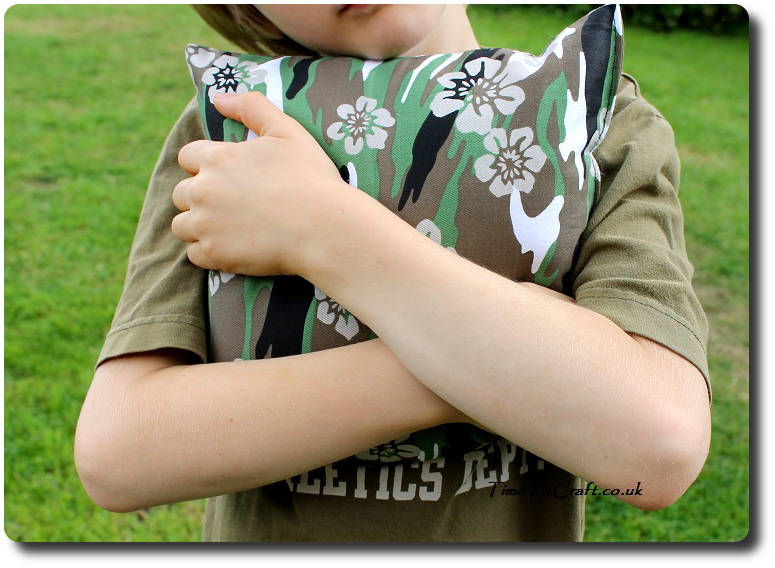 I need to realise that my children are not me. As they grow more independent, they might quite like simpler or different projects where they can master the skill and also produce something to be proud of. They don't need to add bells and whistles. They may want to focus on a different aspect to me. Their own creativity.
I need to remember to take a step back.
Do you know what? That is fine with me.