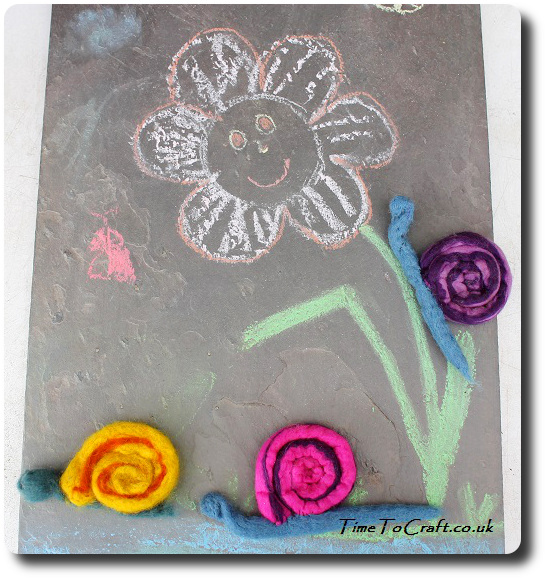 (wet felted snails)
There are some tasks that seem destined to constant interruption. Forever work in progresses. As soon as all the tools are assembled, and work on the verge to commence, a voice pipes up and my priorities are changed in a moment. A different task beckons. Sigh. I know I'm not alone.
All week, I've been trying to clear a weed flower bed to plant a few new plants. All week. Finally Sunday, I woke early, before the rest of the household, and dug.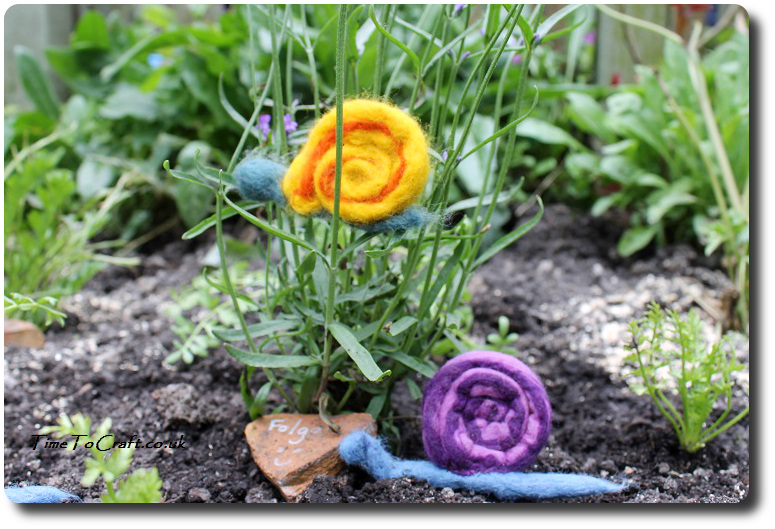 Among the plants are a pair of delphiniums that the slugs and snails had munched through while they waited in their pots to be planted. I brought them inside and they have recovered. Bunches of new leaves, although I'm not sure they will produce flowers.
(poached egg plant)
Poor plants. They are going to need extra defences in their new location. I've liberally sprinkled egg shells around, to deter the slugs and snails. Without wishing to tempt fate, this method usually works well in our garden.
So far, so good. I've not spotted any snails or the tell-tale signs of their sneaky visits. Admittedly, I did relocate a fair few snails to one of our wild areas in the garden, as I cleared the area of weeds.
Fortunately these particular snails are 100% harmless. The children recently made them by wet felting and needle-felting merino fleece. They used the technique of making long thin rods of felt (details here) and also had a go at needle-felting. They decided wet felting has the best technique when it comes to snail making.
The felted snails are back up above our inglenook, among the felted leaves and crocheted daisies. While I'm left to keep a beady eye on my delphiniums. I have a plan B, a plan C and a plan D. I hope I'm not pushed into resorting to Plan D.
Fingers crossed.