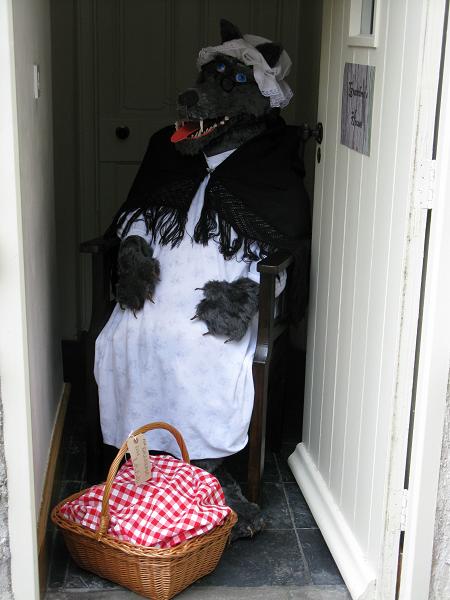 I really like scarecrow trails. For those of you who have escaped the concept up to now, it is when a community gets together and comes up with a theme. Scarecrows are then made and displayed in gardens. Only for a day or two. Next step, people, like me, go around, clutching the quiz sheet, and map, and spot the scarecrows. As you go round, you guess the identities of the scarecrows and write it down on the quiz sheet, ready to hand in at the end.
There are three reasons I like scarecrow trails. First I like guessing. Second I love looking/poking  around villages, gardens and the outside of old cottages. Third, the people you meet on the way round are generally jolly, because everyone recognises that it is a completely ridiculous activity!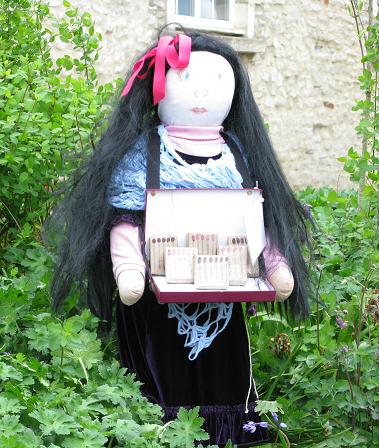 Today was cold, with a bitter wind. It wasn't raining, but none of us wanted to spend too much time. As a result, I didn't take too many photos and we only got round about  a third of the scarecrows. Shame as, I really admire the effort the householders put into this. There were 62 scarecrows, all made to raise funds for the local church. Oh the theme was fantasy characters. Can you guess who the above two are?
Yesterday, TF missed out on his May Day crown, as he was asleep when the girls had their crowns. We left the crowns outside, decorating the fruit trees and, by the time he woke up it was pouring with rain. Today, he discovered his crown. He came in the kitchen wearing it with a big grin on his face.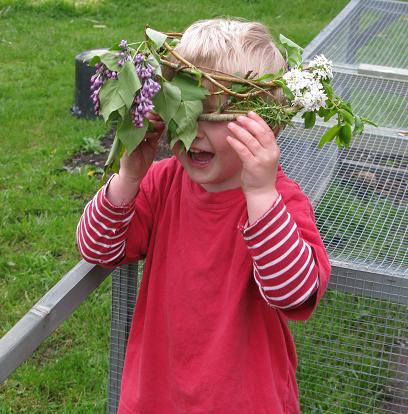 Whoops! Must make it smaller next year. He is laughing. I know….. its hard to tell without sound.