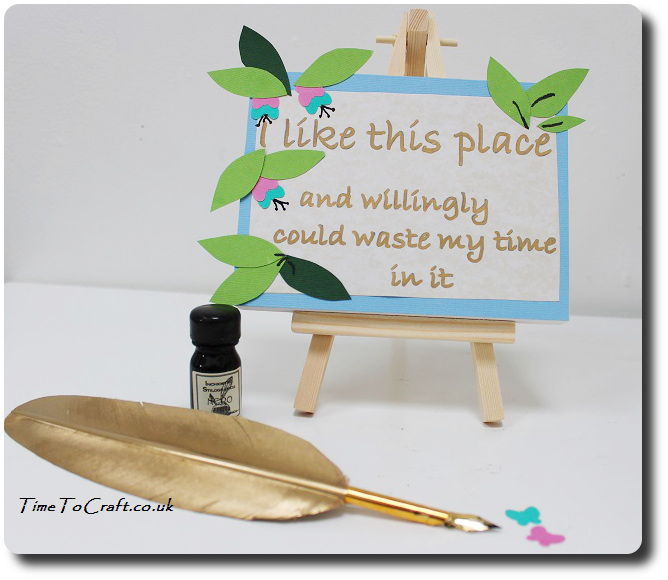 Like most people, I studied Shakespeare at school.  I even went on to study English at A'Level, where we dissected "Hamlet" and "As You Like It".
I remember writing quotes on slips of paper and sticking them around the house, in an effort to memorize enough to slip into my exam answers as proofs for my arguments. The funny thing is, that I still readily reel off some of these quotes now. They are good quotes.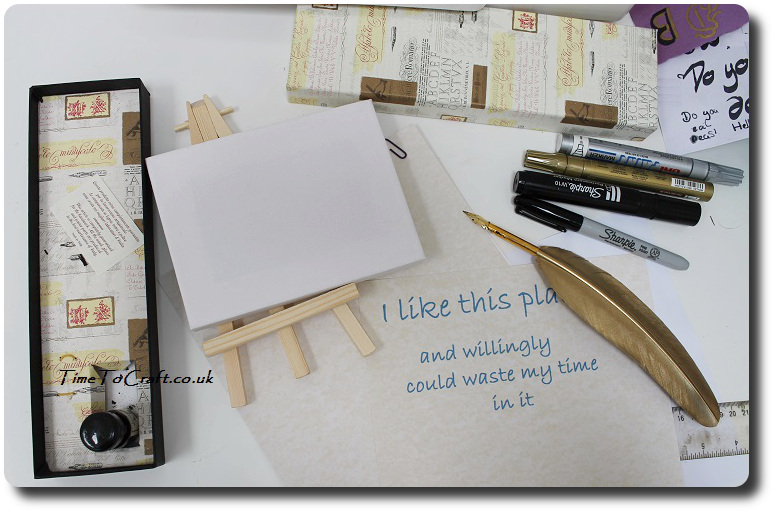 This year marks 400 years since Shakespeare's death. Seems a good time to bring out the plays and read them again, or find a performance.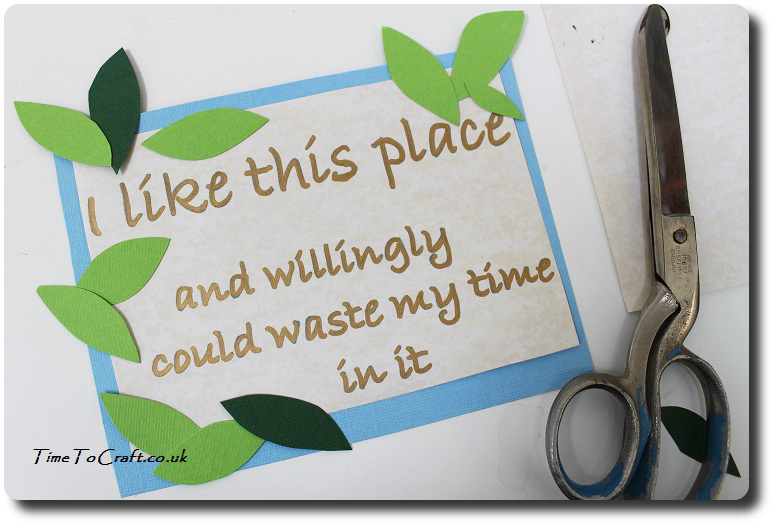 I still have my old school text books. Notes pencilled in the margin, in a way I just wouldn't dream of doing now, but at the time, it was the only way. Quotes underlined. Comments that I no longer remember writing, let alone follow fully.
I'm taking part in the Viking Shakespeare quote challenge. I chose a quote from "As You Like It". It fits well with home but at the same time is sharp and whimsical. It's said by Celia soon after she enters the Forest of Arden. Fleeing from her father with Rosalind.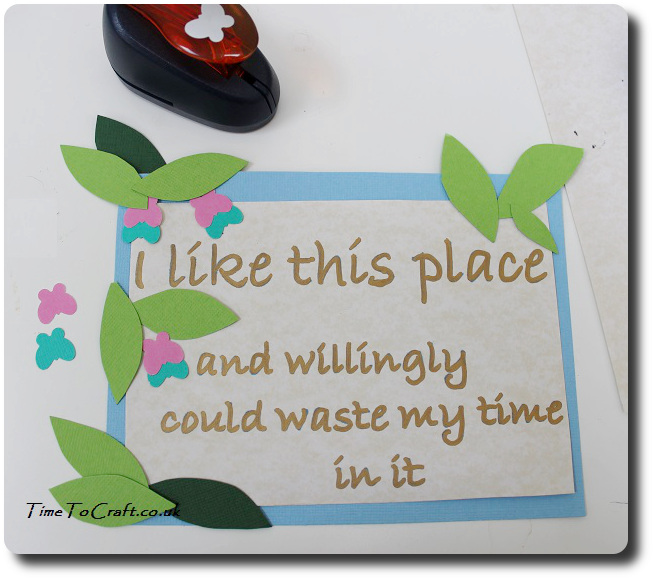 I was very tempted by other quotes that I use probably far too often for my own good – "I do desire we may be better strangers", "Though this be madness, yet there is method in 't" and "The lady doth protest too much methinks."
Dismissing the others, I printed out my chosen quote and then used a gold pen to go over it, adding a few more flicks to the letters. The blue print shows through just enough to suggest a shadow and depth.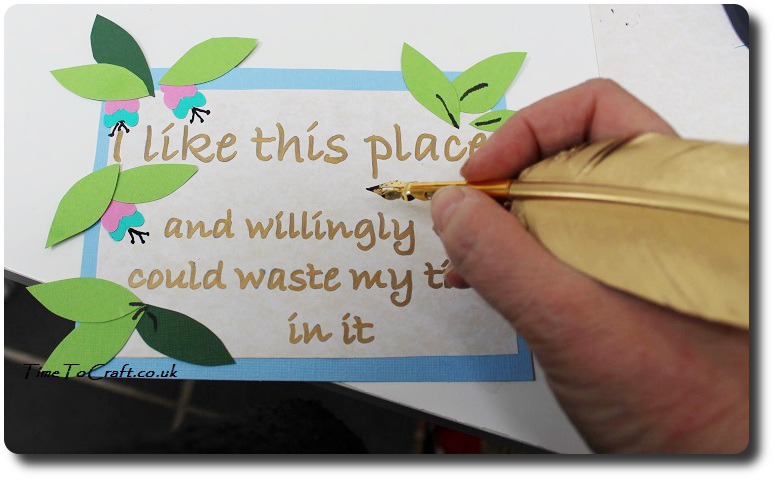 I cut out green leaves, making each subtly different from each other.
You might be surprised by how I made the flowers. The quote lacked colour, so I added one of my favourite flowers – fuchsias. I used my butterfly hole punch to make blue and pink butterflies and then overlapped them. The stamens are added using a quill and ink.
The greenery and flowers seem a perfect setting for this quote.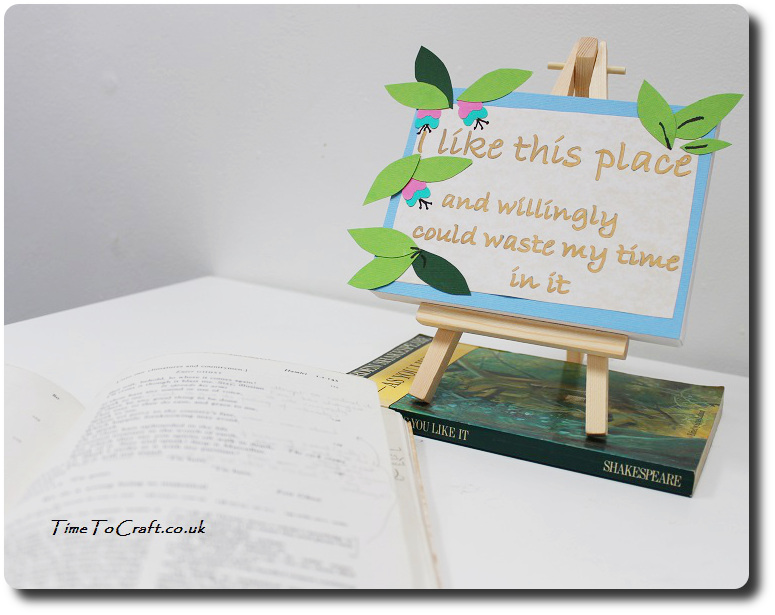 If not for the call of hungry children – time for supper – I suspect I would still be rearranging the leaves.
The quote was given a blue border and mounted on an easel.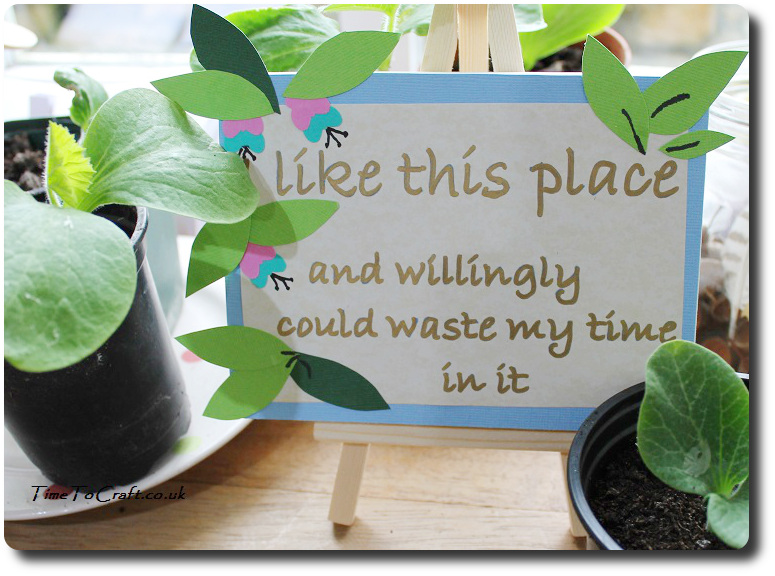 I've set up the easel on our season's table. Among the pumpkin seedlings. I could quite happily waste some time, pottering around my seedlings, at the moment, but I suspect this sign will move.
So, do you have a favourite play? And how about a quote? I'd love to hear.
---
Disclaimer: Viking sent me a few craft bits to get started, including the gold quill, which my children have laid claim to. I also used some of my own supplies to achieve the colour combinations that I wanted.