Yarn Along – Soft as Clouds
Just before Christmas, I was leafing through my copy of More Last-Minute Knitted Gifts
for ……well last minute inspiration. I kept going back to the Soft as Clouds Cowl. I loved the idea of knitting with cashmere. I couldn't justify the time or expense in the run up to the festive season, so I put it on my "will-do-one-day,-but-probably-not" list.
Can you imagine the squeal when I opened my sister's present? A ball of Brora cashmere 2ply yarn. All 50g of it. Perfect for the cowl. I couldn't wait to cast on. I anticipated that if I knitted a few rows a day, I might have it ready for Spring and hopefully there would be enough to do it.
Oh how wrong was I on both counts! It knits up remarkably quick. I think I had knitted almost 3 of the 12 inches, in the first evening.
Next error. I had totally underestimated that 50g of 2ply cashmere provides many more metres of yarn than I imagined. I'm going to have some left over. There is more than enough. (Ravelry notes here)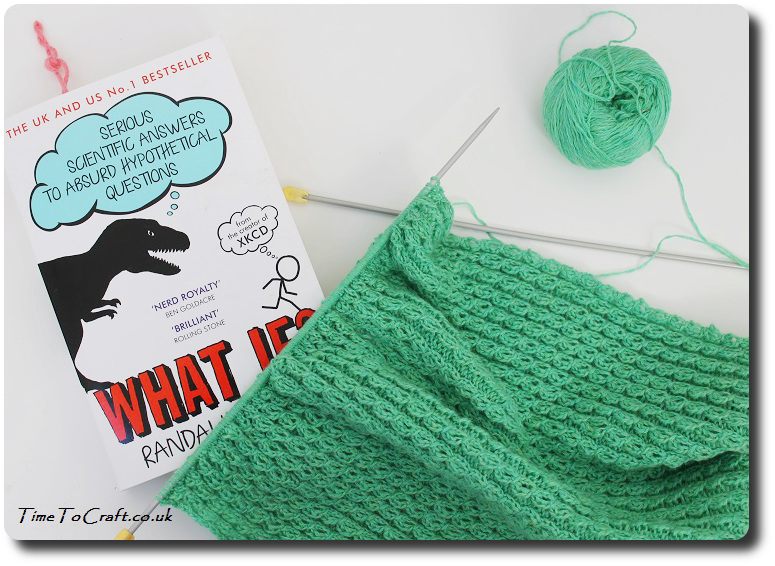 As it's Wednesday, I'm sharing my latest read. I bought What If?: Serious Scientific Answers to Absurd Hypothetical Questions
for my husband. He thoroughly enjoyed it and passed it on to me to read. (I do like giving gifts that I'd like to receive….but I really did buy this one with him in mind!!)
I'm about half way through and enjoying it. It appeals to my nerdy side, and is written with humour. Like one of those strange conversations that you get pulled into when other subjects run dry. Each person adding/disagreeing/building on what has been said. Until you end up with a solution that involves a new planet made entirely of furry moles.
I know I'm not alone.
So what have you been knitting and reading? Any interesting hypothetical questions discussed over the festive break? I'd love to hear.
Joining up with Ginny's Yarn along.
18 Responses to Yarn Along – Soft as Clouds
There have been cases when people lifted my photos and words, and used them without credit to me or asking permission first. Using them for their own commercial gain. I have now added a level of security to deter people from doing this. Apologies to people who do play nicely. If you would like to use any of my photos, please contact me.
All my words and photos are copyrighted to me. They cannot be used for commercial benefit by anyone else. If you would like to use any of them, then please ask me first and don't just take. Written permission only. Don't pass my words, photos or ideas off as your own. It's not nice.
Cookie Policy
Our web pages do not use cookies however this website uses Google Analytics, a web analytics service provided by Google, Inc. Google Analytics uses cookies to help us analyse how people use our site. The use of cookies by Google Analytics is subject to change.