Hanging out with jungle cupcakes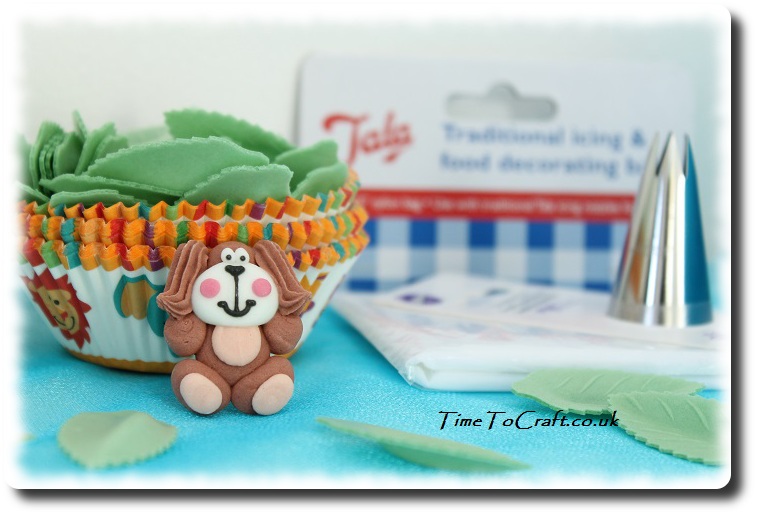 As soon as I hear the question, "Can we do this again, pleeeeeese?", I know I'm on to a winner.
Another successful, creative activity with the children. A brief moment to stop, and enjoy the feeling of notching up another happy mother moment.  Carving more sweet childhood memories.
I swear they grow slightly taller each time this happens.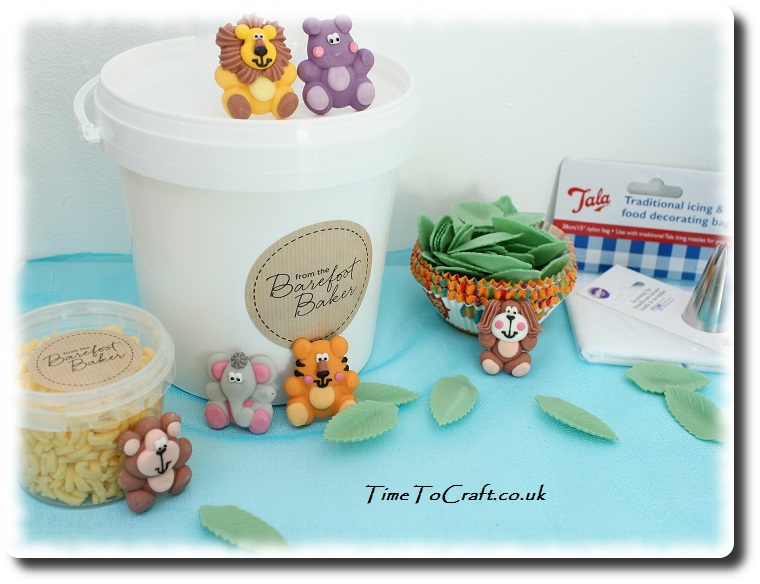 This weekend we used the jungle themed cupcake set from the Cake Decorating Store to decorate little cakes. Yes, those are banana sprinkles. Call me a country bumpkin, but this is the first time I've heard, let alone used, banana sprinkles. So perfect for a jungle party. It's details like this that just help to make a celebration that little bit more special. Easy to do too!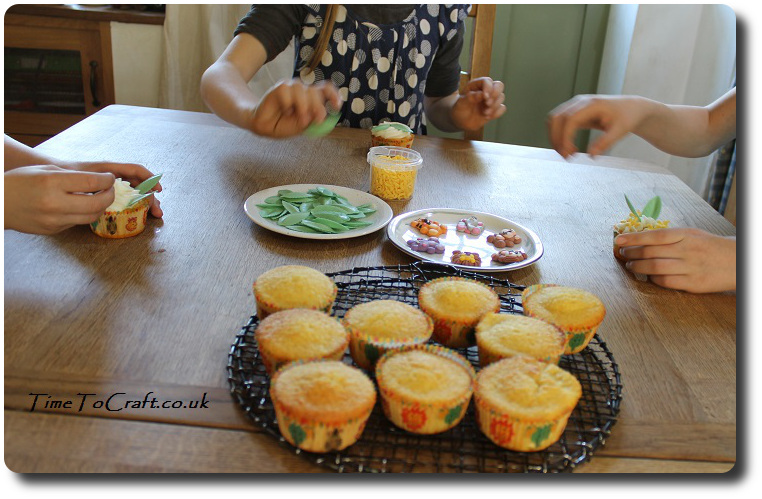 I baked up a batch of cupcakes, in the morning. If I had a pound for every time a member of the family came in and asked if they could have one of the cooling cakes, well I'd be writing this from a sun-drenched beach. Possibly with palm trees lining it and the blue sea shhing up the sand.
Pause.
You get the picture.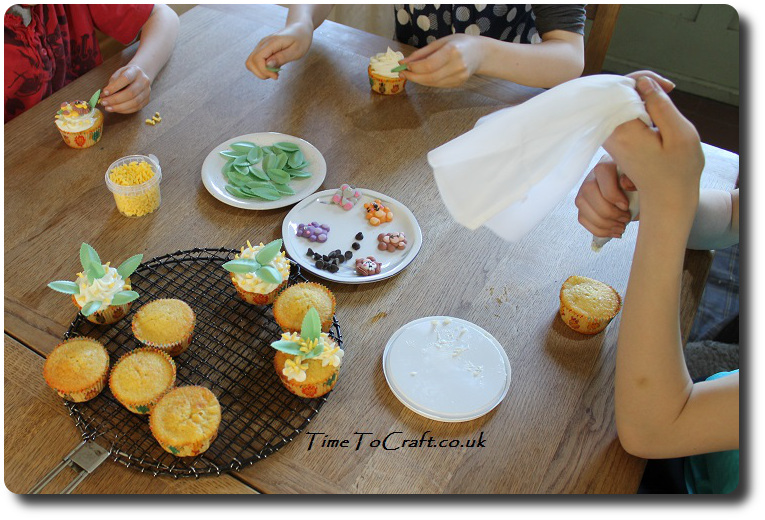 Back to the cupcakes. The frosting was easy for the children to squeeze out of the piping bag, but still have control. They managed distinct flowers and confident swirls.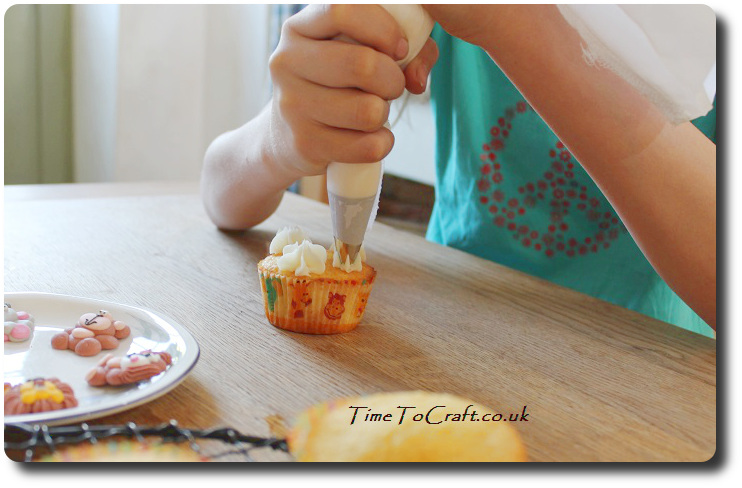 We soon learnt that the frosting became too runny if passed between them and held for long. Answer was to load only as much frosting in the icing bag as we needed, which worked well. Adding more for the next round of cupcakes.
I loved the way they used the leaves to create palm trees and ferns. Using the banana sprinkles to add detail to their tropical flowers. At this point, I realised I'd missed a trick not adding a tropical flavour to my cupcakes. Maybe lemon or mango.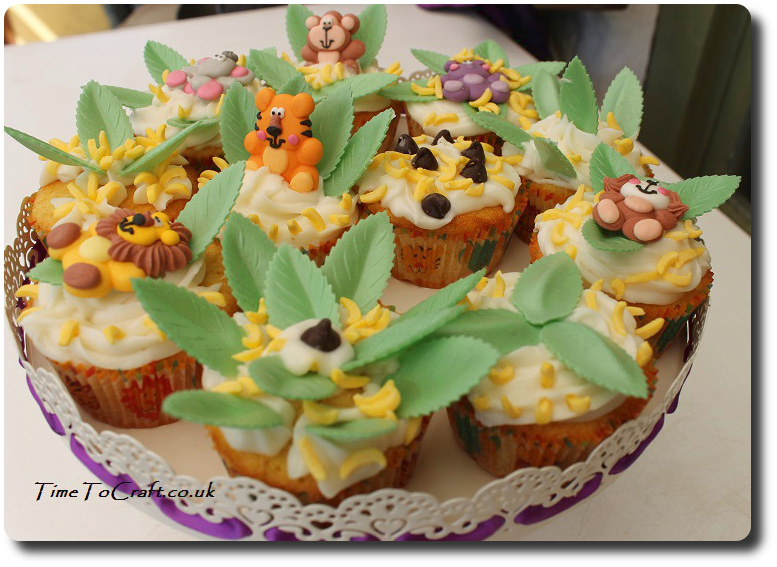 Let's talk cake cases, because I am fussy. I've noticed recently, that some cake cases have a particular un-cake smell. Not sure if it's the dye or the paper. Anyone else noticed? The jungle cupcases are free of this aroma. It's details like this that make or break a cake eating experience for me. Along with the fat used, but that's another story.
The animal design is fun. I somehow forgot to take a photo, but on the bottom is the face of a cheeky monkey. Only revealed, as the cupcake is picked up and eaten.
I was lucky to get any photos of the finished cakes. Turns out cake decorating builds up an appetite, where children are concerned. Moments after taking this photo, hands could be seen reaching in and the cakes were gone.
Who can blame them?
Details:
The Jungle cupcake set contains:
75 jungle animal cupcake cases
A tub of vanilla frosting
A reusable icing bag and metal nozzle
6 sugar animals decorations
1 tub of banana sprinkles
a bag of corn starch leaves.
Disclaimer: The Cake Decorating Store sent the jungle cupcake decorating set to us for purposes of review. As always, our opinions are honest and true.
If you would like to find out more about the Cake Decorating Store, check out their online store. It has lots of themed wares that would add the all important detail to any party. Also a £1 section for absolute bargains. (I mean it, check them out)
They run competitions on their Facebook page, where also at the beginning of each month you can pick up discount codes.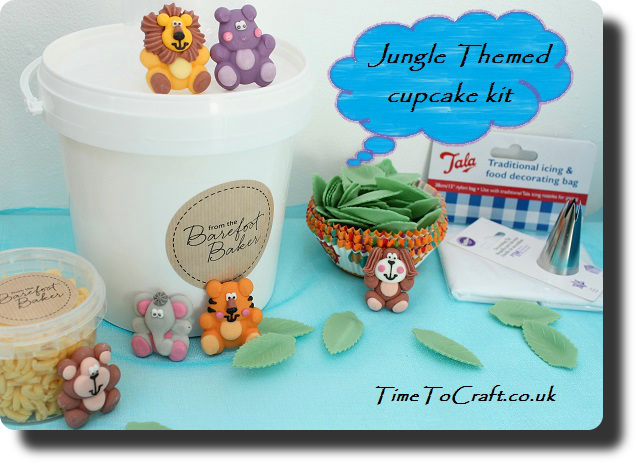 What's your favourite cake decorating theme?