I made pots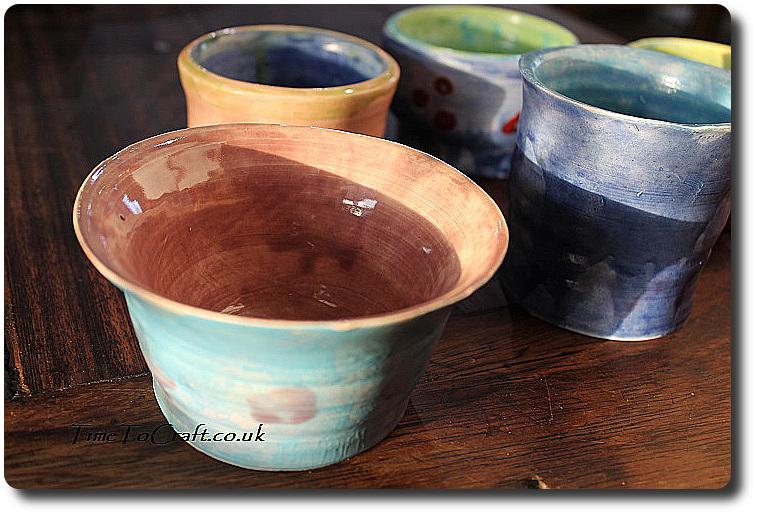 Somehow, I missed out on pottery at school. Apart from the odd coiled pot or ambiguous animal models, I really can't remember making anything that had to spend time in a kiln. More recently my children have creating clay masterpieces and I have looked on with quiet envy. Hoping that their classes might open up to us adults. (pick me, pick me)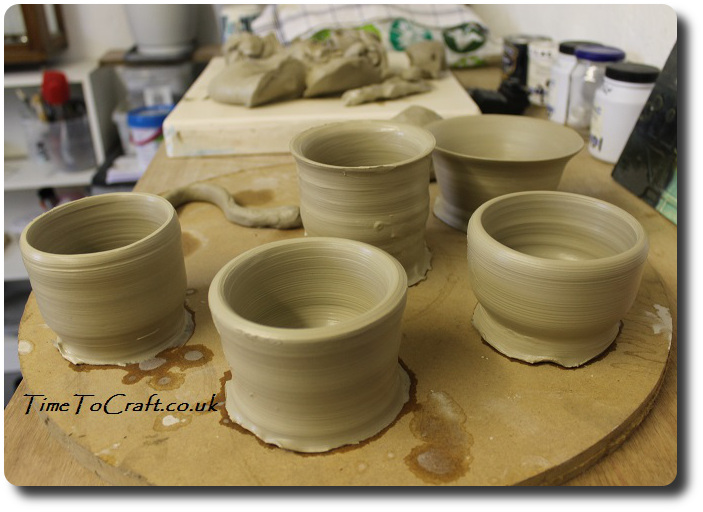 Then, back in November, I made a bid for pottery lessons at an auction, with an amazing, local ceramist, and won. A very talented, patient teacher, as it turns out. If you follow me on Instagram, you might have spotted the progress of my pots.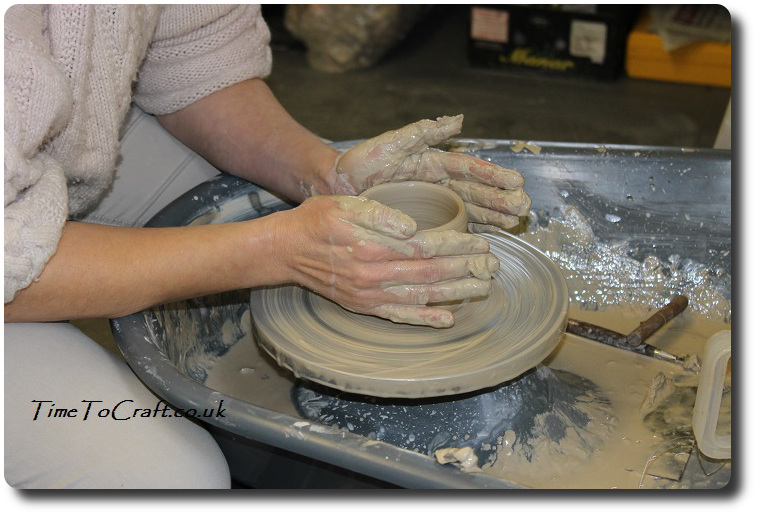 I spent time in her studio, learning to make pots on her potter's wheel. That's me in the photo. Goodness, it is hard work. I felt muscles in my arms and legs being used for, what seemed like, the first time. I have a fresh appreciation of potters. I really achingly do.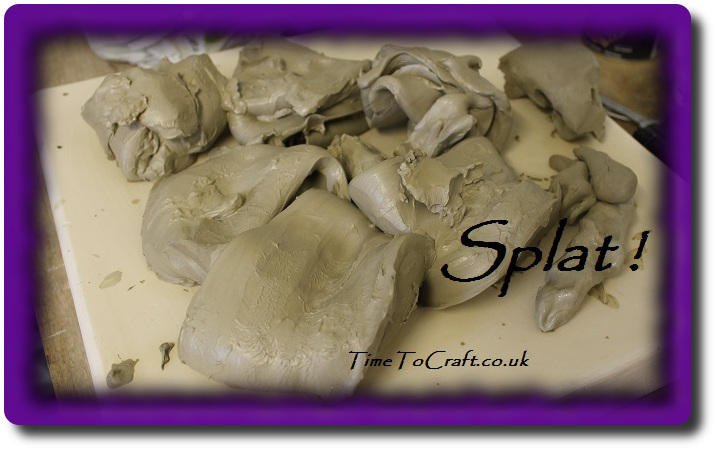 Not all of the lumps of clay made it. I found shaping the pots fascinating. A simple subtle movement of my fingers sent the walls curving gently out, or changed the thickness. And then it would all go wrong, wobble and cave in. I had to include a photo of my splats. It's only fair.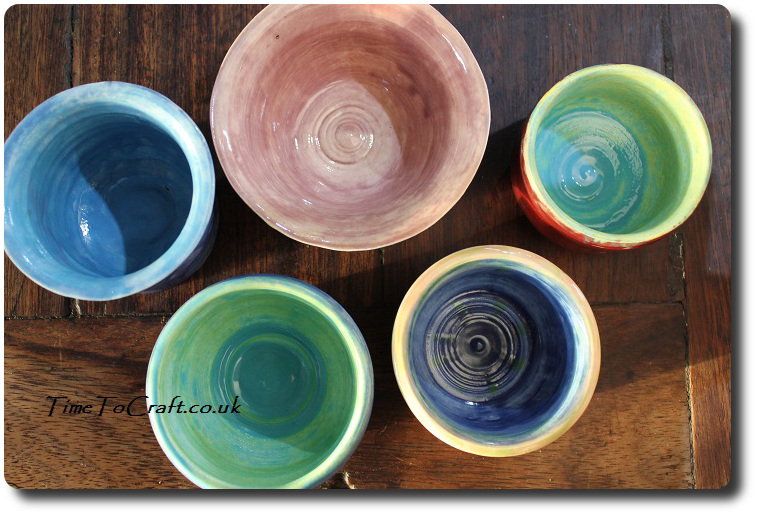 I made five pots. All different. One is a bowl. One has the most perfect dip in the base to cradle a candle. Another was going to be a mug,……except the handle failed. Not easy shaping with aching muscles. I should have started with the handle.
After Christmas, I went back to glaze them. I tried patterns, but not my forte as it turns out. Hey, you can't be good at everything, so I added a bit more glaze. Two tone, in some cases.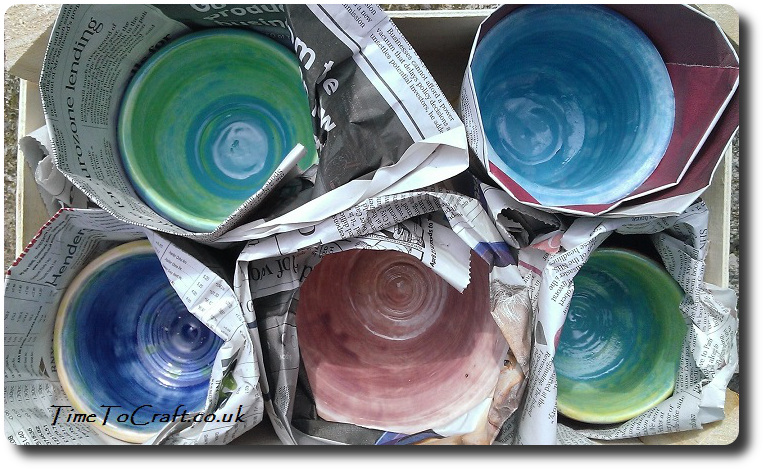 Yesterday morning, at the school gates, I was handed a small wooden crate containing…..oh be still my beating heart…MY POTS. Oh yessire. My finished pots. I couldn't wait to get home and unwrap them.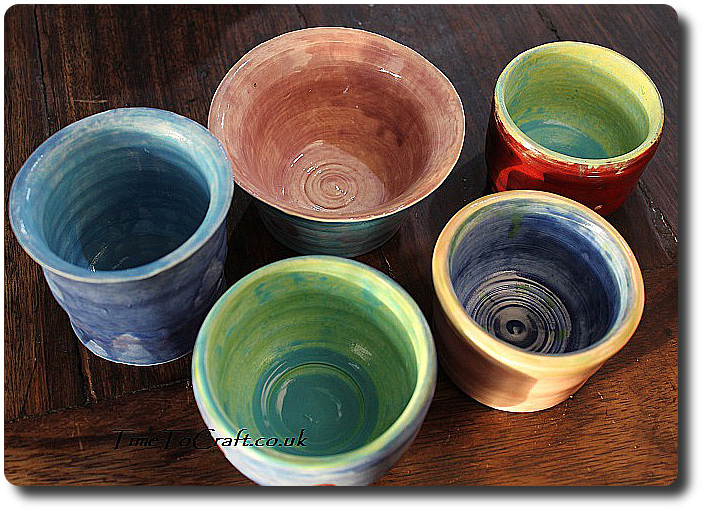 So pleased with the results. OK, I may not be destined to be a professional ceramist, but I am more than happy. Always excited to acquire a new craft skill. And, oh boy, is this a great one!
Trying to think how to use them. It would be a shame to condemn the pots to a life behind glass. I'd like to use them.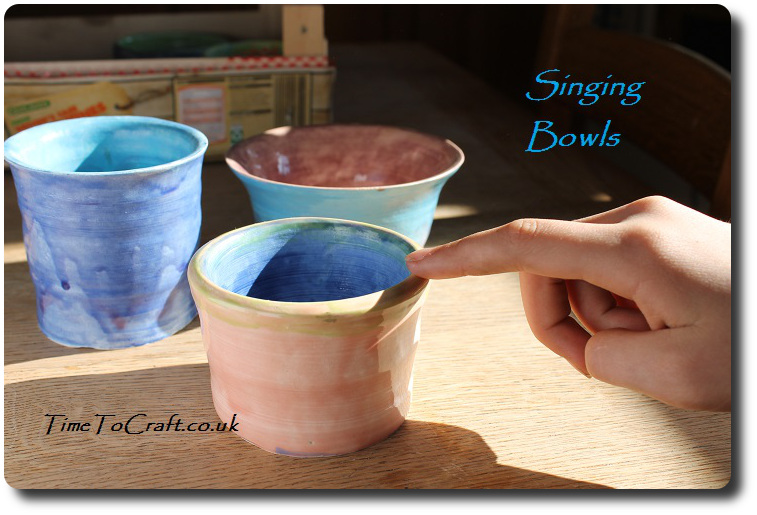 Middle daughter and I had fun running our fingers round the rims and arranging them in note order. They do make amazing singing bowls for times of meditation, or making tunes, although Eldest has banned us from indulging this whimsy when she is around. (sends shivers down her back) Hmm.
As an avid dressmaker, using one, or two, as sewing accessories does appeal. Chance to enjoy their loveliness on a regular basis. Pincushion?
 Joining in the Creative Mondays Blog Hop. Hop on over for some crafty inspiration.
8 Responses to I made pots
There have been cases when people lifted my photos and words, and used them without credit to me or asking permission first. Using them for their own commercial gain. I have now added a level of security to deter people from doing this. Apologies to people who do play nicely. If you would like to use any of my photos, please contact me.
All my words and photos are copyrighted to me. They cannot be used for commercial benefit by anyone else. If you would like to use any of them, then please ask me first and don't just take. Written permission only. Don't pass my words, photos or ideas off as your own. It's not nice.
Cookie Policy
Our web pages do not use cookies however this website uses Google Analytics, a web analytics service provided by Google, Inc. Google Analytics uses cookies to help us analyse how people use our site. The use of cookies by Google Analytics is subject to change.