AlphabetPhoto: C is for…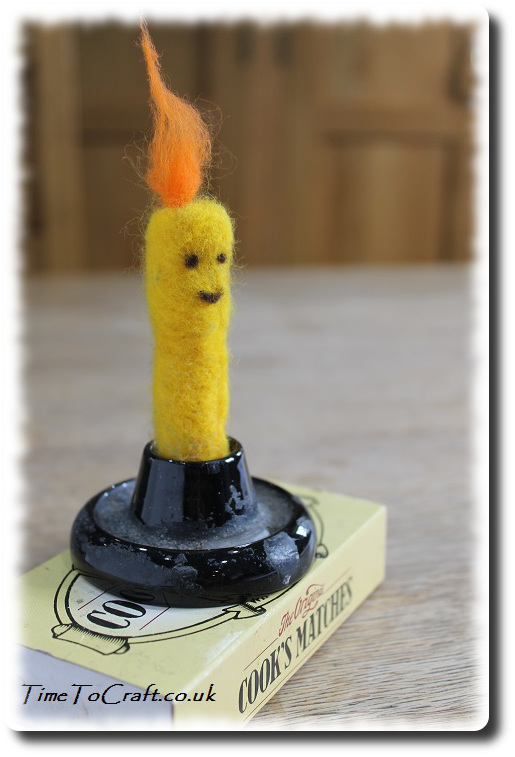 It's running up to Candlemas or Imbolc (2nd Feb), which marks the half way point through winter. I've been working on a particular seasonal crafting project, with a colourful note to it. The needlefelted candle is just part of it. I couldn't resist adding a face. A cheeky face, I hope. He's not quite finished yet. Some projects can't help but take on a life of their own.
I made him yellow, like beeswax, and to add a glow in his own right. I remember reading that churches used only to burn beeswax candles. Tallow candles being too smokey and smelly. I've noticed that when we light our hand-dipped beeswax candles, they drip less than shop bought candles, so I wonder if that was another reason.
Joining in with PODcast's #AlphabetPhoto. My C is for candle. Hope he brightens your day too!
12 Responses to AlphabetPhoto: C is for…
There have been cases when people lifted my photos and words, and used them without credit to me or asking permission first. Using them for their own commercial gain. I have now added a level of security to deter people from doing this. Apologies to people who do play nicely. If you would like to use any of my photos, please contact me.
All my words and photos are copyrighted to me. They cannot be used for commercial benefit by anyone else. If you would like to use any of them, then please ask me first and don't just take. Written permission only. Don't pass my words, photos or ideas off as your own. It's not nice.
Cookie Policy
Our web pages do not use cookies however this website uses Google Analytics, a web analytics service provided by Google, Inc. Google Analytics uses cookies to help us analyse how people use our site. The use of cookies by Google Analytics is subject to change.