I heart my slippers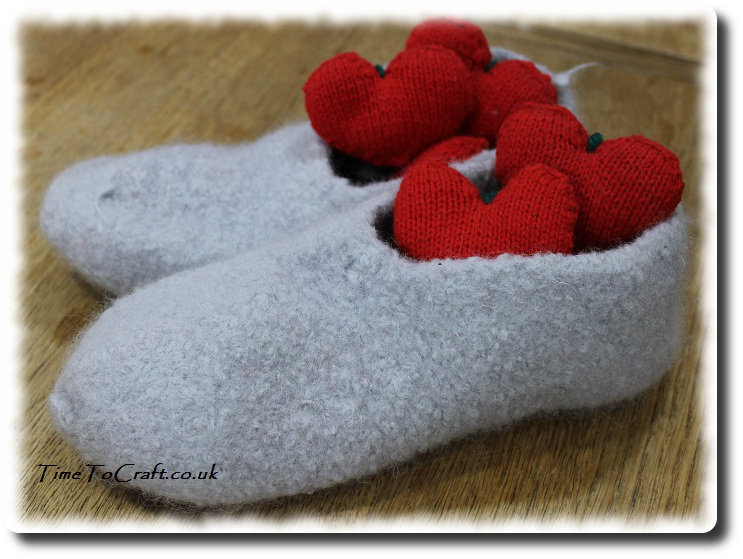 As I live and breathe, I made these slippers. They were a bit of an experiment for me. I used recycled yarn from my stash and two of my evenings. It really didn't matter too much if they succeeded or not, but I so wanted them to. They really didn't let me down.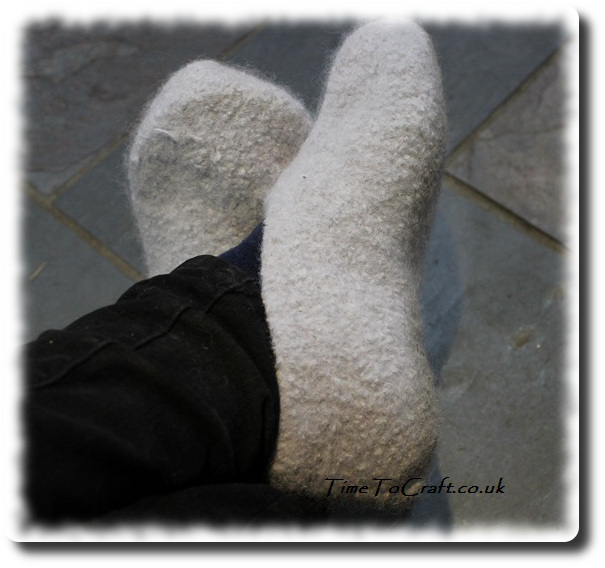 To be honest, not everything turns out matching the picture in my head. Imagination is a wonderful thing. But these did. They really did. Maybe it's because they're so simple. Not many steps (pun not intended), so less chance of mistakes.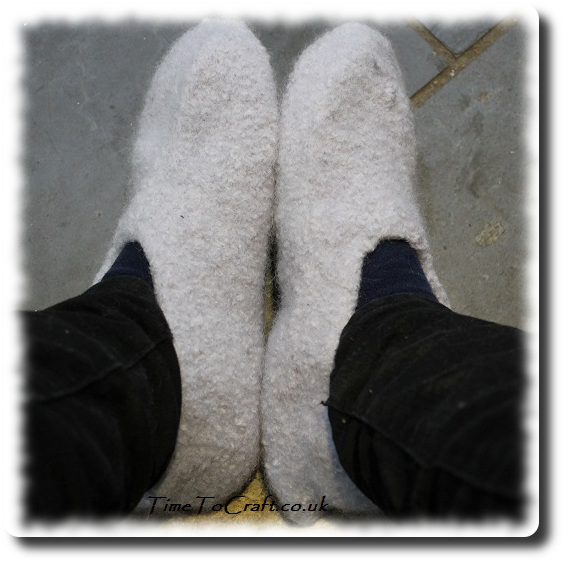 It's the first time I've knitted something into the desired shape and then felted it. Totally appeals to the instant-reward side of my nature. Press a button (washing machine, in this case), and it does the rest. (Of course, ignoring the hours spent knitting.)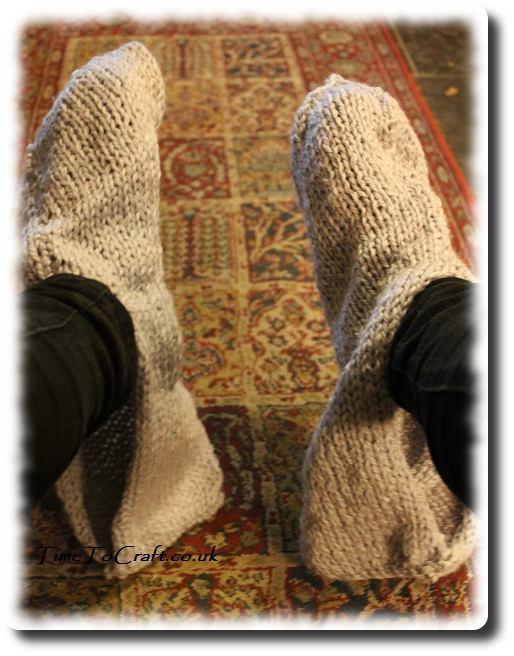 Slippers pre-felting
I used this pattern. I didn't have the required 8mm dpn (double pointed needles), on hand, so 9mm straight ones had to do. I sewed up the front join over the top of the foot. It doesn't show. Well I don't think it does!
They are still wet and need a bit of shaping. I'll be able to throw them back in the wash if they start to bag or get dirty. They are thick felt and pure wool, so they're going to keep my feet wonderfully warm. Not sure if I'll add a leather sole to them, but will be adding non-slip stuff to improve the grip. I may never buy slippers again.
This pattern is really easy. If you can knit, then you shouldn't have a problem.
When I took them out of the first wash this morning, the children were intrigued. I can imagine making a pair for each member of the family.
Adding to my Becoming a greener me in 100 steps project. Making my own footwear from my craft stash.
2 Responses to I heart my slippers
There have been cases when people lifted my photos and words, and used them without credit to me or asking permission first. Using them for their own commercial gain. I have now added a level of security to deter people from doing this. Apologies to people who do play nicely. If you would like to use any of my photos, please contact me.
All my words and photos are copyrighted to me. They cannot be used for commercial benefit by anyone else. If you would like to use any of them, then please ask me first and don't just take. Written permission only. Don't pass my words, photos or ideas off as your own. It's not nice.
Cookie Policy
Our web pages do not use cookies however this website uses Google Analytics, a web analytics service provided by Google, Inc. Google Analytics uses cookies to help us analyse how people use our site. The use of cookies by Google Analytics is subject to change.