AlphabetPhoto : J is for juxtaposition and journey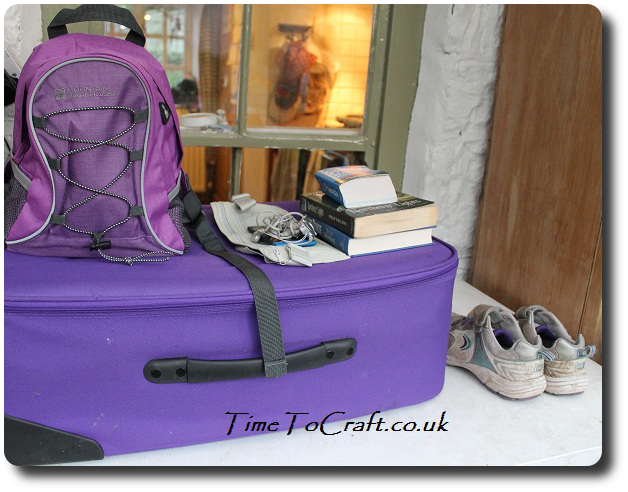 Juxtaposition:the fact of two things being seen or placed close together with contrasting effect. (Oxford Dictionary)
Eldest is away on her travels. The second big adventure away from us, in the same number of years. This time, she is further afield. I can't as easily jump in a car and drive a couple of hours to pick her up. She is further afield.
When I took this photo, I didn't take much notice of the background. The contrast of her travel kit and the warmth of the kitchen behind. It strikes me now as a juxtaposition. The contrast of her organization and well thought out planning, to the chaotic, warm nature of our family kitchen. One to stay and one to move, but the contrast doesn't stop there.
When she returns, to her it will feel like she's been gone a month. To us, a matter of days.
When she returns, she will have gained so many new experiences and skills. We will have stayed the same.
When she returns, she will be full of stories to tell. We will have little new to add.
In the few days she will have grown, as if time has moved more quickly for her and allowed her to pack more in. The contrast will be amazing. As a parent, there are few other times when you can measure the growth of a child so remarkably. One of the joys of parenting.
.
In the meantime, if you don't mind, I'll be needing extra chocolate!
(edited: I did hint to her that she could bring some chocolate back for me us.)
.
Joining in with the talented Charly over at Podcast, with the #AlphabetPhoto
26 Responses to AlphabetPhoto : J is for juxtaposition and journey
There have been cases when people lifted my photos and words, and used them without credit to me or asking permission first. Using them for their own commercial gain. I have now added a level of security to deter people from doing this. Apologies to people who do play nicely. If you would like to use any of my photos, please contact me.
All my words and photos are copyrighted to me. They cannot be used for commercial benefit by anyone else. If you would like to use any of them, then please ask me first and don't just take. Written permission only. Don't pass my words, photos or ideas off as your own. It's not nice.
Cookie Policy
Our web pages do not use cookies however this website uses Google Analytics, a web analytics service provided by Google, Inc. Google Analytics uses cookies to help us analyse how people use our site. The use of cookies by Google Analytics is subject to change.