Purple tunic
Can you hear that? Yes? That's me doing a little dance of joy.
Recently it has been more challenging to make something that eldest wants to wear. She loves the idea of handmade clothes. She shows great interest in clothes I make for the other two, but the reality has not lived up to her expectations. In other words, I have failed. It has been difficult to say the least. Added to a list of things not going as she would like. She's 11.
The more eagle eyed may have spotted her wearing this top when we visited Farleigh Hungerford castle. I made it. Not only was she wearing it out that day, but she has on several occasions. She likes it. Do you mind if I write it again? She likes it. (Sorry. In my excitement, I didn't wait for an answer)
I also made the black leggings, she's wearing. These were made one evening, when she announced that she needed a pair for dance the next day at school. A little warning would have been nice. I guess my children are just used to me working sewing miracles.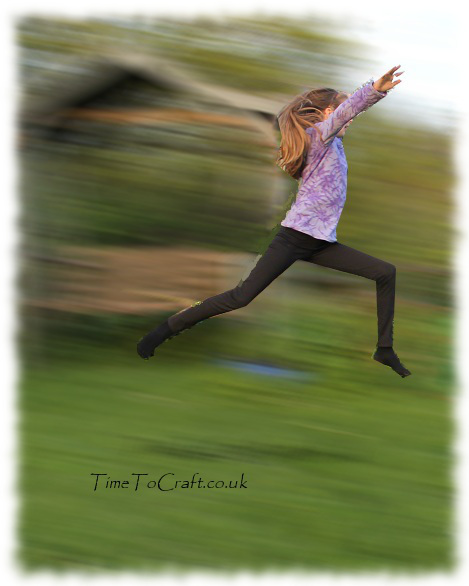 When something is comfortable, it's very tempting to run and jump, and prove that you can really move in it. If you are 11.
Details
I used the same pattern and embellishment ideas as the orange tunic I made for her sister.
Pattern: Simplicity 2156 size 7-15 (sizes run big, so I made it for a size 8 and added length)
Fabric: Stretch fabric from Minerva Crafts
Excuse me while I carry on with my dance. Yah! Hey! She likes it. She likes it.
Linking up to Simple Simon and Company's Sewing Saturday.
2 Responses to Purple tunic
There have been cases when people lifted my photos and words, and used them without credit to me or asking permission first. Using them for their own commercial gain. I have now added a level of security to deter people from doing this. Apologies to people who do play nicely. If you would like to use any of my photos, please contact me.
All my words and photos are copyrighted to me. They cannot be used for commercial benefit by anyone else. If you would like to use any of them, then please ask me first and don't just take. Written permission only. Don't pass my words, photos or ideas off as your own. It's not nice.
Cookie Policy
Our web pages do not use cookies however this website uses Google Analytics, a web analytics service provided by Google, Inc. Google Analytics uses cookies to help us analyse how people use our site. The use of cookies by Google Analytics is subject to change.