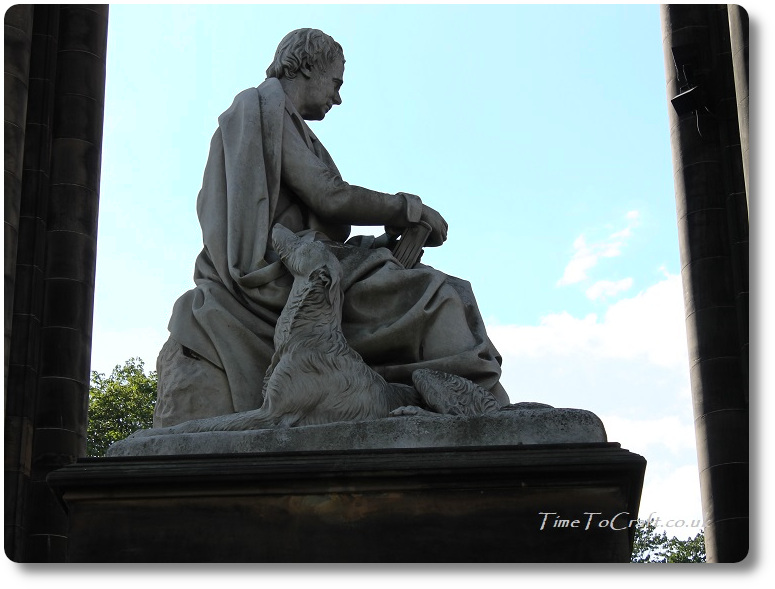 On my list of places to see in Edinburgh, this summer, was the memorial to Sir Walter Scott. Some people travel far to see the great writer, but we were there to see his beloved deerhound, Maida. I'm glad we made it. I know that look well, after years of having deerhounds.
We had our latest deerhound pup with us in Edinburgh. He did his best to replicate the statue by the steps, but he's young and easily distracted. Seems a good excuse to go back when he's a little bit older.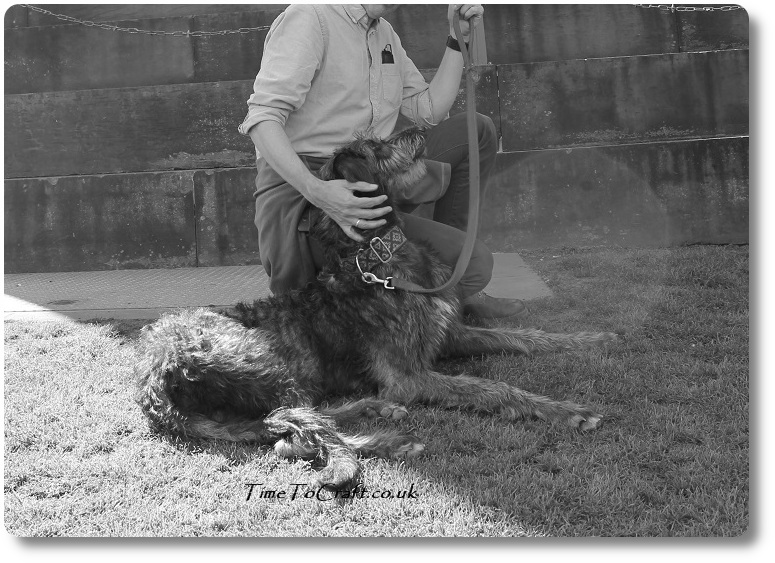 I've been sewing again. Tra la la! Little dance of joy. Sewing definitely makes me happy. Escaping for even a short time to play with my creative ideas, is good time. On my own. It means later I can take a back seat while encouraging others to be creative. Resisting the temptation to wade in, with my sleeves stylishly rolled up, and take over their projects. It's OK. I've already had my own creative time. Instead I can nudge them to think deeper and out of the box, without spelling out how I would do it.
May is the best time for me to feel a fresh burst of creativity. I find I'm inspired by the increasing number of different flowers appearing in the local hedgerows and our garden. Oh, the colours. Not just the colour, but also the scent promises wonderful times to be had outside, in the coming months. Even the different shades of foliage add to it all. So beautiful. It's probably no coincidence that my handmade wardrobe offers up more spring outfits than any other season. The burst of colour sends me dashing to rifle through my fabric stash for just the shade to complement it all. Again.
This year is no different. I opted for a blouse made out of green fabric with beetles on it.
Regular readers of my blog probably won't be surprised by my choice of a beetle fabric. Way back when, before career apps were even a twinkle in their programmer's eye, I was researching my next steps in the dismal, back room at school, that passed for our career office, I wish someone had pulled out the paper brochure for entomologist. I suspect it wouldn't have had a well worn spine, with bent edges, as some of the other brochures (I'm looking at you, accountancy and law), but it would have opened my eyes to another possibility. I might have been put off by the forecast salary, but at least I'd have known it existed.
As it happens, I had to wait until my first born came home from primary school with a mini-beast project, before I even came across the word "entomology" and the concept that you could study and earn money by being one.
All's well that ends well, as they say, as I can still indulge my amateur interest in all things bug like.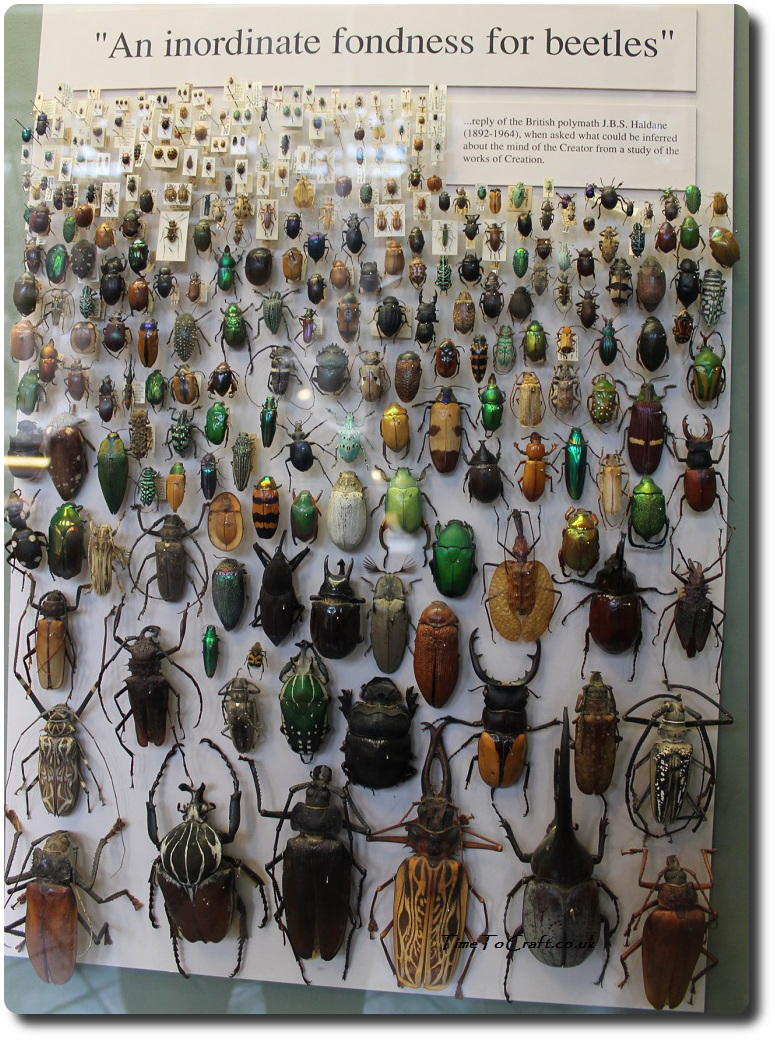 I like bugs. Especially beetles as there is such a variety. Vast majority have not been categorized and have no name. Just imagine. We know so little.
Back to spring time sewing. I pulled out New Look 6598 from my pattern collection. It's one I've used before (here and here) and find this style of blouse works well for me. This time I went for view D and left out the sleeve cuff, to cut down on the unnecessary bulk.
One of the reasons I love making my own clothes is that I can add creative details to it. Making it mine. This time, the fabric on its own seemed too plain, which I know sounds odd, seeing as it's covered in beetles, but believe me, it did. It was calling out for something extra. Digging through my trimmings collection, I unearthed a length of white daisy flowers. Still in theme with the beetles and added a much needed contrast.
At first I was just going to add it to the sleeves, to draw the eye. Then I looked at adding it to the neck edge only. In the end, I threw caution to the wind and went for both. As they say, go big or go home, and it is my top.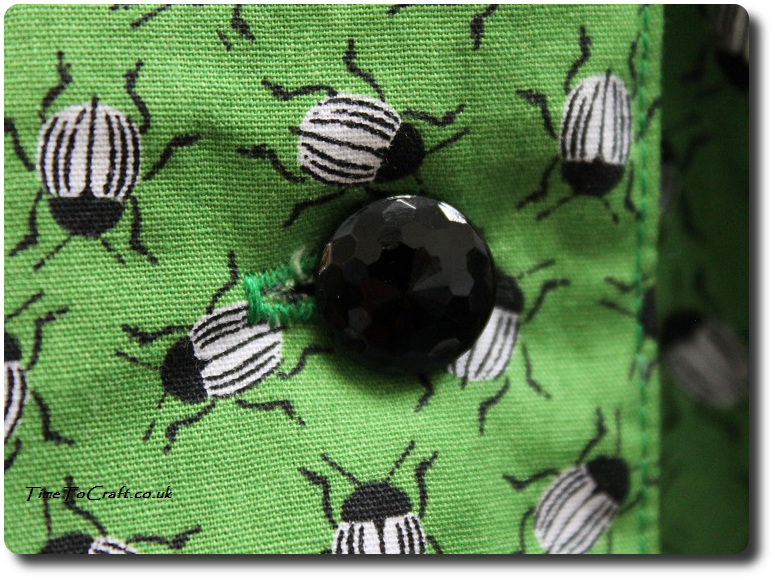 The buttons were a lucky find. One night, I searched in my button tin and couldn't find four matching green buttons. Unwilling to wait till the morning for the fabric shop to throw open its doors, I started looking for any four matching buttons, the right size. I'm not sure I'd have considered the black ones otherwise, but the more I looked at them, the more sense they made.
Do you see the many surfaces? They remind me of an insect's eye. Perfect. I have no idea where they came from but they must have been waiting for this project.
Blouse done. I can see this one being worn on a regular basis. The green is vibrant and the little beetles cute. I suspect some people might be eeked out by the idea of beetles, but I am one happy person.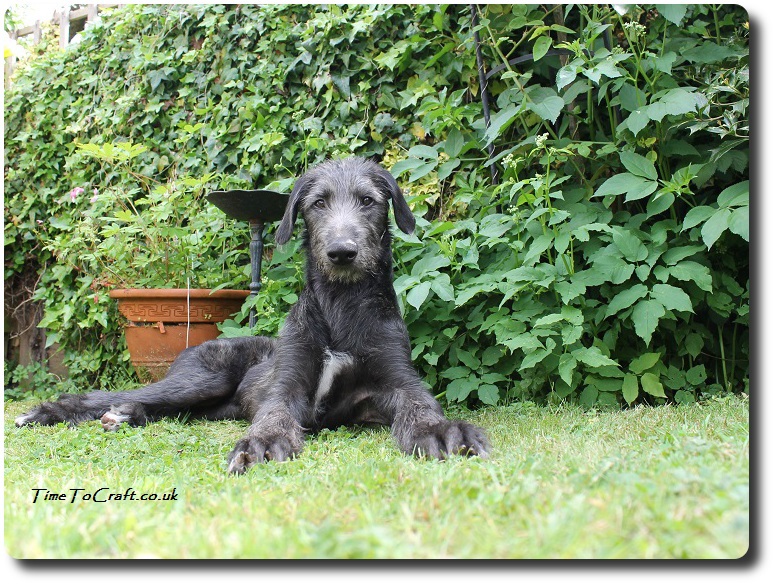 Thank you to Youngest, who took the photos and to Hero who opted to stay out of the photos, unlike previous hounds. A cool spot directing, from behind the camera, is more his style, it seems.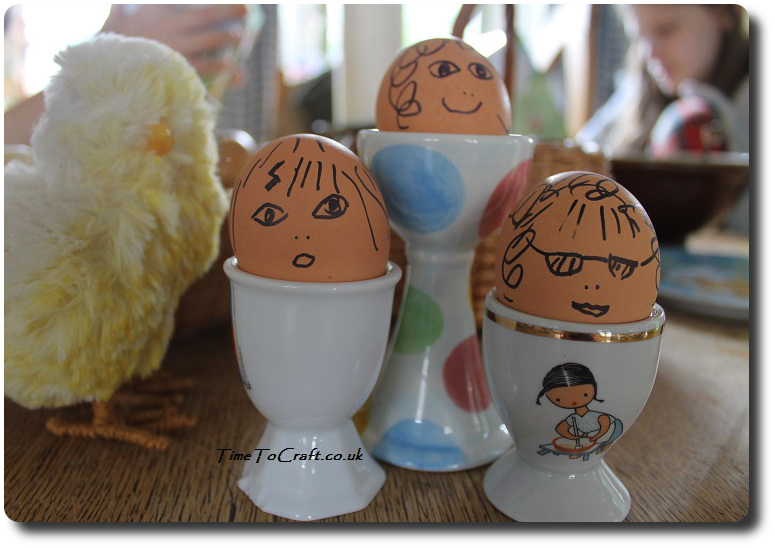 Easter holidays are almost over in this neck of the wood. Uniform is ready, homework is up to date and we're all gearing ourselves up for the return to routine. Two weeks have flown past, but at the same time we've sunk indulgently into a different rhythm which feels so very comfortable and how it has always been. I'm loathe to give it up. Tomorrow will be a shock.
As holidays go, it has been relatively quiet. Which is good. With exams on the horizon for eldest, I didn't want to be haring around the place. As it was, we lost three days of the holiday to study camp.
It's also the time of year I like to dabble in spring cleaning and decluttering wardrobes and chests of drawers, causing chaos to reign for a while in certain rooms, until order can be returned. (not complete yet) I am so grateful for the good drying days we've had. I even washed and dried the flokati rugs outside. Serious win, as far as I'm concerned.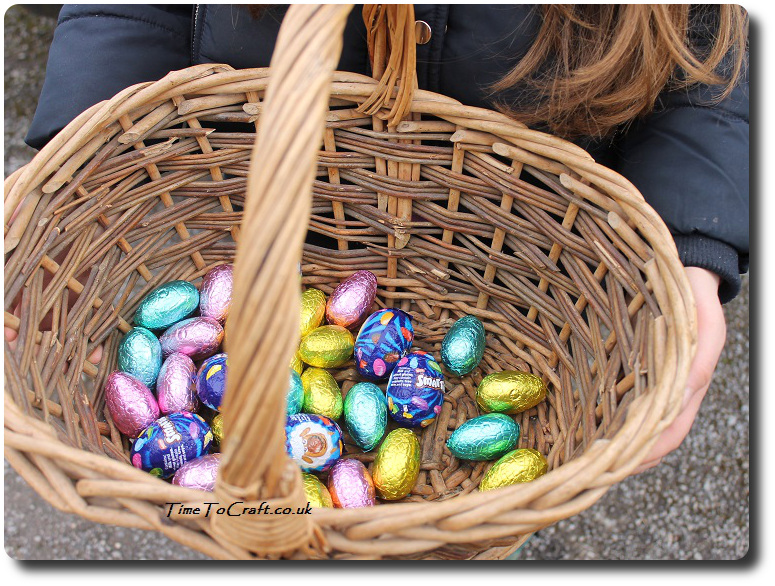 We still managed to fit in our usual Easter fun. The chickens laid chocolate eggs. Only happens on Easter Sunday. It wouldn't seem right to miss such an event. There are only two hens, at the moment, in our chicken ark, but miraculously they were able to produce three eggs for each nest hidden around the garden. Handy when there are three children to join in. The weather was kind too and the hunt was completed in phenomenal time as usual.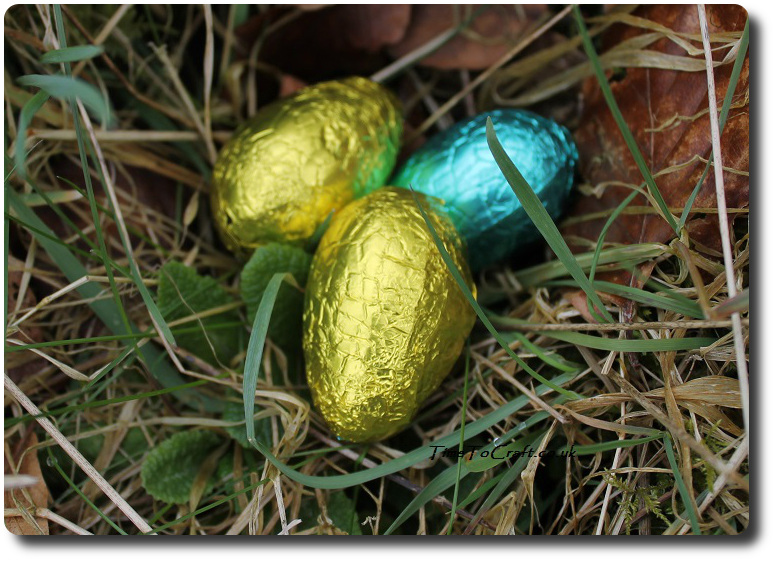 Fortunately, the hens laid their first proper egg, of the year, the day before. To start with the chocolate variety might have set a difficult precedent to sort out over the following weeks.
No holiday would be complete without something new being made. The teens used the hand-cranked Singer machine to recycle old jeans. I find it so difficult to throw old jeans, which came in useful, at last.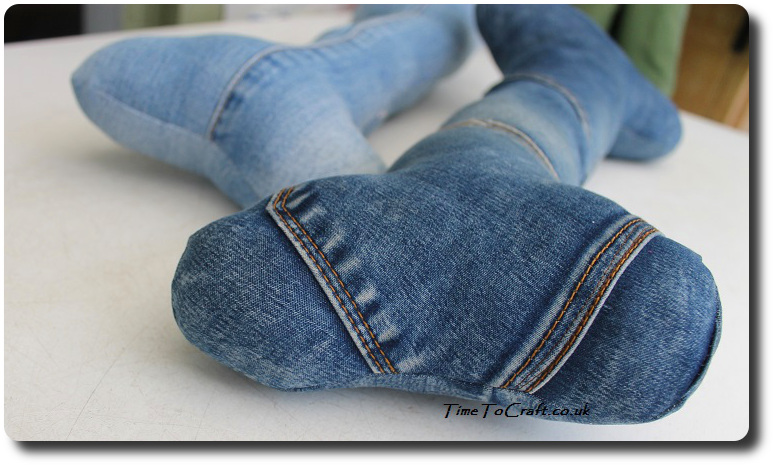 They've made two, so far, with another one marked out. I gave them old bed pillows to use for the stuffing. If the bones don't survive, then nothing much is lost. My hope is that they survive longer than it took to make them. A good rule of thumb. Not much worse than taking months to knit a jumper only for the child to grow out of it in weeks.
Same goes for denim bones.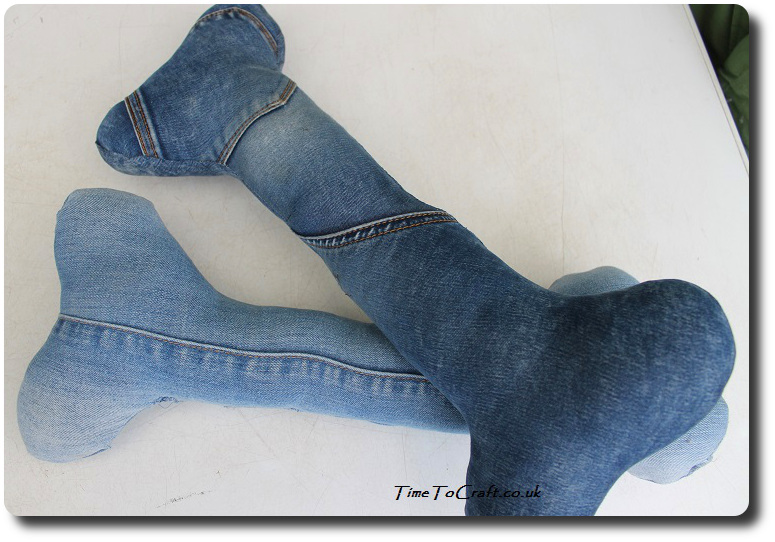 We found the denim bone idea over at Pillar Box Blue. Rather than using the template, we drew out our own, as we needed a slightly bigger version. We found it less tiring on the hand to use a rotary cutter rather than a pair of scissors, when cutting out the denim.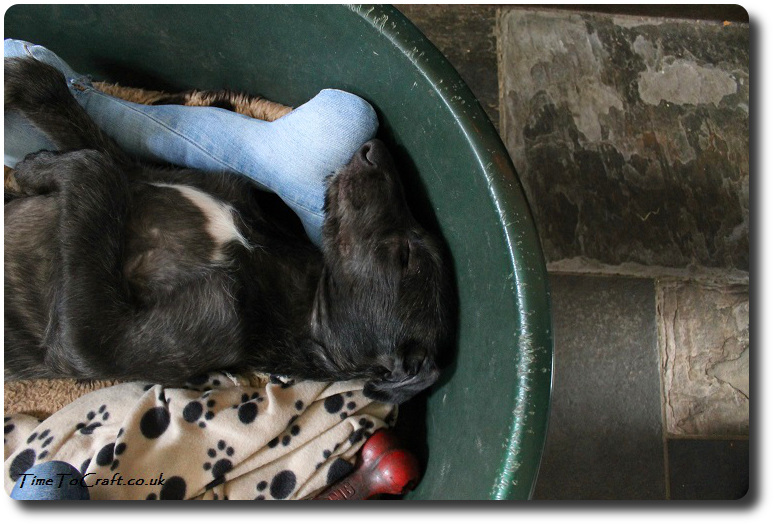 So far the bones have survived. They have been used for biting and throwing around, but also as pillows to snuggle up to.  Perfect for a tired pup after a busy day. He does look cute trying to carry the overlarge bones around.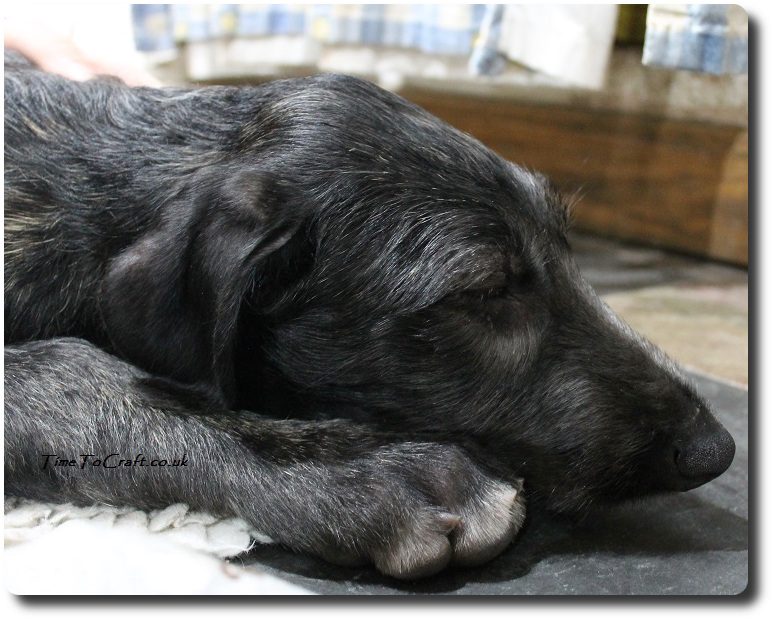 As you should be able to see from his large paws, this will come easier as he grows. The bones are picked up at night, along with his other toys. Just in case.
I really should introduce our new addition.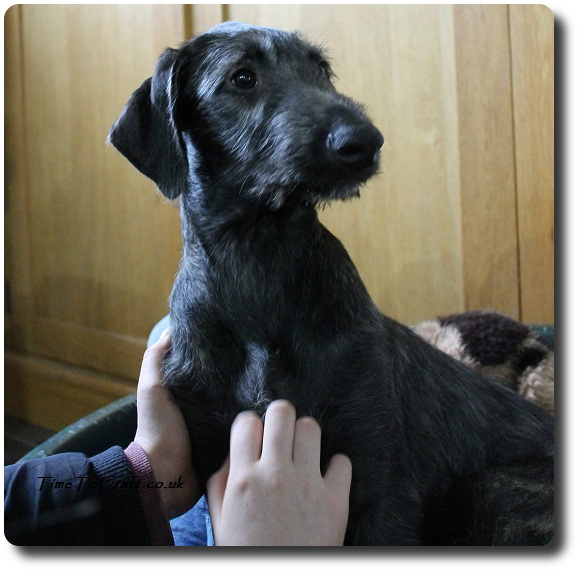 This is Hero. He was meant to fill our second-dog vacancy this spring. He's currently doing a grand job of rearranging our house and keeping us all on our toes. Every story needs a hero, as they say. Something tells me there will be plenty of tales to follow. You could say, I can feel it in my bones.
Photos
There have been cases when people lifted my photos and words, and used them without credit to me or asking permission first. Using them for their own commercial gain. I have now added a level of security to deter people from doing this. Apologies to people who do play nicely. If you would like to use any of my photos, please contact me.
Copyright notice:
All my words and photos are copyrighted to me. They cannot be used for commercial benefit by anyone else. If you would like to use any of them, then please ask me first and don't just take. Written permission only. Don't pass my words, photos or ideas off as your own. It's not nice.
Cookie Policy
Our web pages do not use cookies however this website uses Google Analytics, a web analytics service provided by Google, Inc. Google Analytics uses cookies to help us analyse how people use our site. The use of cookies by Google Analytics is subject to change.