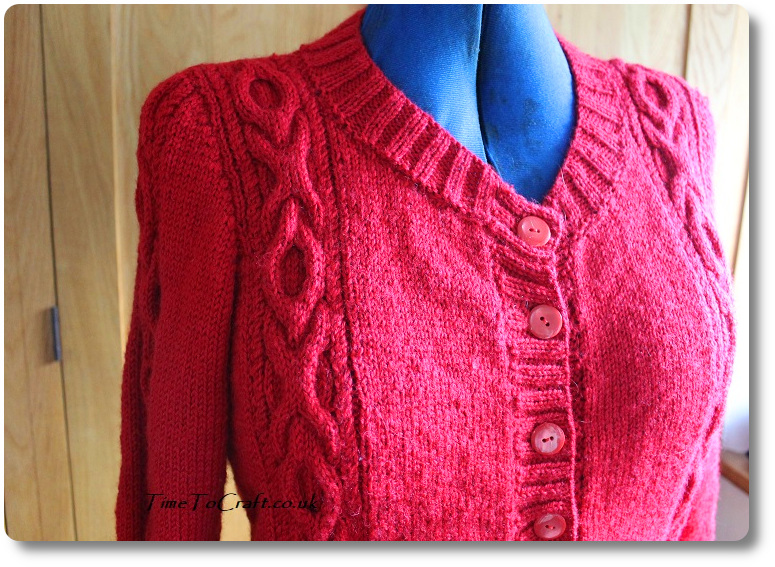 I've finished my red cardigan. Final stitch completed last night. Needs to be blocked to stop the hem curling and sort out the shaping, but it is done. If you can hear the hint of weariness in those words, then you are spot on. This cardigan has started to zap my enthusiasm.
Previous two versions of King Cole 4076 (jumper and cardigan) have taken a matter of weeks to do. They were straight forward. No frogging (unravelling) required. With this one, I've had to redo the whole of the left side, the collar and the button band. Silly mistakes. I don't know why. It is the same pattern. I knew what I was doing. Maybe knitting three items in a row was just too much.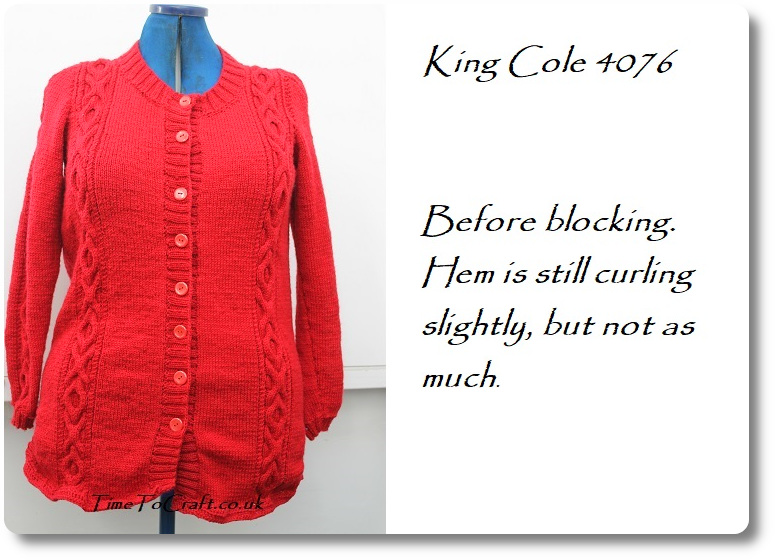 With this one, I did want to sort out the problem with my curling hem, that the others both had. They were missing the weight that ribbing gives at the bottom of a jumper or cardigan. In all fairness, blocking and wearing them, has reduced the curl over the months, but I remembered a tip that I received years ago from a blogger in the know.
It was for a different cardigan and she suggested adding crochet stitches at the bottom of each seam to give it weight. At the time, I couldn't crochet, so I didn't test out the tip. Roll on several years, to this red cardigan. I can now crochet. Could I add weight by crocheting a few rows of single crochet? Like a retrospective ribbing.
So I gave it a go.
It does seem to work. The back, if anything, curls inwards, which is perfect. I'm sure blocking will give this cardigan the shape I need. Slightly kicking myself that I didn't go the whole hog and add 2×2 ribbing to start with.
The only other adaption I made, if you can call it that, was adding a piece of ribbon down the button band. I'd noticed that my previous purple version of this cardigan, kept on losing buttons. It also might help with the shaping, in a small way. I love the ribbon. If I had more of the same ribbon, I would have added it to the buttonhole border too.
I have built up a good collection of odd lengths of ribbons and it is rather pleasing to find a good permanent use for one of them.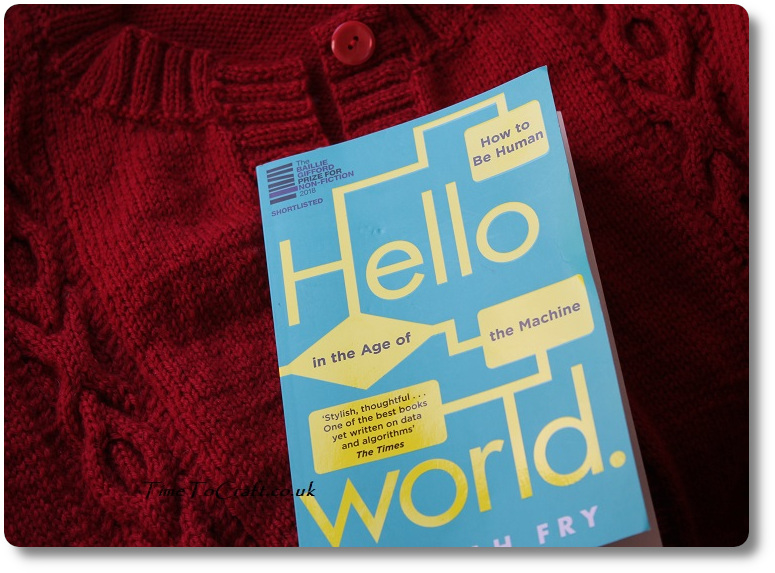 Today is Ginny's Yarn Along, so here is my current read. (affiliate link)  Hello World by Hannah Fry. I've watched several TV programmes presented by her and have liked her approach. She also happened to present The Royal Institute's Christmas Science Lectures, this Christmas, which is a must watch for our household.
I bought the book last year. I have a background in Artificial Intelligence and maths, so this book sounded good. The first program I wrote, printed "Hello World" on the screen, just like every other programmer I've ever met. I am a geek.
Saying that, this book is not just for geeks. The author writes in a very easy style. Yes, there are techy bits, but it is not a stodgy read. It is fascinating to see her take on the data gathered on us, every time we use a computer, and how it is used. How machine learning is being applied. I was banned from reading out loud anymore bits about data and marketing. It is relevant to everyone and she is challenging some of my ideas.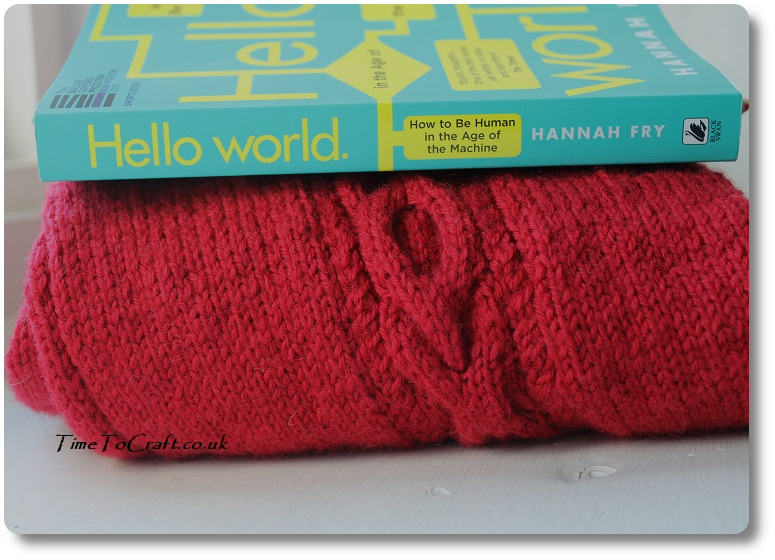 Nothing on my needles now, as I finished the cardigan last night. I think I'm going to do myself a favour and knit something simple like a pair of socks. I need a gap before I tackle anything jumper related again.
Joining in with Ginny's Yarn Along. What are you making at the moment?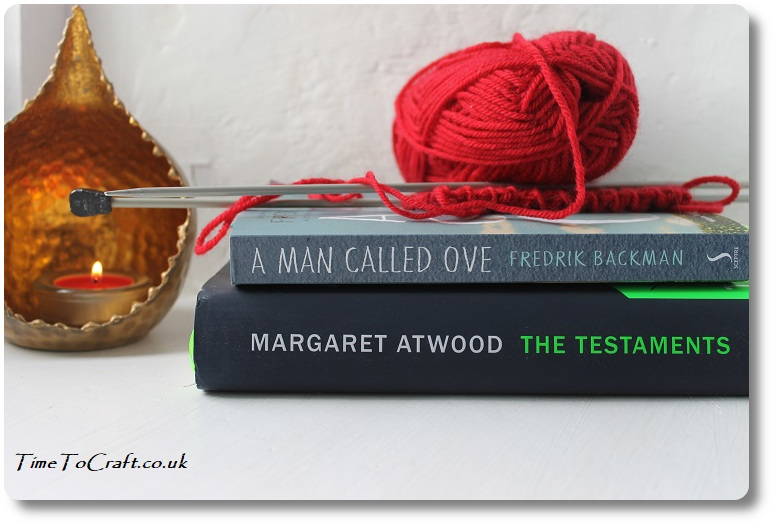 And just like that, we're back to autumn. Can you believe it? After the whirlwind of the summer months, I'm secretly grateful for the excuse of shorter days, to take it easier in the evenings. I love my kitchen garden. I really do. Pottering around at the end of the day, is such a joy, but I'm ready for a change in pace. Especially if it involves more reading and a chance to finish some of my knitting projects.
Time for my Yarn Along update.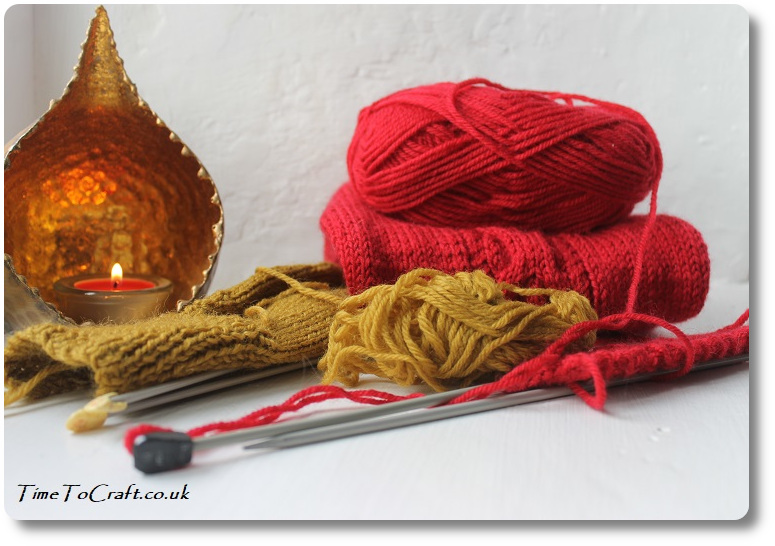 Knitting
I've made progress. Little dance of joy. My red cardigan now has a left sleeve, as well as a back and  two fronts. When I think back to knitting the purple version of this cardigan, earlier this year, it took a month. A month! The current cardigan is taking….erm…many more., but I'm OK with it. Was I really planning on wearing  it before November?
I've also knitted a dishcloth, which I love using. I'm on the look out for more cotton yarn, as I could do with a couple more. They are the best cloths ever.
Sneaking into the photo is another project. I've started my gift making. Such a gorgeous autumn colour and vintage yarn, from the 50s, I picked up in a charity shop recently. Very pleased with it. Obviously can't say more, seeing as it's intended as a gift.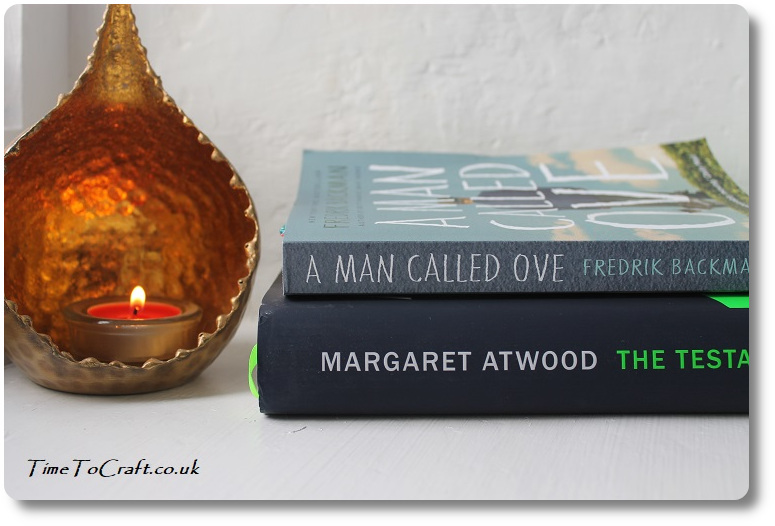 Books (some affiliated links)
Total change. I read Margaret Atwood's The Testaments. I've been looking forward to reading it, as I was completely bowled over by the Handmaid's Tale when I first read it in my 20s. I picked the Tale up one evening and couldn't put the book down until the wee hours, when I finished it. The story haunted me. Found echoes in the world around me, as the decades past by. It horrified and shocked me. I couldn't watch the TV series, as the book was enough. I didn't want to spoil it. Most definitely in my top ten books.
I may be alone in this thought, but I didn't feel that The Handmaid's Tale needed a sequel. It could stand alone. Yes, it was interesting to see what happened to the next generation and where the political system would take the nation, but it would never be able to shock me in the same way as the first book did. I was right.
The Testaments is the sort of book that you need to sit down and read the first few chapters, in order to follow the hopping around between the different characters' stories, as they are introduced, and the time shifts. I found seeing Gilead from outside the regime, was interesting and definitely added to the story. It raises interesting questions, about how would you have acted in the same circumstances. The three leading characters, who narrate the story, are gutsy and you want to see them win through.
There is a twist. I won't spoil it, but I thought it was pretty obvious soon into the story. Was that intended? Did it matter? Probably not. It is a good book. Possibly it would rate higher for me if it didn't have to be compared to the first book. Good, but not as formidable and monumental as The Handmaid's Tale.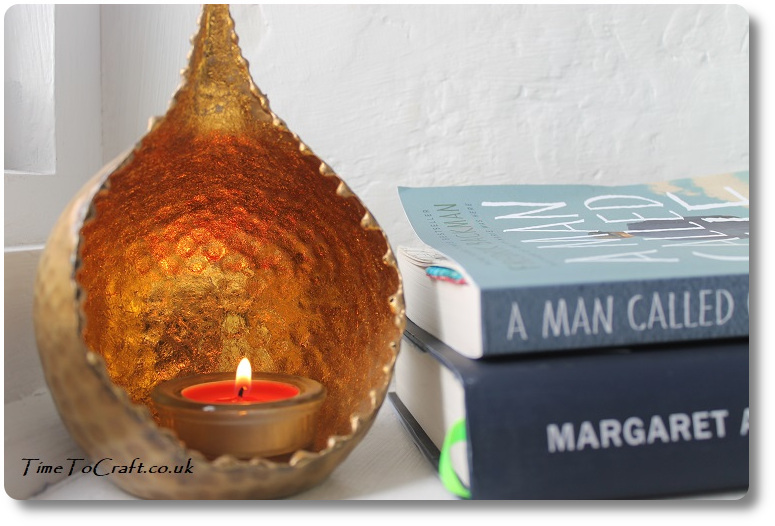 I needed something lighter next. Thank you to everyone that suggested A Man Called Ove. Early days with this one, but I think I'll enjoy it.
I'm joining in with Ginny's Yarn Along  and Anne's Bookworms Monthly. I'd love to know what you are reading. Have you read The Testaments, and if so what did you think?
Hello September. Good to see you. You always feel like the beginning of the warm and cosy months. I've already baked a couple apple and blackberry crumbles, so no surprise that you're here already. Evenings are spent processing food from the garden, rather than outright gardening. Time to read and craft. I like the gradual switch.
The start of the month also heralds the time to share my current books and knitting project. I'll start with knitting.
Knitting
I've made progress. I do love to knit. I love how my twisting and wrapping yarn around two sticks can produce something wearable. Inch by inch it grows. Pattern slowing appearing.
I'm working on my red noughts and crosses cardigan. (Purple version here.) I finished the back in August, and am working on the first sleeve. I love knitting the cable panel. Just one more sleeve to go before I can put it all together. I'm feeling confident that I'll be wearing this before autumn/fall has run its course.
Books (affiliated links)
I finished Good Omens  by Terry Pratchett and Neil Gaimen. Loved reading it. Slightly different from the TV series. Part left out and another added. It was worth reading. I've also finished The Secret Lives of Bees by Sue Monk Kidd. A really good read. It is not a beekeeping book, but interesting how the story wove beekeeping in and out of the characters' lives, with a subtle touch. I've been sending love to every bee I encounter, ever since reading it. It dealt with family relationships, loss, racism and belief, set in the South Carolina during the 1960s.
I've also been digging into the Lost Words Spell songs. This is a truly fabulous book. The sort of book that makes you aware of a sob, so deep inside you, that you have no idea where it came from, or even that it was there. (That might be just me, of course.) A feeling so strong that you know it will explode if not let out.
If you've read Lost Words by Robert Macfarlane and illustrated by Jackie Morris, then the Spell book is the next step. It comes with a CD, featuring the nature poems set to music. The resulting music is haunting and deep-down thought provoking. The creativity is fascinating. As are the illustrations in the book.
Not sure what I'll read next. I find good books always need a slight pause before a new book can even be contemplated. Time to savour the story a moment more. I'll give it till the weekend.
Linking up with Ginny's Yarn Along and Anne's Book Worms Monthly. What have you been reading this month? Any yarn projects on the go?
Photos
There have been cases when people lifted my photos and words, and used them without credit to me or asking permission first. Using them for their own commercial gain. I have now added a level of security to deter people from doing this. Apologies to people who do play nicely. If you would like to use any of my photos, please contact me.
Copyright notice:
All my words and photos are copyrighted to me. They cannot be used for commercial benefit by anyone else. If you would like to use any of them, then please ask me first and don't just take. Written permission only. Don't pass my words, photos or ideas off as your own. It's not nice.
Cookie Policy
Our web pages do not use cookies however this website uses Google Analytics, a web analytics service provided by Google, Inc. Google Analytics uses cookies to help us analyse how people use our site. The use of cookies by Google Analytics is subject to change.