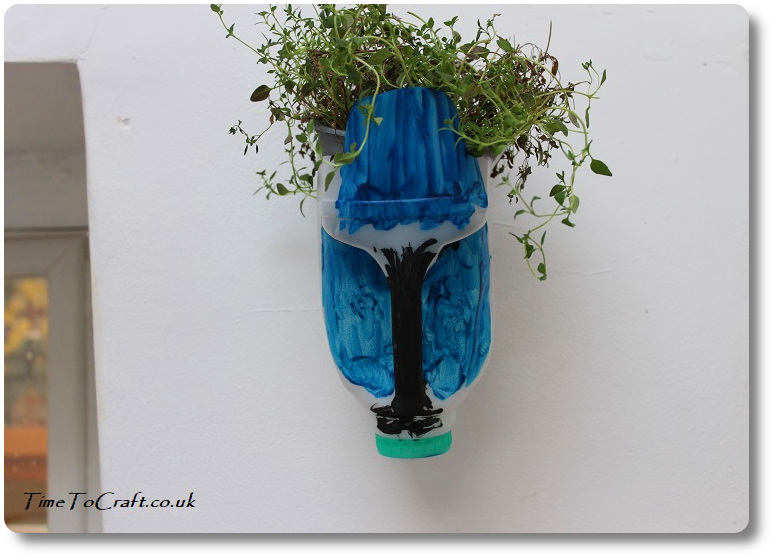 As the children grow older, I'm finding it tougher to find craft projects that they want to join in on. I'm sure I'm not alone. I'm always on the look out for enticing, new craft projects that will tempt them away from screen time, in particular. They also begin to suffer from the "what if it is not perfect" syndrome. I still believe that, as teens and tweens, they need the hands-on creative time. Just as much as younger children do. Projects that have no right or wrong way of doing them.
When I was contacted by Penguin Random House about a new book called Quick Crafts, my ears definitely pricked up. A book that encourages  the "just have a go" approach and the joy of creating rather than expecting perfection. The cherry on the top was that the craft projects are designed to be played with after they are made. Make your own toys, in other words. I feel the author Emma Scott-Child and I would be best friends. She has the same approach to creativity as I do, judging by this book.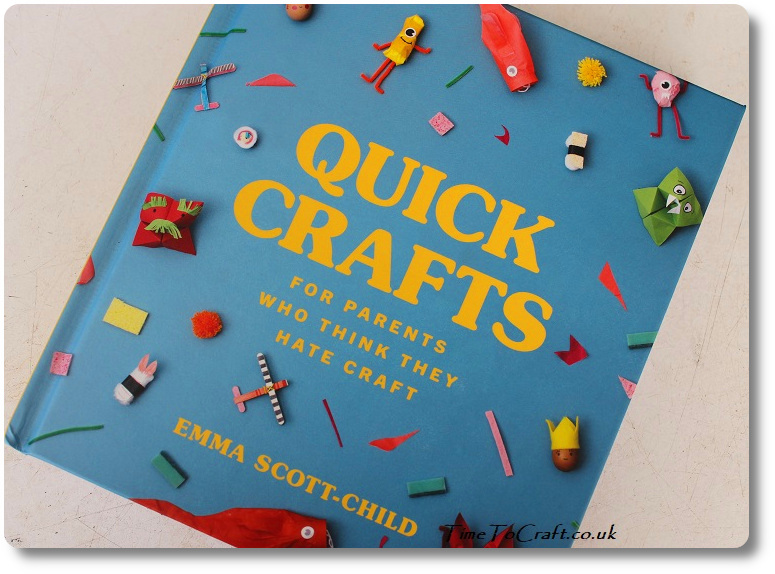 For those of you who are not so keen on crafting, then this book is aimed at you. Maybe children who prefer not to get overly sticky hands (and hair!) This book needs no special crafting materials or skills. Quick projects using stuff you have around the house. Mostly the items that are destined for the recycling bin. What is not to like?
The craft projects are ones that tweens and younger should have no problem doing, although there are so many good ideas that I can imagine older siblings muscling in on the action, and adding their own creative twist.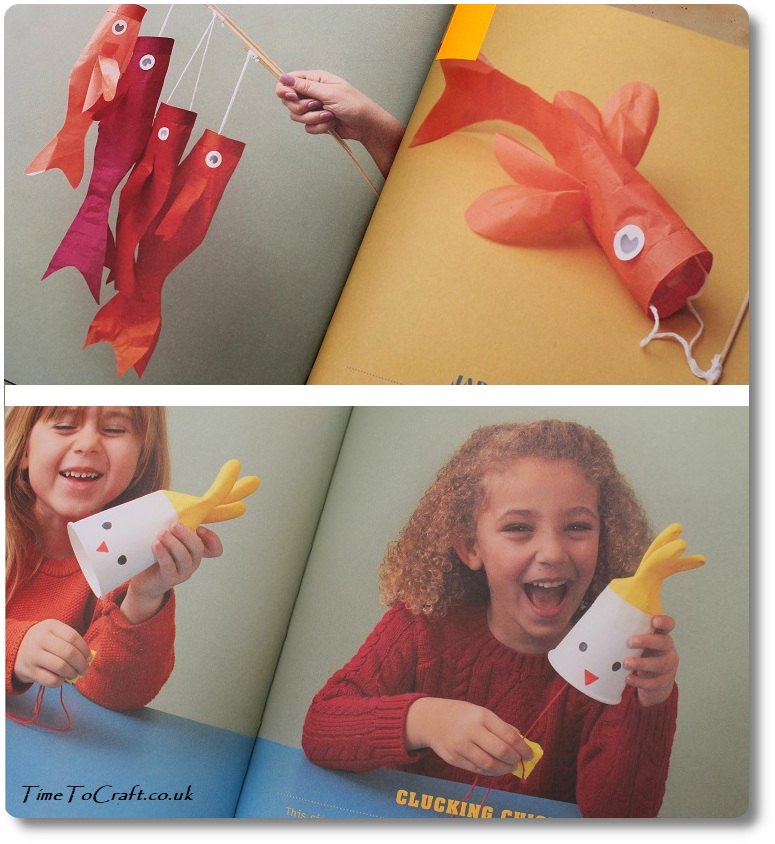 I do think this book is chocka block full of good ideas. I went through my copy, marking lots of projects with orange stick-it notes. Nice twists like the rattle snake, that rattles, and the stink thief which we will definitely be making for their stinky sports trainers over the holidays.
To start with, we chose one project.
I love the idea of recycling a milk carton. I literally had to rummage through our recycling bin. We don't have many of these now. The project called for permanent pen, but we used acrylics paints instead.
I set the materials up outside on the table. Less mess to clear up and lots of fresh air, to boot. The project is a milk bottle baboon. It is a plant holder and uses a grassy plant as the hair. We went for a thyme plant instead, as I had one. Any trailing, bushy plant would work.
The photos in the book made me think of the Pitt Rivers museum in Oxford.  A very theatrical look to them.
Youngest enjoyed making his baboon. We chatted away as he made it. It didn't take him long. A quick craft project that is hung up on the wall now and doing a grand job of holding our herb plant. Most importantly, it reminded him of his creative side and the fun of making something.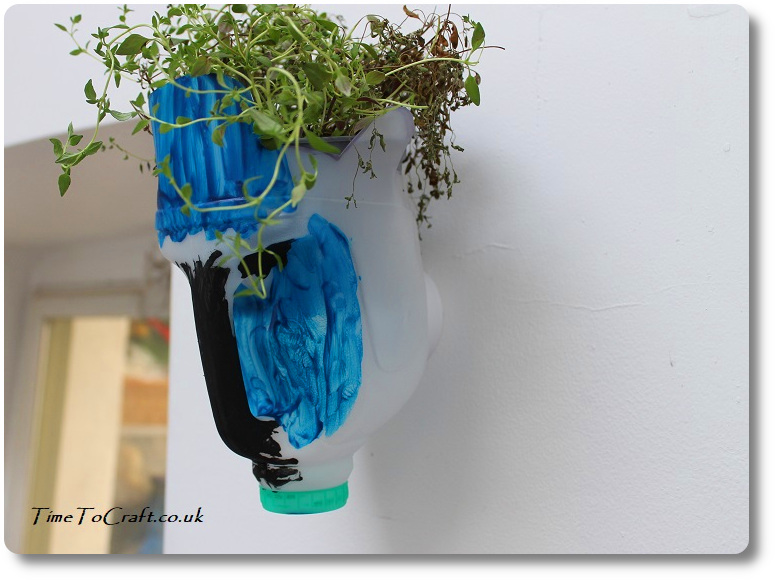 I already have ambitions to add more and make a baboon herb garden, hanging by the kitchen door. Can you imagine? A whole troop. It would be cool.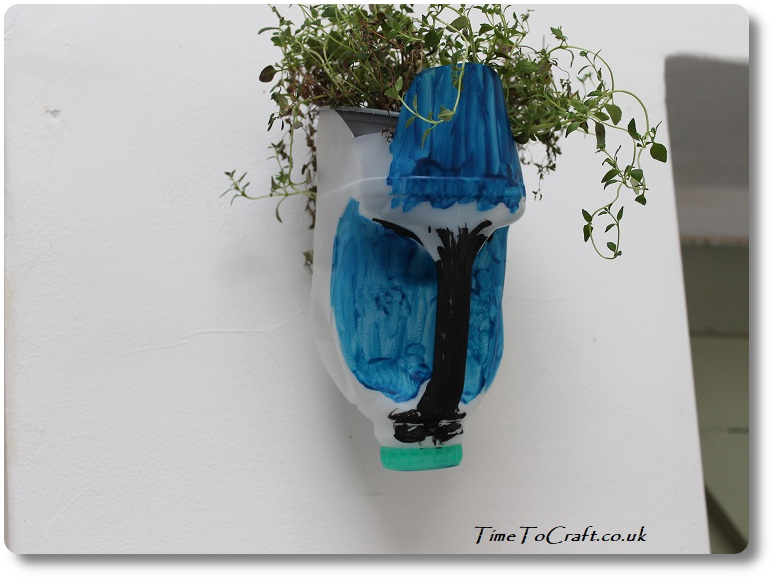 Quick Crafts is out in August. I know I'll be dipping into my copy over the summer holidays, for inexpensive, fun projects to fill the odd half an hour. Recycling as we go.
---
Quick Crafts is out on 8th August. RRP £12.99. Hardback. It has 40 projects, that require no messy painting (unless you want to), no sewing, no special equipment and no glitter.
Disclaimer: I was sent a review copy of Quick Crafts. All views are honest and my own. This post contains an affiliate link, which may generate a payment to me, at no extra cost for you.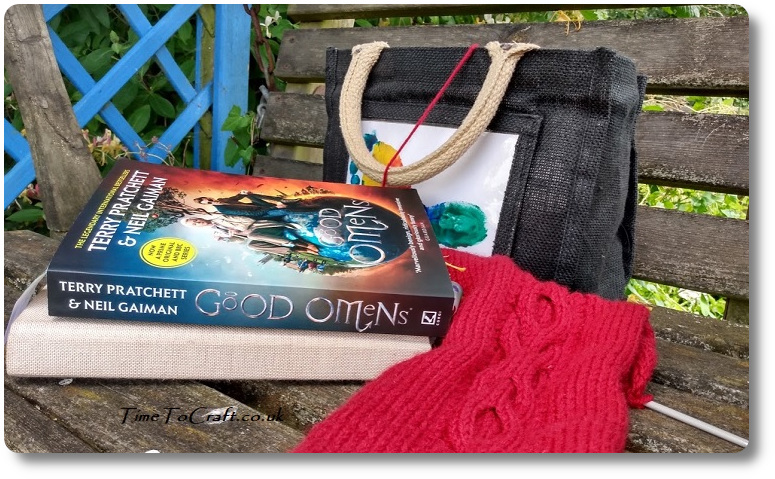 I am loving this gorgeous weather we're having in the UK, at the moment. I spent my lunchtime outside today, sitting on our swinging bench which is covered in honeysuckle. Bees were buzzing around me and the Hound was close by. He loves it when I'm outside with him.
I have a small bag set up with my current knitting and a book. I can grab it when I'm rushing off in the car and also when I'm going out into the garden. The bag has the most gorgeous, painted footprint on the front, that youngest made when he was three. I can still remember his sweet, little giggles as I painted his foot. He was just as surprised that I popped him up on the table, which I never usually did, to make it easier for me to paint the underside of his foot.
Anyway, enough of reminiscing. He's 12 now and I'm not sure he'd appreciate it! I still love that footprint.
My current book is Good Omens by Terry Pratchett and Neil Gaimen. We watched the 6 part series on Amazon Prime and loved it, so I couldn't resist reading the book. It is equally good to read, if not better. Perfect nonsense and "quite right" moments with it. I like both authors and it is interesting to see how the story meshes together so well.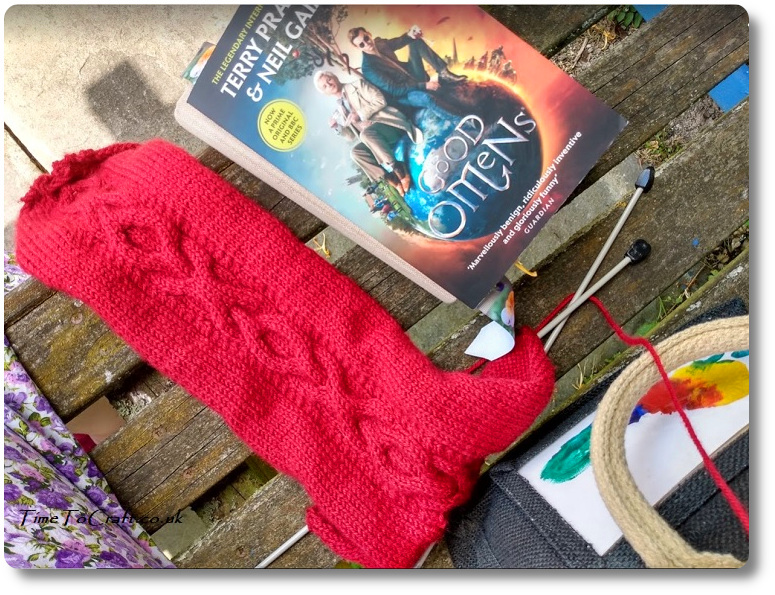 My knitting, in the bag, is the red version of a cardigan I made earlier this year. I absolutely live in the purple version, so it seemed a bit of a no brainer to knit it again in my favourite colour, red. Not as fast progress now we're in the growing season and the garden needs more attention. Slow progress is fine. It will be ready when I need it.
Seeing as it is #PlasticFreeJuly, thought I'd mention how pleased I was to receive my yarn for this cardigan, through the post in a cardboard box. No plastic. It's good to know it can be done.
The cardigan is King Cole 4076 and the yarn is King Cole too. So easy to knit.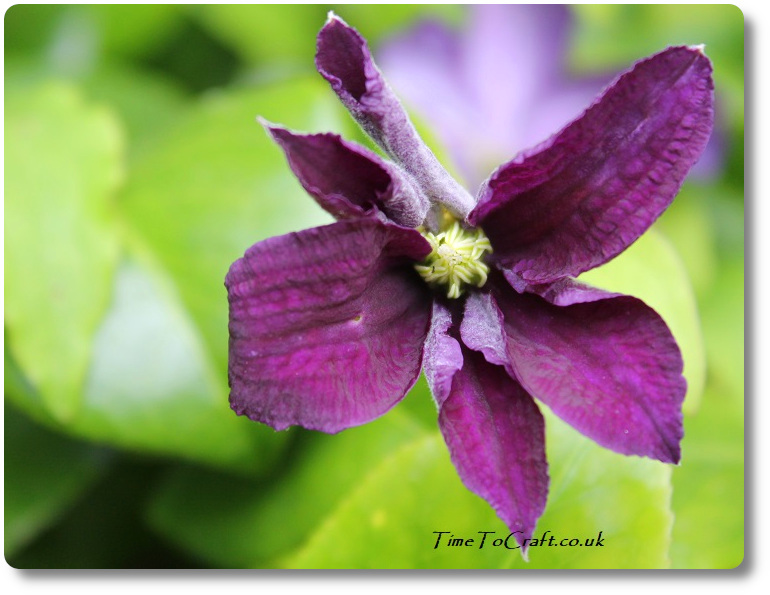 Joining in with Ginny's Yarn Along. Including my current knit and book. Two of my favourite things to do. Along with gardening, of course. And maybe painting feet, now I think of it.
Happy May 1st. I've been enjoying walks in our woods. The wildflowers are making their presence felt. Carpet of bluebells with sprinkling of wild garlic and wood sorrel, which sounds more like a recipe than anything.
I started my new yarn project last night. I'm making another King Cole pattern. In fact, it's a long cardigan again, but this time with pockets and a zigzag hem. Pockets make me feel like I'm giving in to my sensible side, while the yarn colour is a riot and makes me smile. I do love bright, strong colours. The yarn is called raspberry and is probably a closer match to the contents of an Angel Delight or Kool Aid packet, than anything I'd grow in my fruit garden, but that's OK.
I'm using King Cole Merino Blend again, because, quite frankly, it's my favourite wool at the moment. I love knitting with it. I love wearing it. I can't think of a better reason to use it on this latest project.
The pattern is King Cole 4750. I've knitted the pocket linings and the start of the left front hem. I'm not sure about it yet. It is a little bit loopy in parts. I'm tempted to start the right side and see if I can get it tighter. If I can then, the left side can be unravelled and started again. If you look at the photo of the finished cardigan, it does look a lot tighter, compared to mine. Hmm.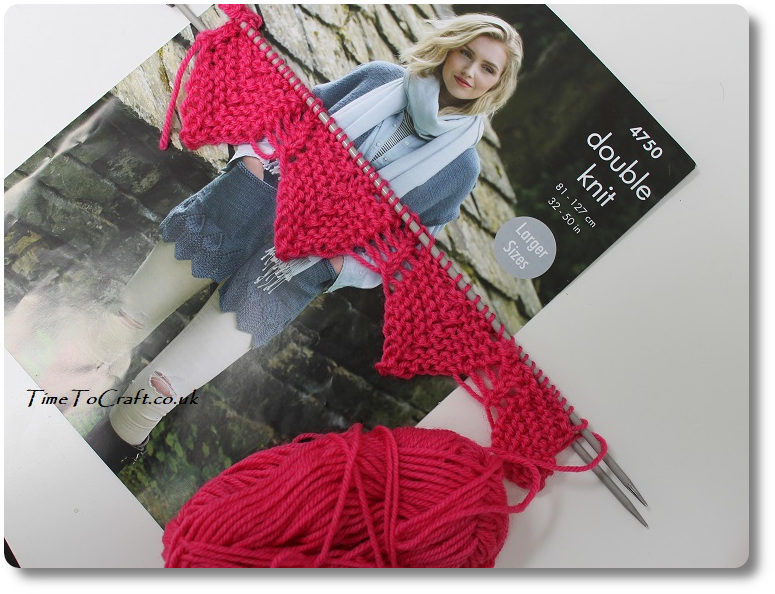 Still with the yarn projects. I finished the front of my daisy cushion (top photo). Just need to sew on the fabric back and it can join the other one at the kitchen table. The is a scrap buster and I've finished the white and the blue balls of yarn. I'm tempted to do another cushion cover, but this time just use the green as a background for the daisies. So long as I can find another ball of white skulking around.
I have finished my jumper, since last Yarn Along. Reblocking as the hem is still curling. Makes me appreciate a ribbed hem, at times like this.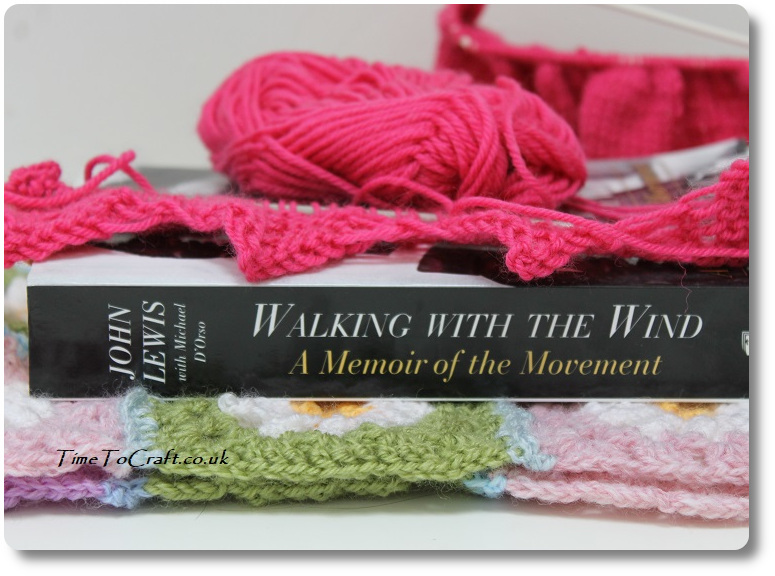 Finally, seeing as it's the first Wednesday of the month and Yarn Along time again, I'm sharing my latest book……which is the same as last month. I have been reading it. Spring means I have less time to read. Between work, the garden and different after school activities for the children, somehow reading time is squeezed and I'm asleep as soon as my head hits the pillow at night. I am enjoying the book and love the moments when I can pick it up.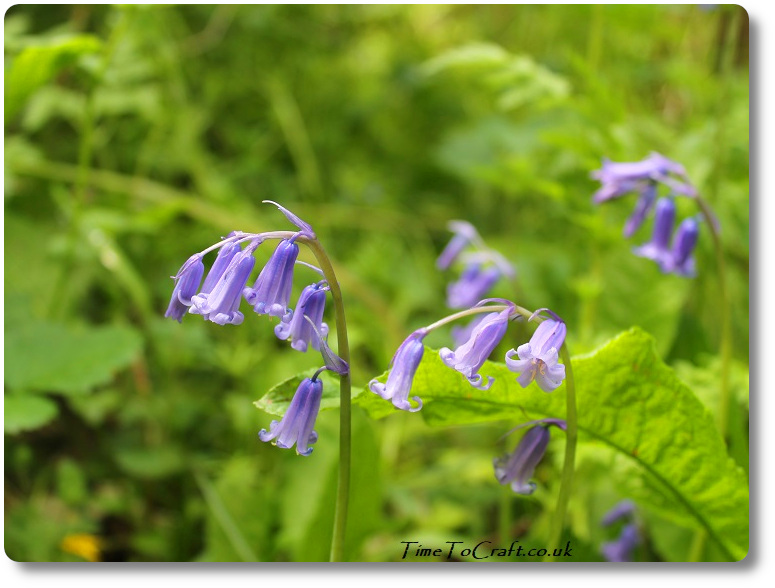 I hope May treats you well and you are able to enjoy the scent of a walk through a bluebell wood. Our bluebells will soon lose their race with the surrounding foliage and be more hidden , so I'm enjoying the sight while it lasts. See how they droop and the edges of the bells look like they have been curled. A sure sign of native bluebells and not the invasive Spanish variety.
Joining in with Ginny's Yarn Along. What are you reading at the moment? Have you anything on your knitting needles?
Photos
There have been cases when people lifted my photos and words, and used them without credit to me or asking permission first. Using them for their own commercial gain. I have now added a level of security to deter people from doing this. Apologies to people who do play nicely. If you would like to use any of my photos, please contact me.
Copyright notice:
All my words and photos are copyrighted to me. They cannot be used for commercial benefit by anyone else. If you would like to use any of them, then please ask me first and don't just take. Written permission only. Don't pass my words, photos or ideas off as your own. It's not nice.
Cookie Policy
Our web pages do not use cookies however this website uses Google Analytics, a web analytics service provided by Google, Inc. Google Analytics uses cookies to help us analyse how people use our site. The use of cookies by Google Analytics is subject to change.