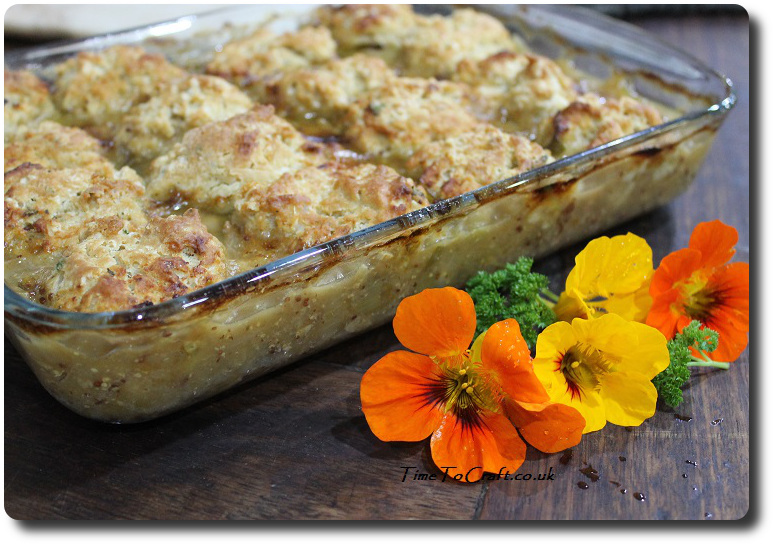 I'm going to come straight out with this. No beating around the bush. Here it goes. Ready? Brace yourselves.
Teenagers can be just as fussy as toddlers when it comes to food.
Goodness. Now that does feel better. Sorry to pop the bubble for all you parents out there with young children, who thought it would soon all be over. You're in for the long haul with this one.
Maybe I should explain. The difference is that teenagers give you reasons why they're not going to finish their meal. If you're unlucky, more than one reason, as you watch the carefully sculptured meal being rejected. Your gangly teen then adds insult to injury, by disappearing into the food pantry to rustle up a less than nutritionally balanced alternative.
Sigh.
On the whole, I'm lucky. My offspring have never been particularly fussy. Ok, one doesn't like yorkshire puddings and another hates squashes and coucous, but I have, on the whole, been blessed. Until recently. It started when eldest took against one whole food category – meat. Admittedly not all meat. Just enough.
It began when she had braces fitted on her teeth and found it difficult to chew. I made allowances. I thought it would change once the braces came off. No. By then a habit had been formed and she would no longer eat meat unless it was easy to eat. Not for ethical reasons.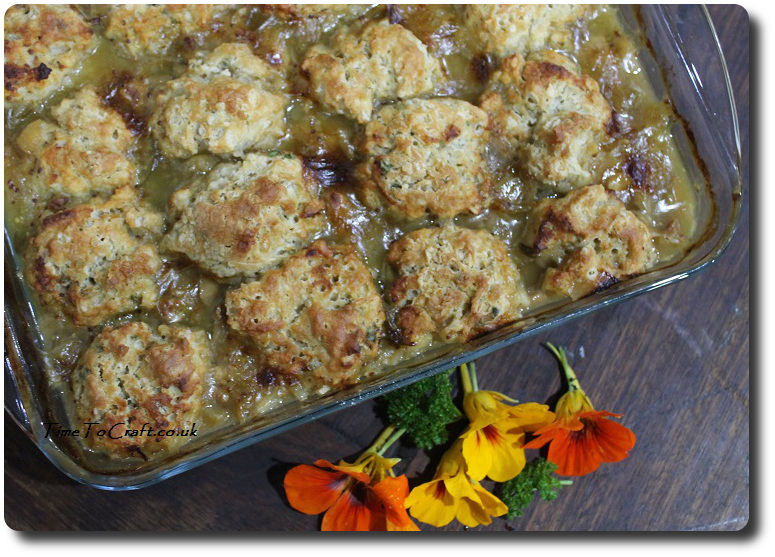 I'm not the first mother to encounter this problem, but there was a second complication. Soon after she was fitted with braces, she started to develop dry patches around her mouth, that became very sore. It was horrible and uncomfortable. Not only the braces to deal with, but these unsightly sores too. It knocked her confidence at a time she needed it most. You can imagine we tried a whole host of remedies to solve it. We visited the nurse at our surgery a few times and also researched. We thought it was set off by the orthodontic treatment.
Then one day, on holiday in Scotland, a pharmacist suggested it may be a vitamin B deficiency. That was a new one.  Needless to say, we upped her intake of vitamin B and, blow me down, she's not had a problem since. Just like magic, it was gone! It may have been coincidence, but I don't think either of us are willing to test that hypothesis out.
Vitamin B had not been on my radar at all. It made sense. Her meat intake had dropped, which is one good source for it and nothing had replaced it. I had compensated for the missing protein, but she must have been missing out on other important nutrients, I hadn't even considered. If she had given up meat completely, I may have clicked earlier.
I moved into action. Lesson learnt. Teenagers, and tweens, go through phases of dropping some food types. When they do now, I am much faster at substituting in another source, and I explain to them why I am doing it.
I'm also much more conscious about how I cook meat. No point serving up a tough piece of meat. One of my favourite ways is to slow cook it. The meat is tender and falls to bits in her mouth. She will eat it. Double benefit is that I can set it off cooking early in the day and its ready for us when we finally get home from an after school club.
Win-win.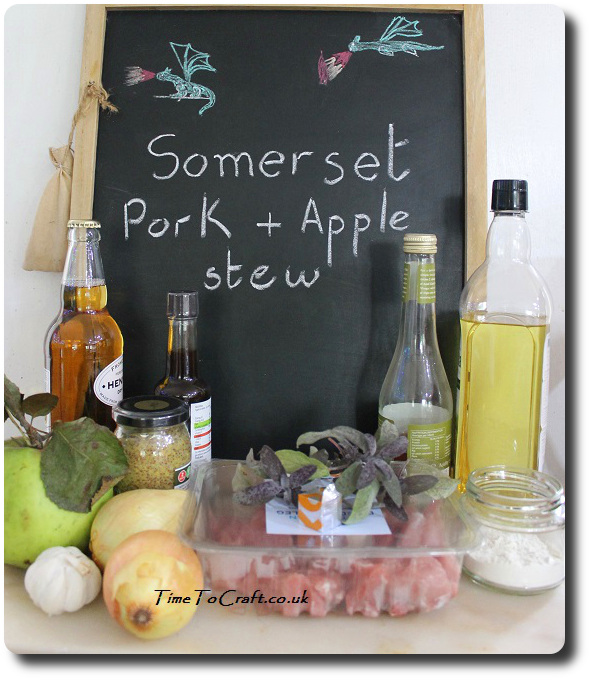 Time to share a recipe. A slow cook Somerset pork and apple stew. With dumplings.
Ingredients
For stew (for 4 to 5 people)
450-500g of Extra Lean Diced Pork Leg
2 onions chopped
4 garlic cloves chopped
1 chopped up Bramley apple
400ml apple cider or apple juice
300ml chicken stock
2 tbsp Wholegrain Mustard
1 tbsp cider vinegar (optional)
bunch of sage, chopped
1 tbsp oil
2 tbsp heaped flour
a dash of worcester sauce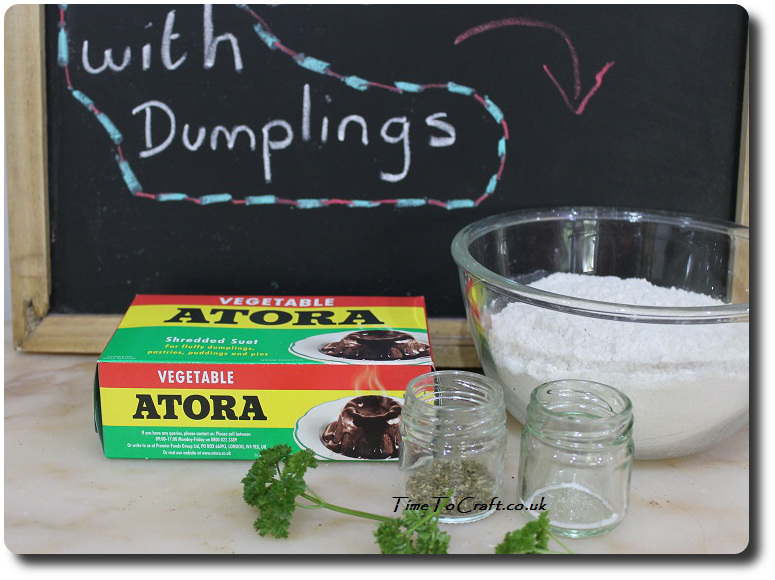 For dumplings
225g (8 oz) self raising flour
115g (4 oz) suet
pinch of salt
tbsp mixed dried herbs
cold water as needed
Note: I cook this in the 2 oven Aga, as it is perfect for slow cooking. Otherwise turn your oven on and set it to 190c ready to cook the dumplings, when the time is right.
For stew
1. Fry onions and garlic in the oil, until soft. (I used a medium sized Aga saucepan that goes in the oven too.)
2. Add pork and fry until it is sealed all over.
3. Stir in flour and mustard, then add in the stock, worcester, vinegar and cider/apple juice. Stirring and bring to the boil.
4. Stir in the apple and sage, and cover.
5. Simmer for an hour. With the Aga, I put the saucepan with the stew in it, in the bottom oven for 3 hours or so.
For dumplings
1 Mix flour, suet, salt and herbs in a bowl
2. Add water slowly and mix, until the dough is soft but not sticky.
3. Shape the dough into 16 walnut size balls.
For stew and dumplings
1 Transfer stew to a oven dish.
2. Evenly space dumplings on the top of the stew.
3. Put dish in oven for 20 mins, until the dumplings have turned a golden brown. In the Aga, I put it in the top oven, on the third shelf.
Serve. I served it with spaghetti squash, runner beans and crusty bread. (and a glass of cider for us grown-ups!)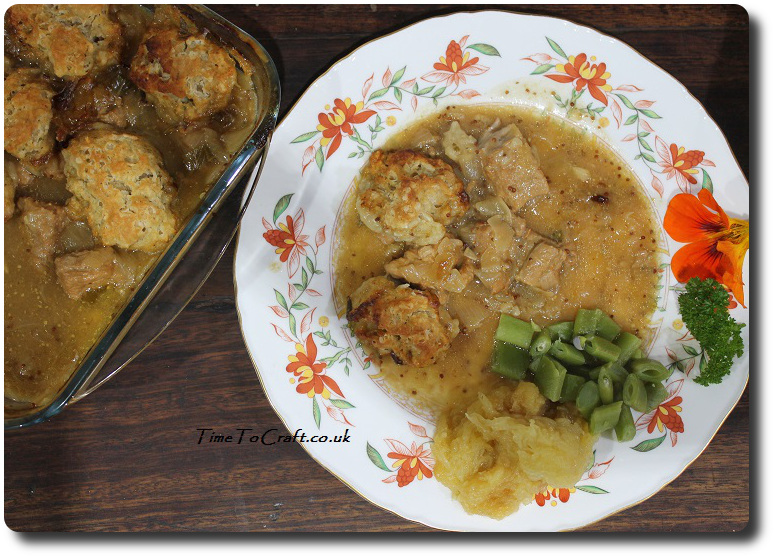 Approximate cost: £5.20
Preparation: 20-30 mins
Cooking time: 1- 3 hours plus
Family verdict: They loved it. Found it lovely and appley. Very filling. Suggestions that we have dumplings more often. Plates were cleaned. Happy to have it again.
This post is an entry for the BritMums #HealthyRedMeat, sponsored by the Meat Advisory Panel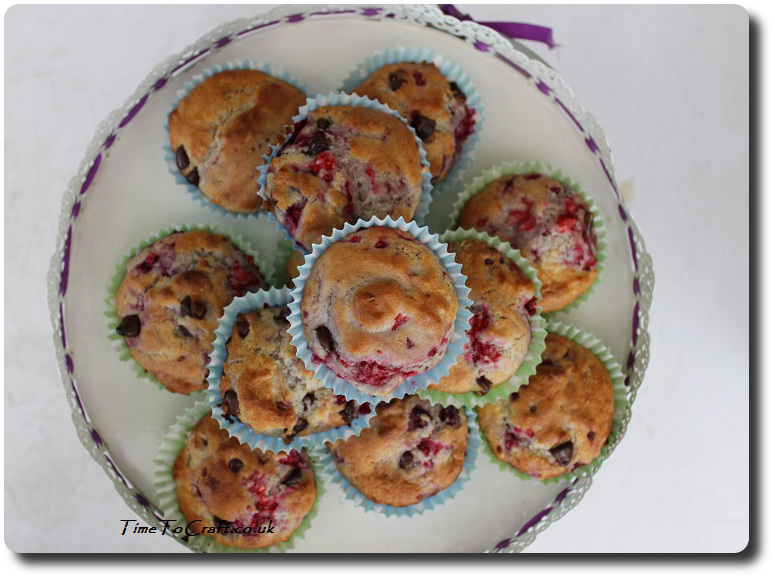 There has been an alarming increase in the height of my children recently. It always happens in the spring. They seem to shoot up, as soon as the sun hits. The Teen is near enough my height now, and her sister seems able to look me in the eye a little bit more easily, than I'd care to admit.
And as for the Boy, well he is taking on the appearance of someone who has begun to stretch. Looking just as willowy as his sisters. Watch any of them for long enough, and I swear you can see them growing.
Now, they are not managing this on meal times alone.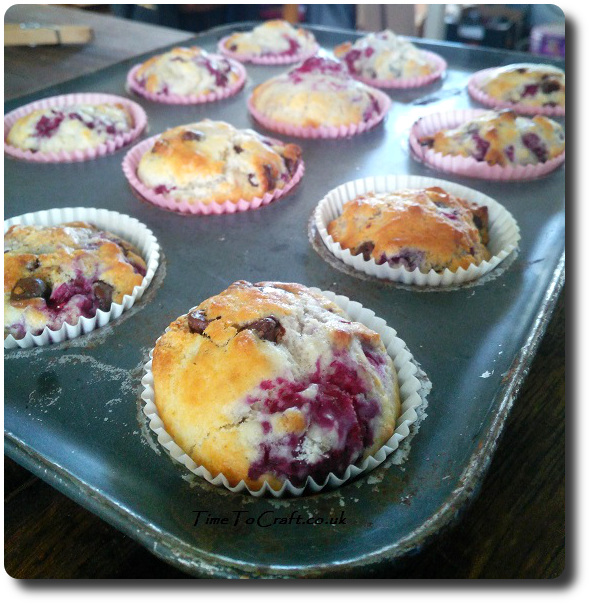 The most likely form of extra nourishment, are the homemade goodies I make. The theory is that if I make them, I can keep the snacks on the healthy side. Also there is a limit to how much I can bake/grate/chop.
A big favourite at the moment is raspberry and chocolate chip muffins. Each muffin is practically half raspberries, half muffin. Not overly sweet. Rather yummy, if I say so myself. Our supply of homegrown raspberries has long since run out, so I often find "frozen raspberries" written on my shopping list. Not in my handwriting. A subtle hint to make more.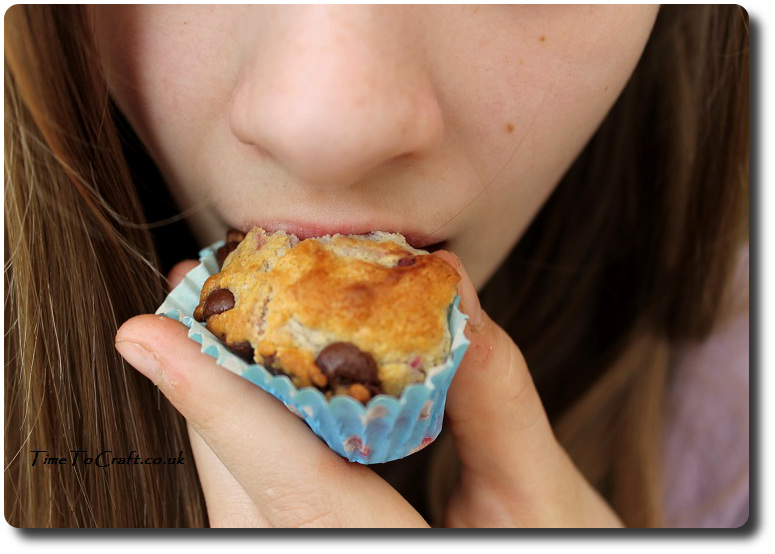 The good news is that they are incredibly quick to make and bake. I have my muffin making kit piled up ready in the cupboard. I use a cup measure as it's so much quicker to scoop the ingredients. Speed is of the essence. Especially when you have three children who take it in turns to check if the muffins are ready yet. (Seriously, do they have a rota for who goes in next to scout for muffins?)
Apart from the milk and raspberries, the rest of the ingredients are near by in another cupboard. I reckon I can have these muffins ready to eat within 20 minutes, if not less. I win "best Mama" points if they can smell them baking as they walk up the drive after school. You cannot beat a warm muffin after a hard day chatting with your friends studying.
So here's how we make them (when I say we, I mean me):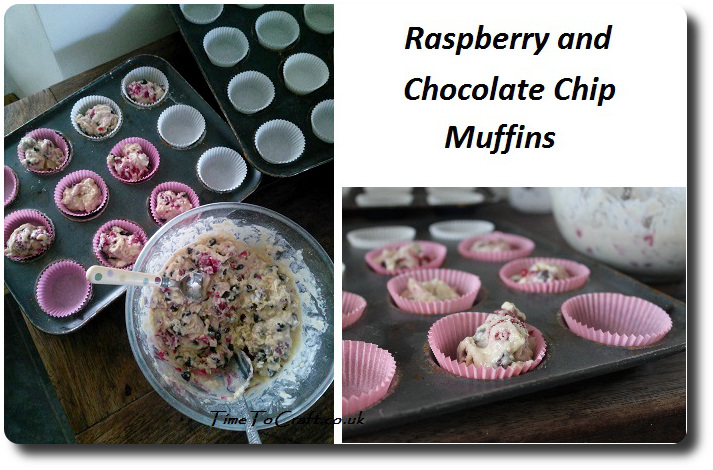 Ingredients
In first bowl, mix the:
2 cups of self-raising flour
1 tsp baking powder
1/2 cup of caster sugar
1 cup of frozen raspberries
1/2 cup of semi-sweetened chocolate chips
In second bowl, mix the:
100ml oil
200ml milk
2 tsp of vanilla essence or lemon extract
Also need a muffin tin, lined with 12 paper muffin cases
What to do:
1. Pour the contents of the second bowl into the first, until it is just mixed. Do not over mix.
2. Divide the combined mixture between the 12 muffin cases.
3. For a 2 oven Aga, bake on the third shelf down in the top oven, for about 12-15 minutes, turning the muffin tray around halfway through. For other ovens, bake at 200°c/400°f/ Gas 6 for 15-20 minutes. The muffins are ready when they are golden brown and risen.
4. Take out of the oven. Move the muffins from the tray onto a wire rack to cool.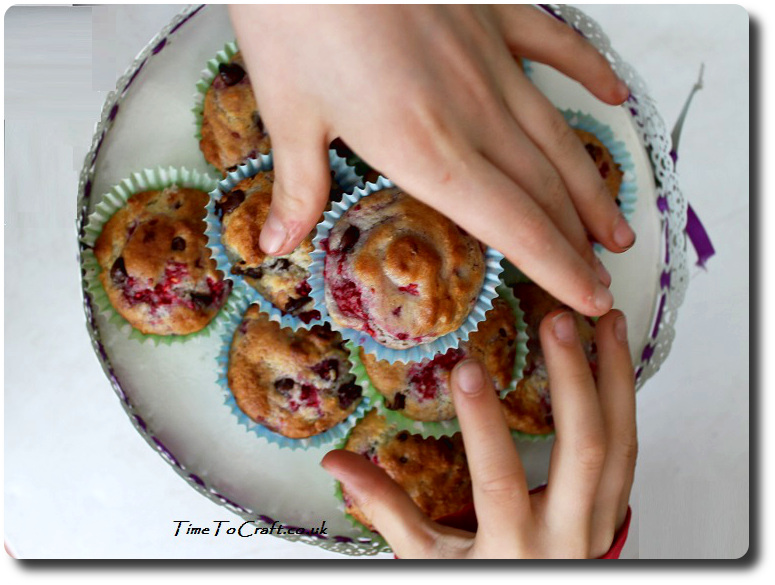 These muffins never make it beyond the day they are made. I live in hope of putting a batch in the freezer for another day. In all fairness, they are so quick to make, that it's not a big problem.
More of a challenge is having enough raspberries available, which explains the added request for frozen raspberries to my shopping lists.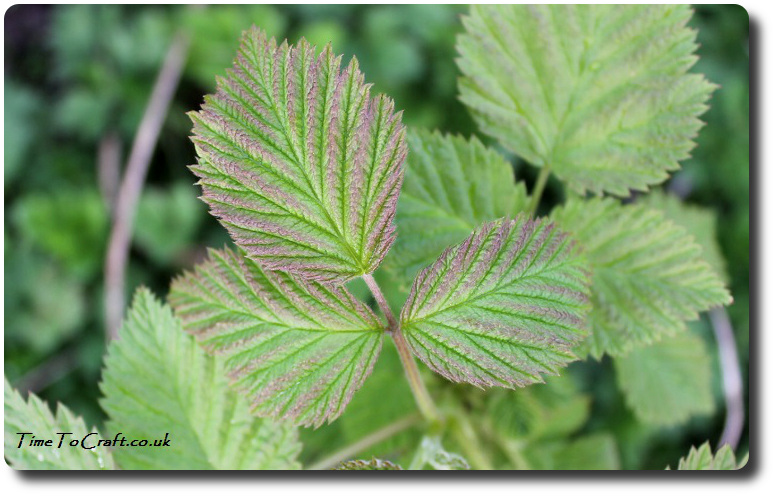 My solution is to plant more raspberry canes. I'm aiming to have a row of raspberries this summer. I miss my fruit cage and may have to make a new one. When the Teen was a toddler she used to be pushed disappear in there, after meals,  and feast on all the soft fruit. No need to serve up a pudding. Nothing beats fruit straight from the plant.
Yes. I need to work on my raspberry production.
Grow little raspberry plant. Grow. I have three children waiting for muffins.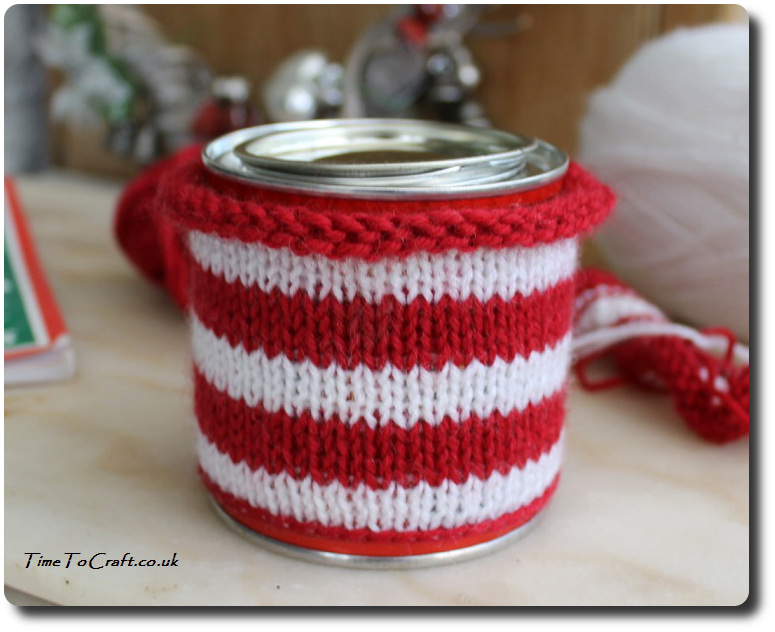 Each year we exchange gifts with neighbours and friends. Mostly homemade goodies like festive cookies and sweets. Last year chocolate cherry mice were popular. The children love joining in. Especially between school breaking up and the big day. We have so much fun deciding what to make…..and sampling them,  of course.
As the tradition has grown, so have my endeavours to package our gifts up in a fun and eco friendly way. Usually its the bag we send them over in, or reusing the Christmas tin our friends sent over the year before. Some go backwards and forwards each year. We have great neighbours.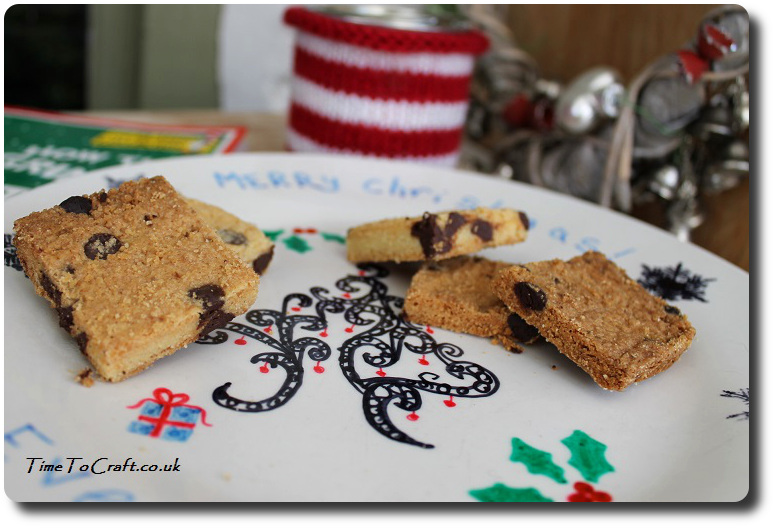 This year, we will probably include chocolate chip and clementine shortbread because it is amazingly good. (Recipe below.) I'll probably drizzle icing and gold stars, but they need a good container too. I've been saving up black treacle and golden syrup containers. To give them a festive twist, I knitted up candy cane inspired wraps.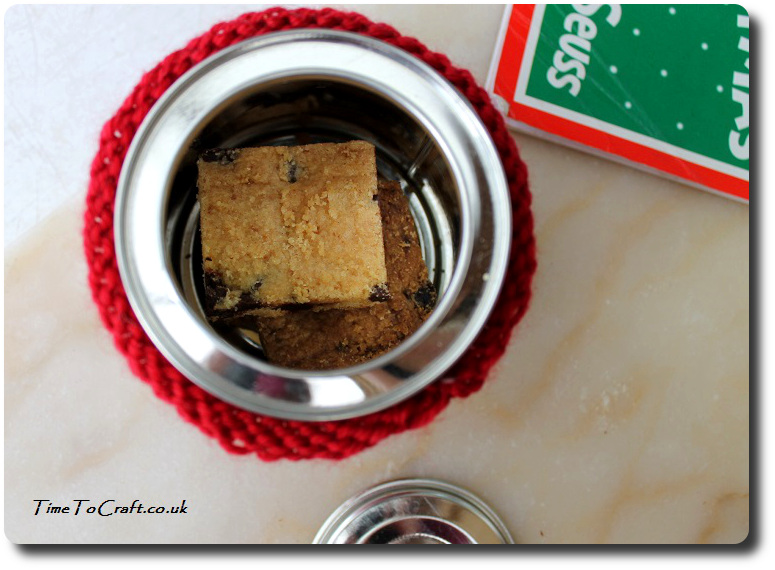 The beauty of these simple knitted covers is that they could be slipped off and used as mug warmers. I'm sure they could be used for a whole number of things. Most likely we will see them again, as they cheer up another package. Next year.
As I was knitting the first one, I couldn't help being reminded of the Grinch. A Christmas favourite.
Can I admit, I didn't like the book at first? Not one bit. Maybe it was the greeness of the Grinch from the movies or the way poor Max had to pull the sleigh or the general meaness until the end (hope I didn't spoil it).
Re-reading it with my children, it has grown on me over the years. With each reading, I like it a little bit more. I whole heartedly love the message it gives. We don't need all the Christmas trimmings to enjoy this time of year. It is a chance to strengthen our community and friendships.
"Maybe Christmas, " he thought, "doesn't come from a store.

"Maybe Christmas….perhaps…. means a little bit more!"
Now I'm not going to argue with that one.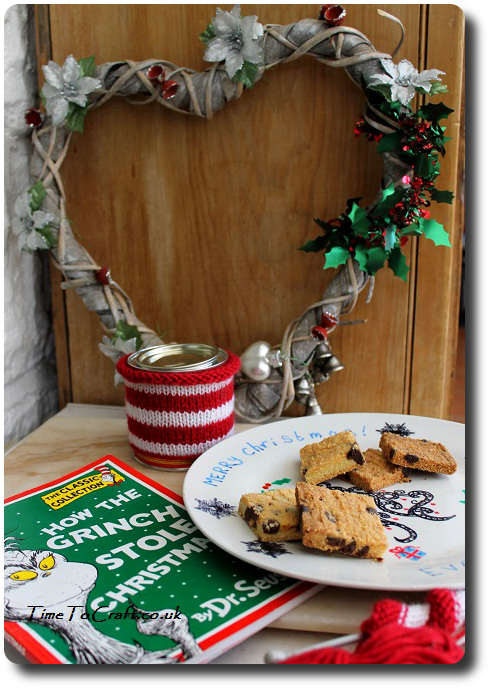 Would you like the shortbread recipe? It is easy, peasy. Almost lemon squeezy, except it involves clementines not lemons.
Ingredients
175g (6oz) butter (cut into small cubes and  at room temperature)
175g (6oz) plain flour
85g (3oz) semolina (uncooked)
85g (3oz) caster sugar
2 clementines (grated peel only)
100g (4oz) or more chocolate chips
Method
1.    Put everything, except the chocolate chips, in the food mixer and use the dough hook to mix togther. Alternatively, rub the butter into the flour by hand in a bowl and then mix everything in to the mixture.
2.   Mix in chocolate chips into mixture
3.   Grease a 30cm x 22cm (12″ x 9″) tray.
4.   Spread the mixture evenly into the greased tray and press it firmly.
5.   Prick it with a fork, but I prefer to use the fork to make lines all over the flattened mixture.
6.   In a 2-oven Aga, slide tray onto the bottom runner, with the cold sheet on second runner at the top for 10-15 minutes. Turning half way through.
For other ovens, recipes seem to suggest 190 ºc/375 ºf/Gas 5 for 15 – 20 mins, but I've not tested it. Shortbread should be pale golden brown when they are ready.
7.   Once baked, cut into desired shapes and sizes, and lift out of the tray individually onto a wire rack to cool.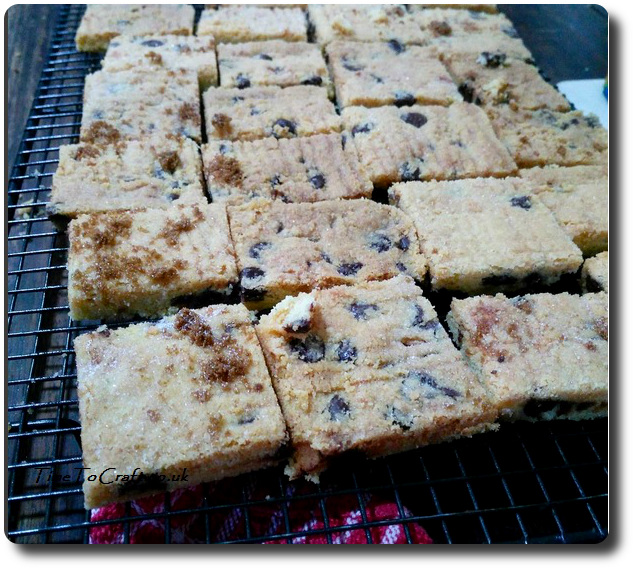 I love adding semolina to shortbread. It gives a crunch without needing to add demerara sugar. These ones are sweet enough as they include chocolate chip, so cutting down on more sugar is a plus. When buying the semolina, make sure you buy the uncooked dry type, used to make semolina pudding from scratch. Not the tinned, ready-to-eat semolina. Not a crunch provider.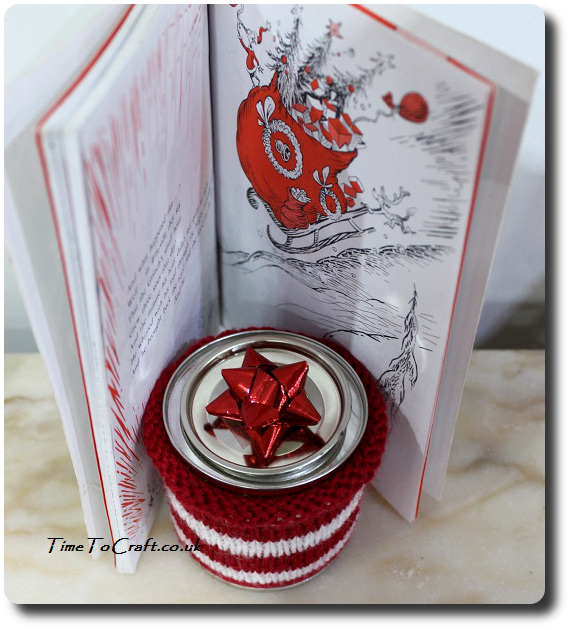 Needless to say, my first two batches disappeared before I had time to package them. It was a job to have enough to photograph with the recycled gift container. I went out for an hour, and they were all gone except a few when I made it home. I had to use a photo from my Instagram feed to include here.
Anyway, I hope the neighbours will like them. The clementines add a fabulous seasonal touch to the shortbread. The containers are ready. A salvaged bow from last year, is fixed on top. Now I just need to make another batch.
Knitting notes
dk wool left over yarn from previous projects
4mm needles
For a Lyle's Black Treacle 454g tin, cast on 48 stitches using the thumb method, or loosely. Stocking stitch 4 rows of red, then 4 rows of white and so on, until you reach the height of the tin. Cast off.
Sew up the sides and slip onto tin.
For a Lyle's Golden Syrup 907g tin, cast on 72 stitches and follow the black treacle tin instructions.
Photos
There have been cases when people lifted my photos and words, and used them without credit to me or asking permission first. Using them for their own commercial gain. I have now added a level of security to deter people from doing this. Apologies to people who do play nicely. If you would like to use any of my photos, please contact me.
Copyright notice:
All my words and photos are copyrighted to me. They cannot be used for commercial benefit by anyone else. If you would like to use any of them, then please ask me first and don't just take. Written permission only. Don't pass my words, photos or ideas off as your own. It's not nice.
Cookie Policy
Our web pages do not use cookies however this website uses Google Analytics, a web analytics service provided by Google, Inc. Google Analytics uses cookies to help us analyse how people use our site. The use of cookies by Google Analytics is subject to change.