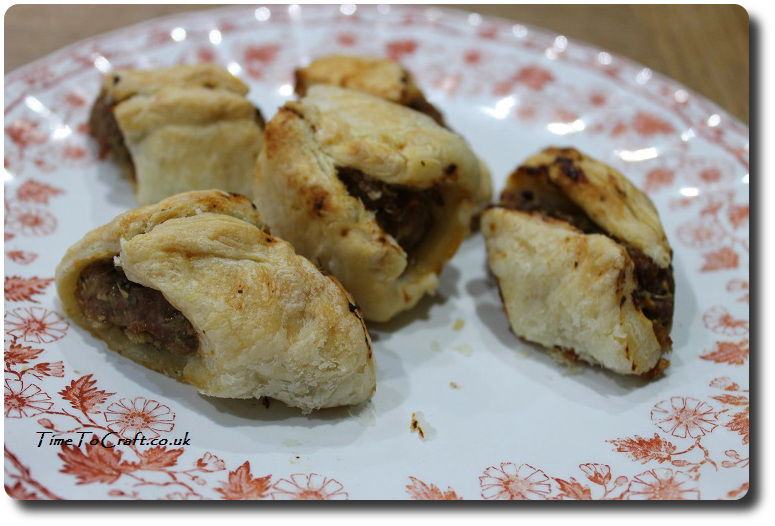 One of my favourite light meals to make, over the Christmas holidays, is sausage and mango rolls. They can be made using just four ingredients. Quick and easy, plus great to snack on as we watch a movie. Everyone loves them and I can enjoy the film too, rather than being stuck in the kitchen. Making me a very happy person too. Win-win. Instant jig on the spot time.
Then a few weeks ago, I bought a pack of turkey sausages. Just to try out. I thought they might be an alternative for sausage meat, if I removed the skins. It worked. This might also work with chopped up, left-over turkey too. In just over a month, I'll be so glad I thought of this idea. I'll have enough turkey leftovers to make a dozen batches of these finger sized snacks.
In the meantime, I can use turkey sausagemeat. Want to know how I made turkey and mango sausage rolls?
Ingredients
A pack of puff pastry
8 turkey sausages removed from skins and cut up
3 to 4 heaped tablespoons of mango chutney to taste
1 to 2 heaped tablespoons of dried herbs
How to
1. Mix sausagemeat, mango and dried herbs together thoroughly in a bowl.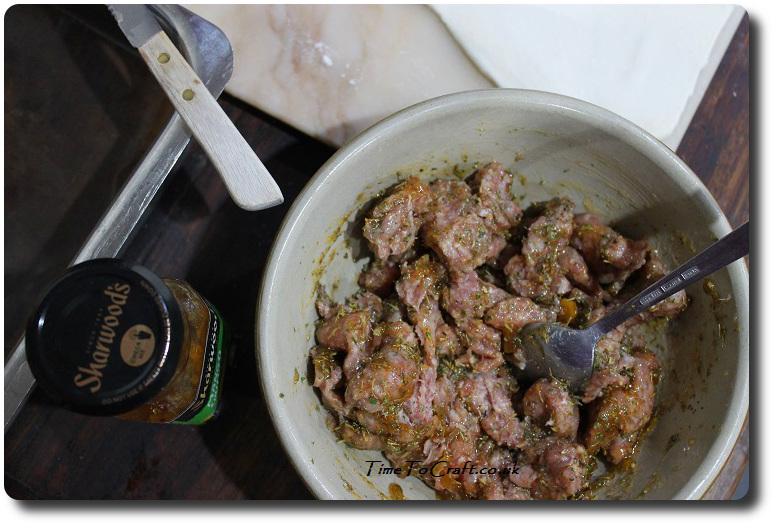 2. Roll out puff pastry into a rectangular shape. About 35 cm by 25cm and close to 3 to 5mm thick.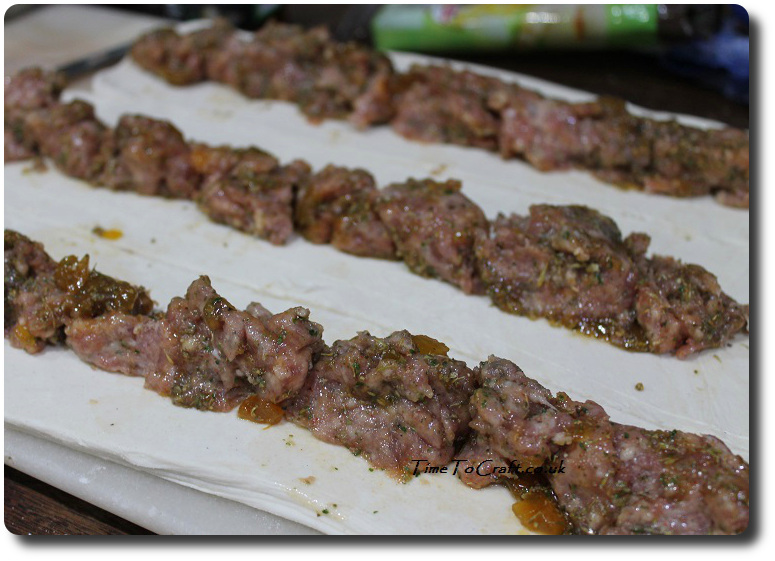 3. Split the pastry length-wise into three equal lengths, as shown above.
4. Split the meat mixture into thirds and arrange along the middle of each pastry strip, as a long sausage.
5. Brush water on the pastry either side of the meat mixture and bring the two long pastry sides up to cover the meat. Pinch the tops together and cut into bite size pieces. Brush the pastry with milk. Space them out on a big, lined tray. I use a re-usable Bake O Glide sheet.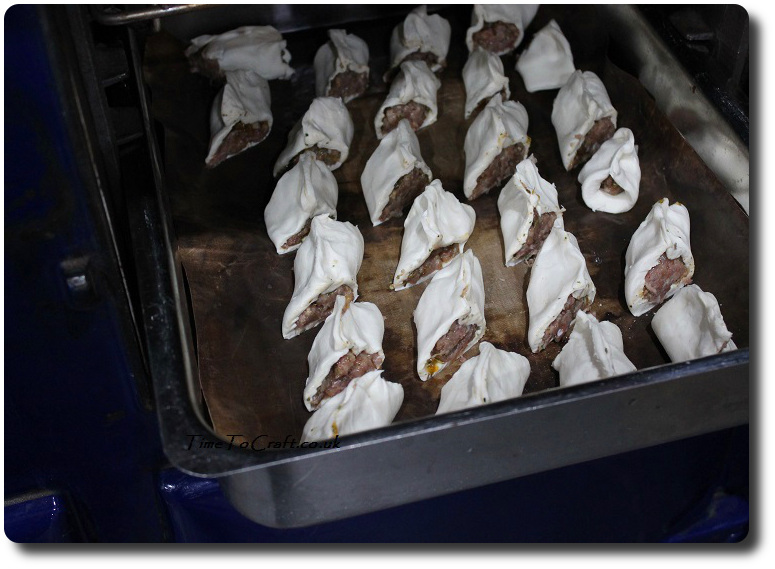 (whoops! forgot to photograph the unbaked version until they were just disappearing into the Aga)
6. Bake in the oven for 20 to 25 mins at 230 c, until the pastry is golden brown. Remove and pop the sausage rolls on to a serving dish. Aga note: I split the baking time between the third shelf  and the floor of the top oven in my 2-oven Aga. No soggy bottoms!
All done.
Note: I used a different brand of puff pastry than my usual and was not so happy with how it baked. Usually the rolls are a tad more greasy. This time they were much drier. Not sure if this is down to the turkey or pastry. I'm going to try again with the other pastry and see.
These sausage rolls are brilliant to serve in the evening of Christmas Day or during Boxing Day, when no one needs much more to eat. Add some cold meat, cheeses and salad, and people can help themselves buffet style. I've taken the pork sausage version to parties too. (Ahem.. might have made a bit more of an effort in the presentation of those ones….)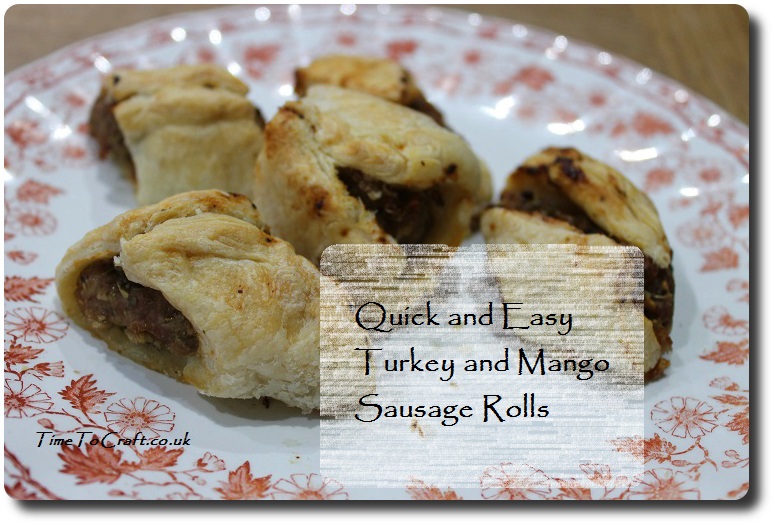 Anyway, these turned out yummy and I reckon will be brilliant to use up the left-over turkey, without being obviously left over turkey. They taste great straight from the oven or cooled down the next day. Although I prefer them warm. The mango sweetens and makes the rolls fruity. And morish. Don't say I didn't warn you.
(*includes affiliate link)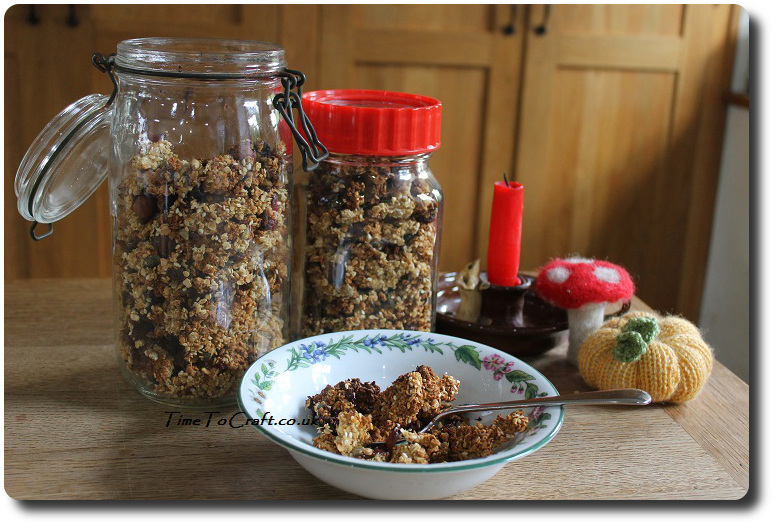 There are times I envy the hound. She wakes up, stretches and is ready to go, whatever the day promises to bring. All she needs is her collar and she can head on out. She's even happy to skip the collar part. It's an easy start to the day. Whatever the season.
Contrast to her human pack. It's the time of year when we're waking up in the dark again. Same time, but no daylight. The radio alarm goes off, catching a Radio 4 presenter mid-sentence as they bring us up to date with the overnight news events. Always mid sentence. I seriously question if it's a good way to start the morning. In an instant state of bewilderment. Left wondering who they are talking about, or where. Knowing I'll have to wait for the news to cycle through again before the mystery is solved.
To add to this state, there is no daylight. I know I mentioned that part, but being in the countryside, we have no street lights either to ease the darkness. Even a self confessed morning person like me, finds it a bit more of a struggle to make it out from under the covers, when the sun hasn't made it over the horizon. To add to the fun, the Teen has turned eco-manic about electricity. All lights are now turned off overnight. Before the gentle glow of the landing light would reach along the corridor and help with navigation. No more. It is pitch dark. I spring out of bed and then quickly remember to tread carefully in case the hound has managed to sneak up overnight, and is laid out, occupying the floor.
And so my morning starts.
Sigh.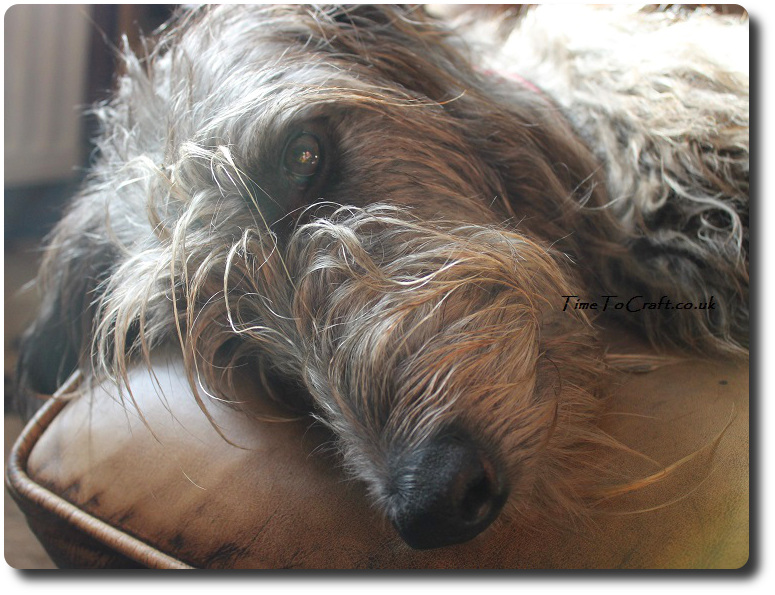 (Sporting the wind swept look after her morning walk. She does have the advantage of being able to go straight back to bed. Unimpressed by lens in her face.)
I am a morning person. I can overcome all these obstacles, but it's also good to have a little help along the way. Pick me ups, so to speak. Brief moments to breath in and enjoy. To ground me. In between the calls for PE kits, missing geography books and "are we out of milk?" (No, we are not)
Here are six of my morning pick-me-ups:
1. Pamper. I love pick-me-up fragrances in my morning shower. I wouldn't care if the water is cold/luke-warm/hot, so long as I have the right scent to wake me up. It can seriously get me through a lot. I can cope with the last minute requests for a roman costume for that day or cooking ingredients for school, if I can still catch a hint of my grapefruit shower gel. Big favourite is the Body Shop range.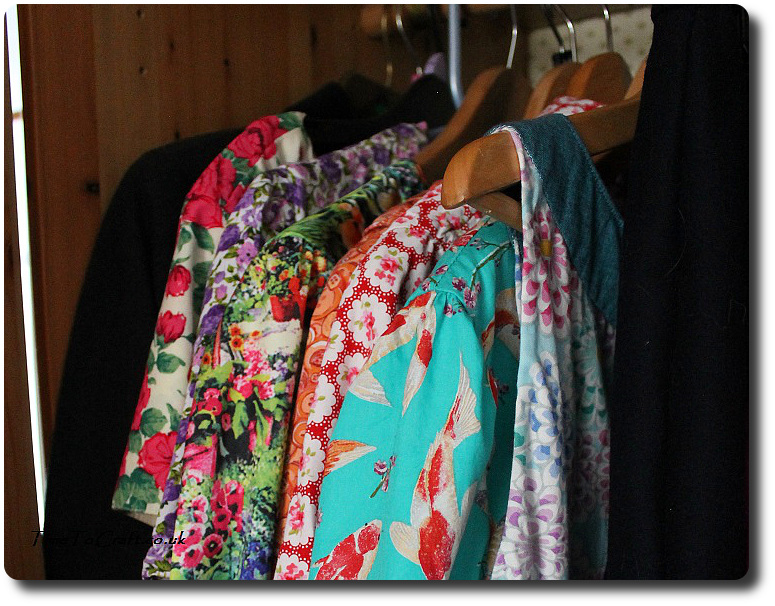 2 Handmade wardrobe. I love my wardrobe. I smile every time I open the door. Handmade makes me happy, as do the colours. I know I can pick anything to suit my mood, or the mood I'd like, and pop it on. It will fit, because I made it specially for me. Squeal. Like a gift from a past me. "Here you go. Have this one. Oh no, the pleasure is all mine." I no longer look at a full wardrobe of clothes and find nothing to wear.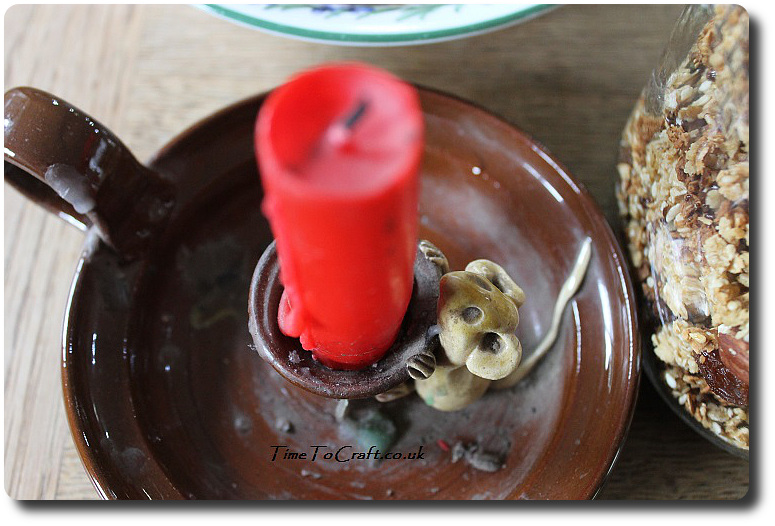 3. Downstairs, we are back to putting a candle on the breakfast table. There are other lights on. The Teen has not moved us off-grid yet. The gentle glow of the candle feels natural and a focus for us all. As people come down, they sit at the table eating breakfast. It really is a favourite with the children. I'm turning a blind eye, at this point, to the panic homework going on at the other end of the table. Hopefully the candle is still sharing its calmness.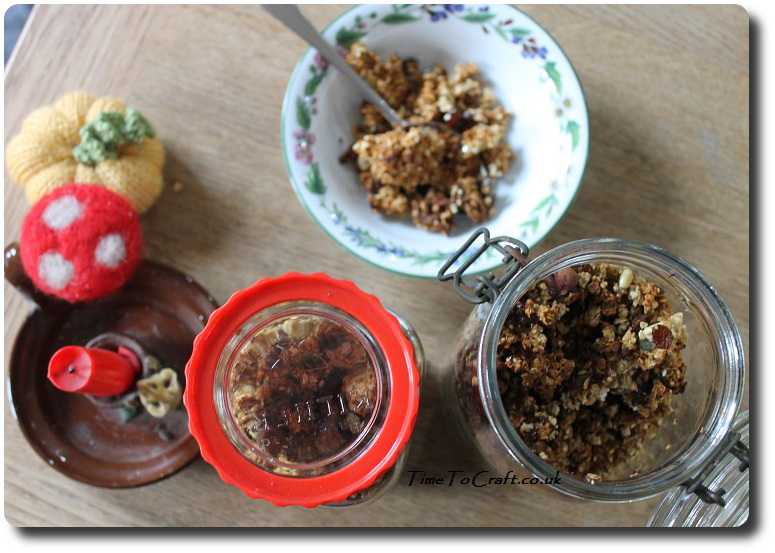 4. Homemade granola. Just the best. I love starting the morning with this one. A silent thank you to myself for finding time, the day or two before, to make it. (recipe at end)
5. Coffee. I used to be a tea drinker. No more. Unless it's herbal or fruit tea. Nowadays, I have to have an Italian coffee first thing. Lavazza is our favourite. The first cup of the day is the best. No denying. As hard as I try, I just can't replicate it, until the next day.
6. Don't sweat the small. So, I forgot to put the grapes in the Boy's lunch bag yesterday and, yes, I didn't wash the PE kits again. Let's not talk about the phone call I forgot to make. They will survive. The world will not end with one less perfect person in its midst.
Soon it is only the Boy, the hound and me left in the house. Once he is ready for school, I test him on his times tables or current spelling list, and then he tends to drift off to do his own thing until it's time for school. Boots on and we're off.
Just a hint of grapefruit.
As promised, here's the granola recipe. Very easy to change around the fruit and nuts to make it different each time. Also, the vanilla essence can be replaced with cinnamon, ginger or any other flavour that takes your fancy.
Granola
Ingredients
300g porridge oats
125g maple either maple syrup or golden syrup, or a blend of the two syrups
2 tbsp of honey
2tbsp vegetable oil
2 tsp of vanilla essence
150g seeds and nuts (eg sesame/almond/pumpkin/hazelnut)
150g dried fruit
20g- 50g chocolate chip
Method
1. Mix syrup, honey, essence and oil in a bowl.
2. Add in the rest of the ingredients apart from the dried fruit and chocolate chips. Mix thoroughly.
3. Spread the mixture thinly on a lined baking sheet and bake for 10-15 mins at 150c (fourth shelf of baking oven, for a two oven Aga.)
4. Take out of the oven and mix in the dried fruit. Use a fish slice to turn the mixture over, so that it all gets a chance to brown. Spread the mixture out on sheet again.
5. Put the baking sheet back in oven and bake for a further 5-15 mins until golden brown.
6. Remove from oven and lift mixture out of the tray using the lined paper. Set to rest on a cool surface.
7. Sprinkle chocolate chips on granola while still hot.
Once cool, the granola should be stored in an airtight container. I love the clusters of oaty yumminess, with this recipe. Serve with milk or yoghurt, or just eat it as it is.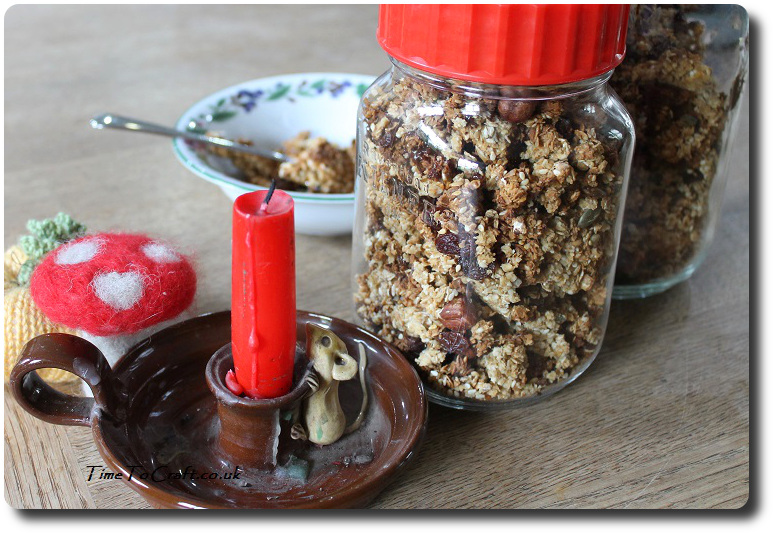 How about you? What do you need to get you up and out of the house in the morning?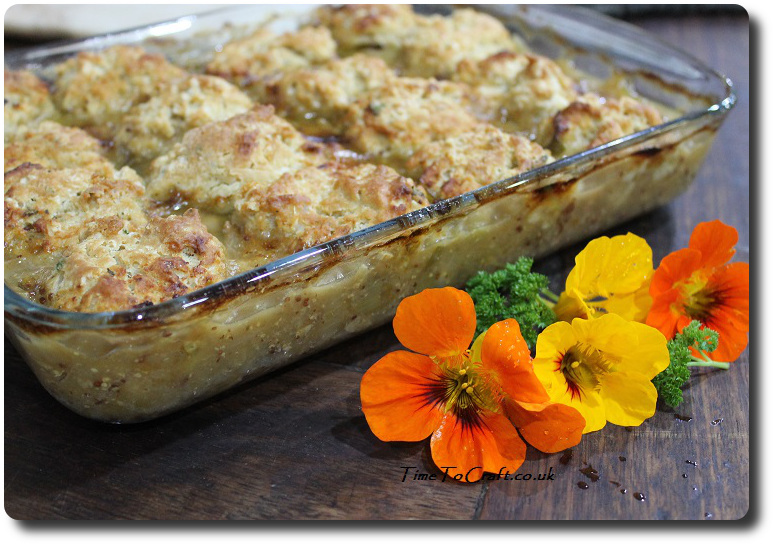 I'm going to come straight out with this. No beating around the bush. Here it goes. Ready? Brace yourselves.
Teenagers can be just as fussy as toddlers when it comes to food.
Goodness. Now that does feel better. Sorry to pop the bubble for all you parents out there with young children, who thought it would soon all be over. You're in for the long haul with this one.
Maybe I should explain. The difference is that teenagers give you reasons why they're not going to finish their meal. If you're unlucky, more than one reason, as you watch the carefully sculptured meal being rejected. Your gangly teen then adds insult to injury, by disappearing into the food pantry to rustle up a less than nutritionally balanced alternative.
Sigh.
On the whole, I'm lucky. My offspring have never been particularly fussy. Ok, one doesn't like yorkshire puddings and another hates squashes and coucous, but I have, on the whole, been blessed. Until recently. It started when eldest took against one whole food category – meat. Admittedly not all meat. Just enough.
It began when she had braces fitted on her teeth and found it difficult to chew. I made allowances. I thought it would change once the braces came off. No. By then a habit had been formed and she would no longer eat meat unless it was easy to eat. Not for ethical reasons.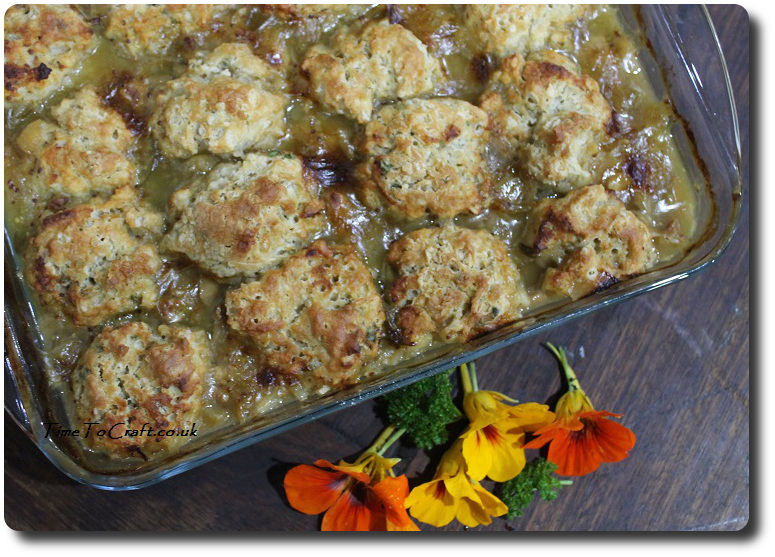 I'm not the first mother to encounter this problem, but there was a second complication. Soon after she was fitted with braces, she started to develop dry patches around her mouth, that became very sore. It was horrible and uncomfortable. Not only the braces to deal with, but these unsightly sores too. It knocked her confidence at a time she needed it most. You can imagine we tried a whole host of remedies to solve it. We visited the nurse at our surgery a few times and also researched. We thought it was set off by the orthodontic treatment.
Then one day, on holiday in Scotland, a pharmacist suggested it may be a vitamin B deficiency. That was a new one.  Needless to say, we upped her intake of vitamin B and, blow me down, she's not had a problem since. Just like magic, it was gone! It may have been coincidence, but I don't think either of us are willing to test that hypothesis out.
Vitamin B had not been on my radar at all. It made sense. Her meat intake had dropped, which is one good source for it and nothing had replaced it. I had compensated for the missing protein, but she must have been missing out on other important nutrients, I hadn't even considered. If she had given up meat completely, I may have clicked earlier.
I moved into action. Lesson learnt. Teenagers, and tweens, go through phases of dropping some food types. When they do now, I am much faster at substituting in another source, and I explain to them why I am doing it.
I'm also much more conscious about how I cook meat. No point serving up a tough piece of meat. One of my favourite ways is to slow cook it. The meat is tender and falls to bits in her mouth. She will eat it. Double benefit is that I can set it off cooking early in the day and its ready for us when we finally get home from an after school club.
Win-win.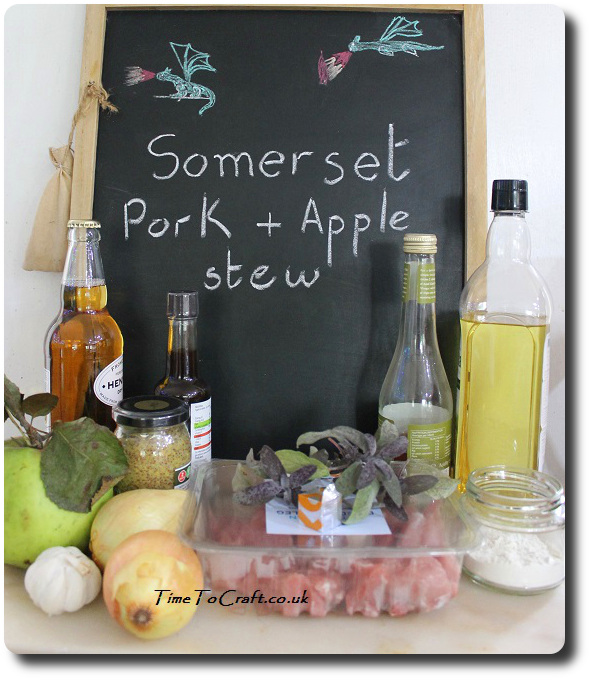 Time to share a recipe. A slow cook Somerset pork and apple stew. With dumplings.
Ingredients
For stew (for 4 to 5 people)
450-500g of Extra Lean Diced Pork Leg
2 onions chopped
4 garlic cloves chopped
1 chopped up Bramley apple
400ml apple cider or apple juice
300ml chicken stock
2 tbsp Wholegrain Mustard
1 tbsp cider vinegar (optional)
bunch of sage, chopped
1 tbsp oil
2 tbsp heaped flour
a dash of worcester sauce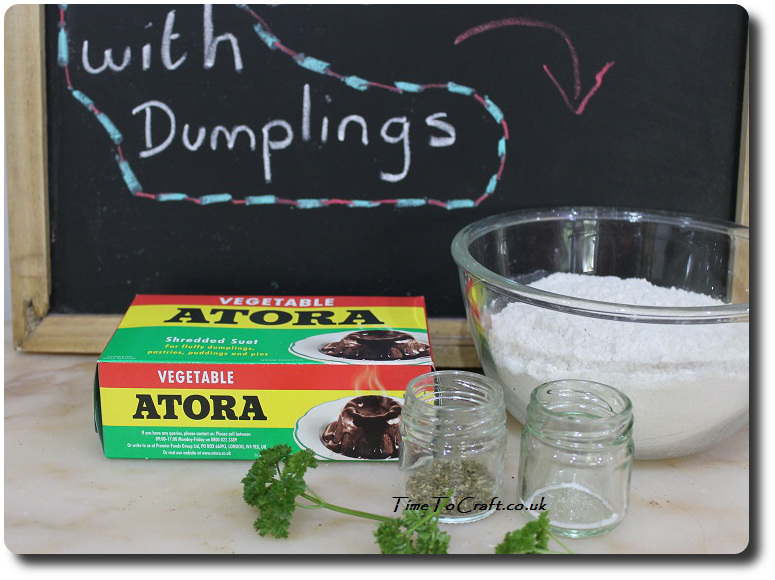 For dumplings
225g (8 oz) self raising flour
115g (4 oz) suet
pinch of salt
tbsp mixed dried herbs
cold water as needed
Note: I cook this in the 2 oven Aga, as it is perfect for slow cooking. Otherwise turn your oven on and set it to 190c ready to cook the dumplings, when the time is right.
For stew
1. Fry onions and garlic in the oil, until soft. (I used a medium sized Aga saucepan that goes in the oven too.)
2. Add pork and fry until it is sealed all over.
3. Stir in flour and mustard, then add in the stock, worcester, vinegar and cider/apple juice. Stirring and bring to the boil.
4. Stir in the apple and sage, and cover.
5. Simmer for an hour. With the Aga, I put the saucepan with the stew in it, in the bottom oven for 3 hours or so.
For dumplings
1 Mix flour, suet, salt and herbs in a bowl
2. Add water slowly and mix, until the dough is soft but not sticky.
3. Shape the dough into 16 walnut size balls.
For stew and dumplings
1 Transfer stew to a oven dish.
2. Evenly space dumplings on the top of the stew.
3. Put dish in oven for 20 mins, until the dumplings have turned a golden brown. In the Aga, I put it in the top oven, on the third shelf.
Serve. I served it with spaghetti squash, runner beans and crusty bread. (and a glass of cider for us grown-ups!)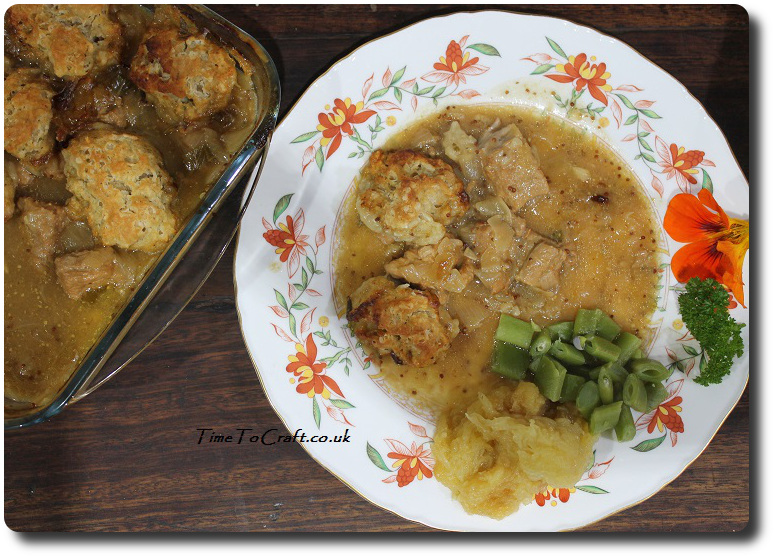 Approximate cost: £5.20
Preparation: 20-30 mins
Cooking time: 1- 3 hours plus
Family verdict: They loved it. Found it lovely and appley. Very filling. Suggestions that we have dumplings more often. Plates were cleaned. Happy to have it again.
This post is an entry for the BritMums #HealthyRedMeat, sponsored by the Meat Advisory Panel
Photos
There have been cases when people lifted my photos and words, and used them without credit to me or asking permission first. Using them for their own commercial gain. I have now added a level of security to deter people from doing this. Apologies to people who do play nicely. If you would like to use any of my photos, please contact me.
Copyright notice:
All my words and photos are copyrighted to me. They cannot be used for commercial benefit by anyone else. If you would like to use any of them, then please ask me first and don't just take. Written permission only. Don't pass my words, photos or ideas off as your own. It's not nice.
Cookie Policy
Our web pages do not use cookies however this website uses Google Analytics, a web analytics service provided by Google, Inc. Google Analytics uses cookies to help us analyse how people use our site. The use of cookies by Google Analytics is subject to change.