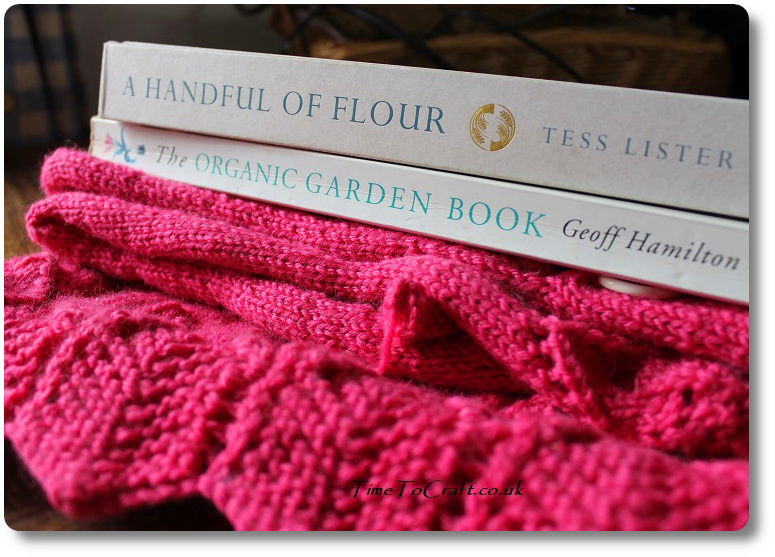 It's time for this month's Yarn Along. A moment to share my latest knit and book.
I have to admit, I didn't feel remotely creative last month. Certainly not in the sense of knitting or sewing. Not helped in the least, that I'd reached a tricky point in my knitting. I had to put in time to figure out how to put the finished pieces of my raspberry waistcoat together. Followed by picking up stitches to make borders, which is most definitely my least favourite part. So far, I've resisted the temptation to throw it to one side and start a new project. Something simple, requiring no thought.
So, my cardigan is semi finished. All the parts are knitted. They just need joining together.
Book wise, I've been reading my homesteading books. We've decided to dig up the old kitchen garden again and plant it up. We abandoned it a few years ago, as it was proving too much for me to do by myself. I'm also expanding the existing kitchen garden. Fingers crossed, I should have enough room for all the seeds I've bought. With the schools closed, until September possibly, it should be easier to keep on top of it all and, more importantly, feed us. I have captive work force, who are fortunately keen to help me.
We were hoping to buy a new greenhouse, before the lockdown, but I missed the moment. Instead, I'll make do with my existing one and the old glass corridor, at the side of the house, which we optimistically call a conservatory. It may be a race between the plants growing and taking over the two glass areas, and the movement restrictions being lifted. We'll either be drowning in fresh, green leaves or make it out in time to buy a second greenhouse. Only time will tell.
Fortunately, I seem to have reached a good place in my sourdough making journey. I can produce a good loaf which everyone enjoys. With all the family home, due to the lockdown, it is perfect timing.  They will happily nibble on it instead of the snacks they used to buy during the day, when they were out and about. I am definitely winning. Anyway, I'm enjoying planning my new variation, now I've figured out the basics, from A Handful of Flour book.
Hopefully by next Yarn Along I should have recaptured my knitting get-up-and-go, and finished the waistcoat. Am I the only one struggling to fit in knitting at the moment?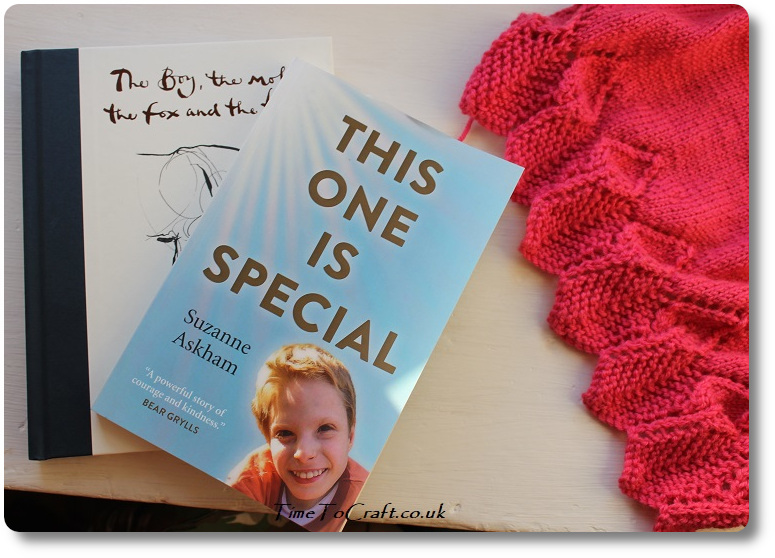 It is Yarn Along again. Time to share my current read and knitting, and I'm a tad excited to share my book this month. It is my sister's book. I don't mean a book that I found on her bookshelf. No. I mean one she wrote.
Book
"This one is special" (affiliated link) is about her family's journey along the less frequently trod path that a family takes when one of them is disabled. Her son, Tim, was born physically and mentally disabled. Anyone, who has had a child that defies diagnosis and cure, will be able to relate to the miles of hospital corridors they treked, in those early days, looking for answers. The book follows Tim's story, but also theirs as a family and how they learnt to trust their intuition and dreams.
I love how the blurb puts it on the back of the book:
"In the first year I looked to doctors.
In the second year I looked to holistic practioners.
In the third year I looked within."
I am biased. Suzanne, as my older sister, was the first person to tell me stories, right off the cuff, to entertain me. I still half remember a story about little people who lived among the flowers, including a family called the Periwinkles. I was about seven. Unknowingly, that was my introduction to oral narrative or traditional storytelling, which I have entertained my own children with. Stories that appear from thin air.
Suzanne can tell a good yarn, but she can also tell real stories.
It's not her first book. She's a writer, editor and former journalist. I've read a few chapters of this latest book already. It is a raw read at times, but most definitely uplifting too. I'm looking forward to reading the rest. I think the story will touch everyone who reads it.
(affiliated link)
My other book, this month, is one to dip into, but is also uplifting. Charlie Mackesy's work is everywhere at the moment. His delightful drawings and thoughtful words are reaching out to people. I couldn't resist buying a copy of "The Boy, The Mole, The Fox and The Horse" for our coffee table.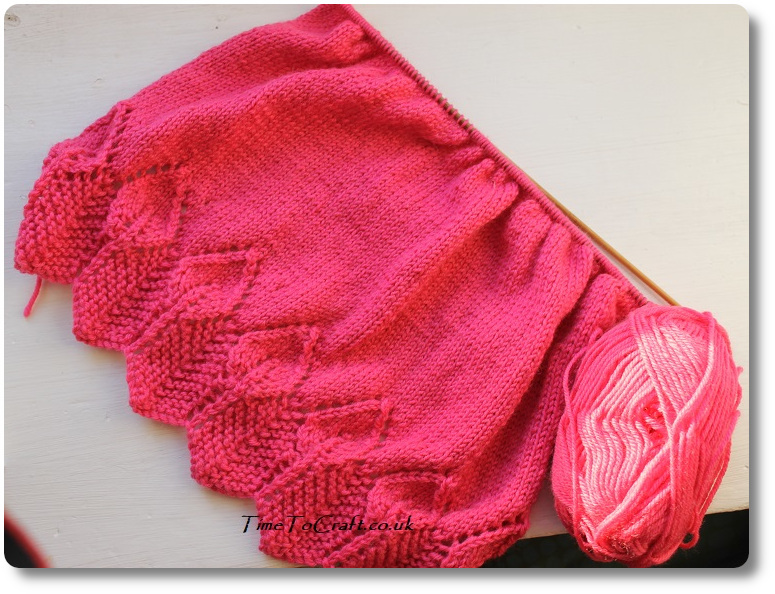 Knitting
Moving on to my current knitting. I've picked up a work in progress, after saying that I wasn't going to knit anything big, for a while. It is a long waistcoat (with pockets!). Pattern is King Cole 4750, knitted in King Cole merino blend dk. The colour is raspberry.
When I say it was a work in progress, I actually frogged the lot and started again. The cast on specified a thumb cast on, but it left it too loose. Instead I redid the lot with a two needle cast on. I'm much happier with the result.
I went out and bought bamboo needles to do the lacey part at the bottom of the waistcoat. I'm finding it easier to knit the intricate stitches with needles that grip the stitches more than a metal set would. It works.
I've knitted the two fronts and I'm working on the back now.
Joining in Anne's Bookworm's Monthly link up and Ginny's Yarn Along.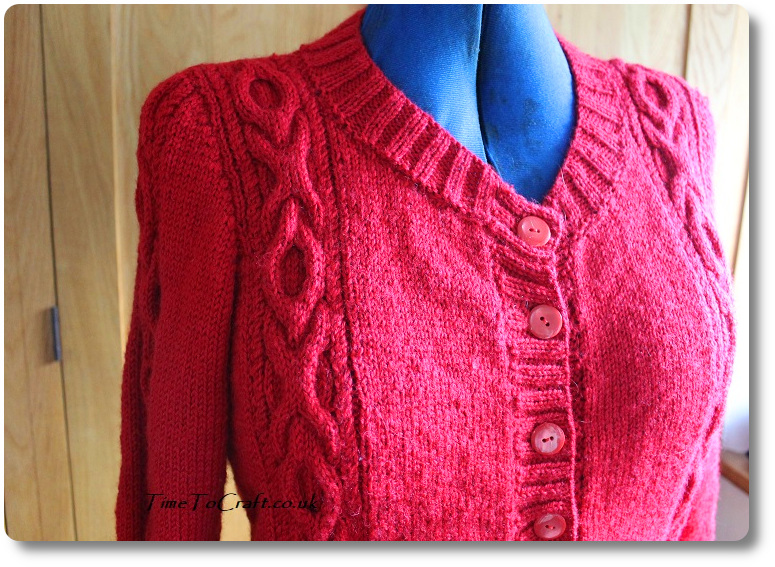 I've finished my red cardigan. Final stitch completed last night. Needs to be blocked to stop the hem curling and sort out the shaping, but it is done. If you can hear the hint of weariness in those words, then you are spot on. This cardigan has started to zap my enthusiasm.
Previous two versions of King Cole 4076 (jumper and cardigan) have taken a matter of weeks to do. They were straight forward. No frogging (unravelling) required. With this one, I've had to redo the whole of the left side, the collar and the button band. Silly mistakes. I don't know why. It is the same pattern. I knew what I was doing. Maybe knitting three items in a row was just too much.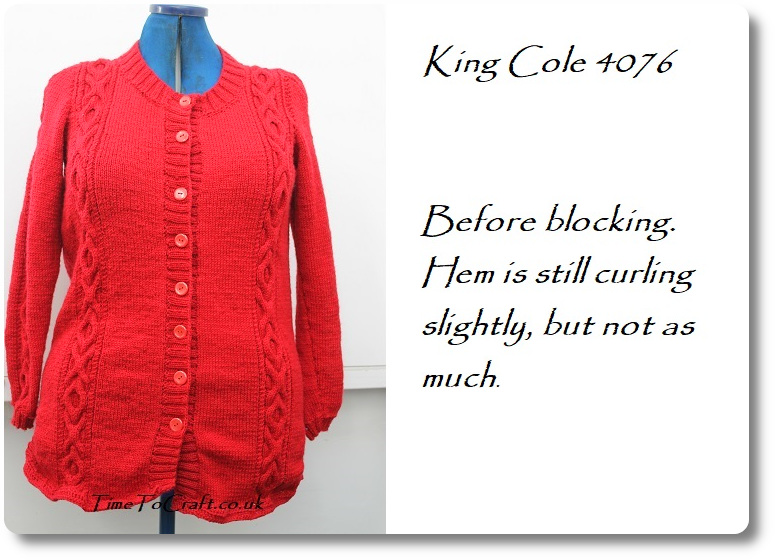 With this one, I did want to sort out the problem with my curling hem, that the others both had. They were missing the weight that ribbing gives at the bottom of a jumper or cardigan. In all fairness, blocking and wearing them, has reduced the curl over the months, but I remembered a tip that I received years ago from a blogger in the know.
It was for a different cardigan and she suggested adding crochet stitches at the bottom of each seam to give it weight. At the time, I couldn't crochet, so I didn't test out the tip. Roll on several years, to this red cardigan. I can now crochet. Could I add weight by crocheting a few rows of single crochet? Like a retrospective ribbing.
So I gave it a go.
It does seem to work. The back, if anything, curls inwards, which is perfect. I'm sure blocking will give this cardigan the shape I need. Slightly kicking myself that I didn't go the whole hog and add 2×2 ribbing to start with.
The only other adaption I made, if you can call it that, was adding a piece of ribbon down the button band. I'd noticed that my previous purple version of this cardigan, kept on losing buttons. It also might help with the shaping, in a small way. I love the ribbon. If I had more of the same ribbon, I would have added it to the buttonhole border too.
I have built up a good collection of odd lengths of ribbons and it is rather pleasing to find a good permanent use for one of them.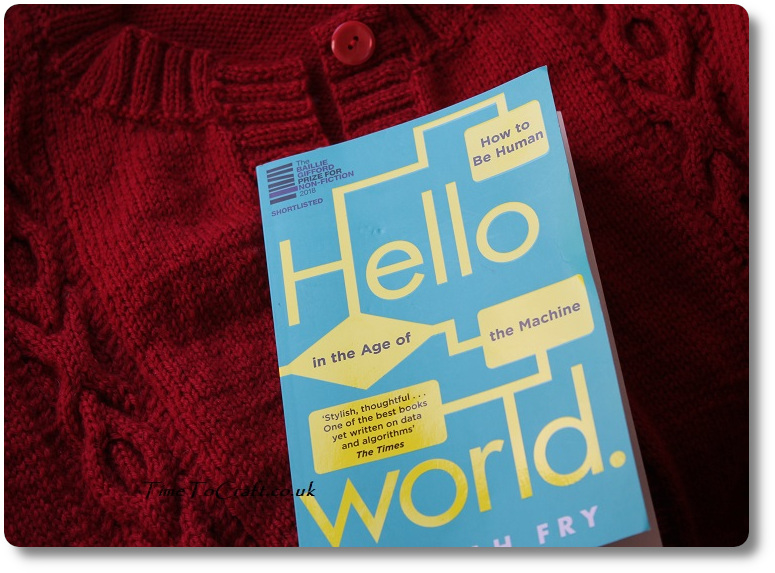 Today is Ginny's Yarn Along, so here is my current read. (affiliate link)  Hello World by Hannah Fry. I've watched several TV programmes presented by her and have liked her approach. She also happened to present The Royal Institute's Christmas Science Lectures, this Christmas, which is a must watch for our household.
I bought the book last year. I have a background in Artificial Intelligence and maths, so this book sounded good. The first program I wrote, printed "Hello World" on the screen, just like every other programmer I've ever met. I am a geek.
Saying that, this book is not just for geeks. The author writes in a very easy style. Yes, there are techy bits, but it is not a stodgy read. It is fascinating to see her take on the data gathered on us, every time we use a computer, and how it is used. How machine learning is being applied. I was banned from reading out loud anymore bits about data and marketing. It is relevant to everyone and she is challenging some of my ideas.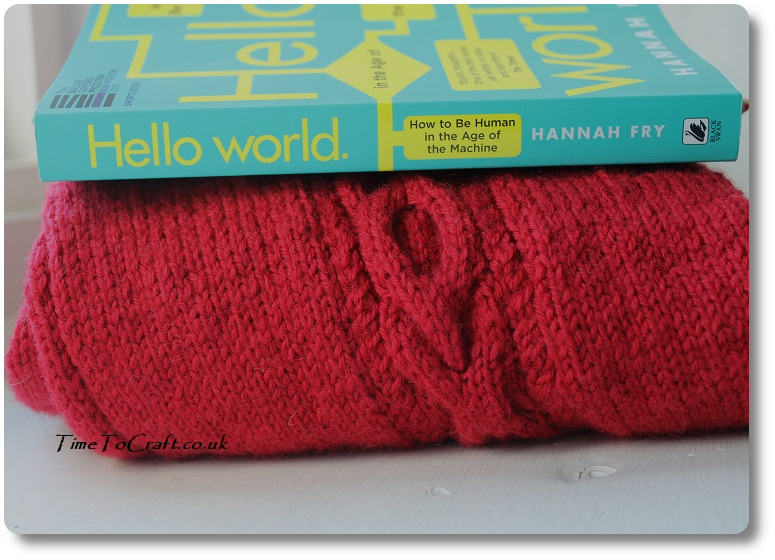 Nothing on my needles now, as I finished the cardigan last night. I think I'm going to do myself a favour and knit something simple like a pair of socks. I need a gap before I tackle anything jumper related again.
Joining in with Ginny's Yarn Along. What are you making at the moment?
Photos
There have been cases when people lifted my photos and words, and used them without credit to me or asking permission first. Using them for their own commercial gain. I have now added a level of security to deter people from doing this. Apologies to people who do play nicely. If you would like to use any of my photos, please contact me.
Copyright notice:
All my words and photos are copyrighted to me. They cannot be used for commercial benefit by anyone else. If you would like to use any of them, then please ask me first and don't just take. Written permission only. Don't pass my words, photos or ideas off as your own. It's not nice.
Cookie Policy
Our web pages do not use cookies however this website uses Google Analytics, a web analytics service provided by Google, Inc. Google Analytics uses cookies to help us analyse how people use our site. The use of cookies by Google Analytics is subject to change.