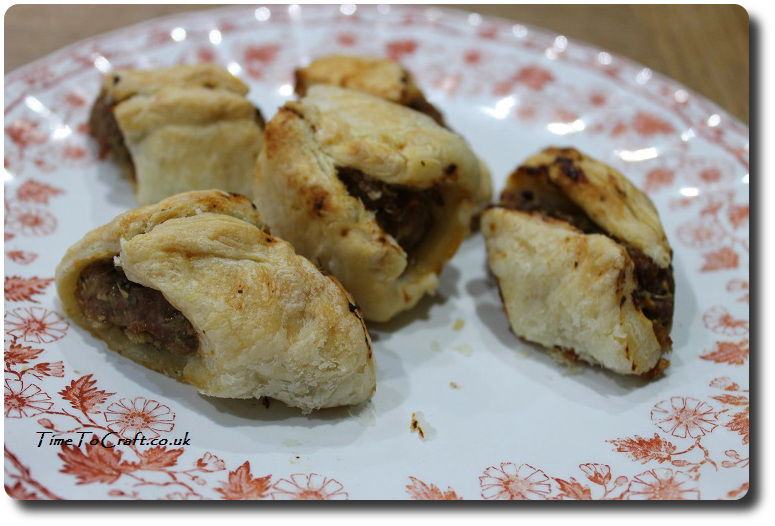 One of my favourite light meals to make, over the Christmas holidays, is sausage and mango rolls. They can be made using just four ingredients. Quick and easy, plus great to snack on as we watch a movie. Everyone loves them and I can enjoy the film too, rather than being stuck in the kitchen. Making me a very happy person too. Win-win. Instant jig on the spot time.
Then a few weeks ago, I bought a pack of turkey sausages. Just to try out. I thought they might be an alternative for sausage meat, if I removed the skins. It worked. This might also work with chopped up, left-over turkey too. In just over a month, I'll be so glad I thought of this idea. I'll have enough turkey leftovers to make a dozen batches of these finger sized snacks.
In the meantime, I can use turkey sausagemeat. Want to know how I made turkey and mango sausage rolls?
Ingredients
A pack of puff pastry
8 turkey sausages removed from skins and cut up
3 to 4 heaped tablespoons of mango chutney to taste
1 to 2 heaped tablespoons of dried herbs
How to
1. Mix sausagemeat, mango and dried herbs together thoroughly in a bowl.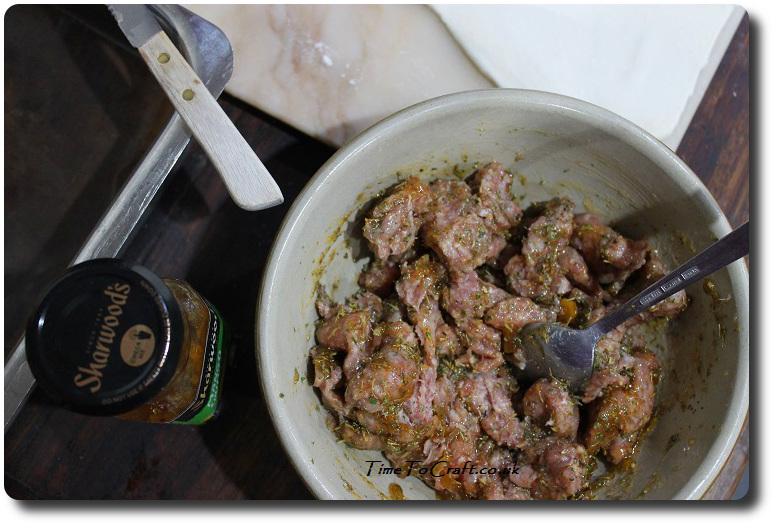 2. Roll out puff pastry into a rectangular shape. About 35 cm by 25cm and close to 3 to 5mm thick.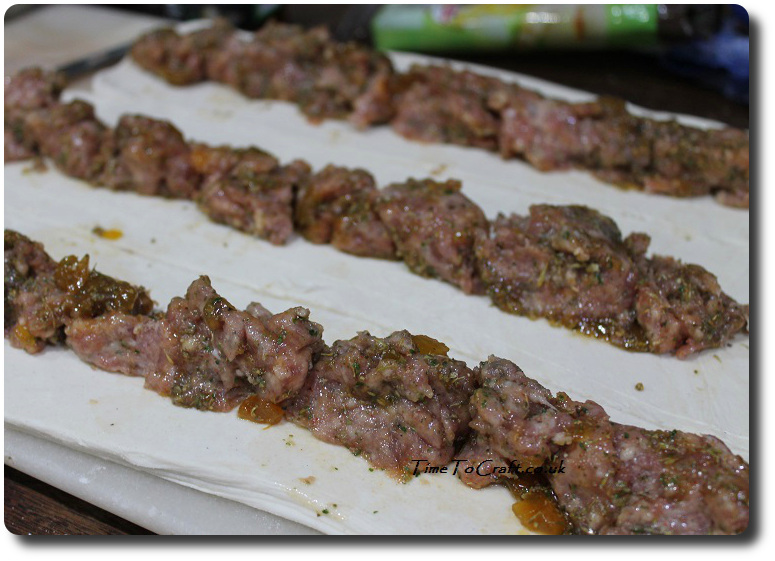 3. Split the pastry length-wise into three equal lengths, as shown above.
4. Split the meat mixture into thirds and arrange along the middle of each pastry strip, as a long sausage.
5. Brush water on the pastry either side of the meat mixture and bring the two long pastry sides up to cover the meat. Pinch the tops together and cut into bite size pieces. Brush the pastry with milk. Space them out on a big, lined tray. I use a re-usable Bake O Glide sheet.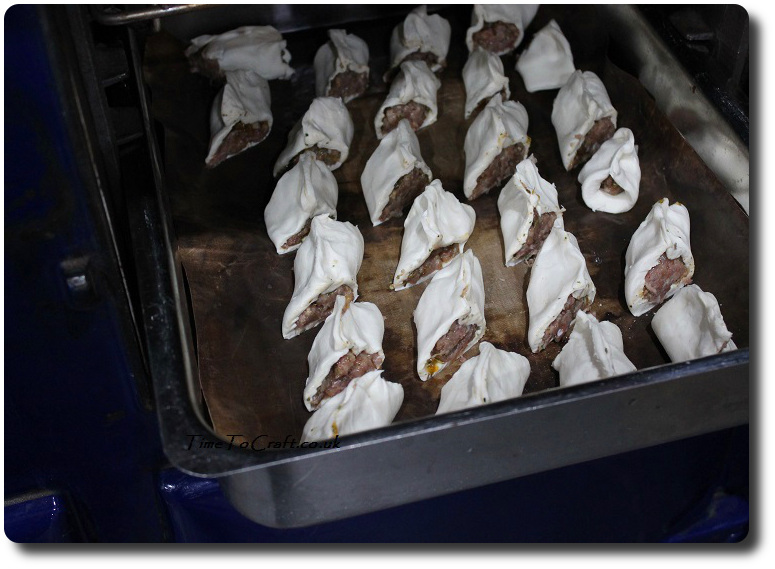 (whoops! forgot to photograph the unbaked version until they were just disappearing into the Aga)
6. Bake in the oven for 20 to 25 mins at 230 c, until the pastry is golden brown. Remove and pop the sausage rolls on to a serving dish. Aga note: I split the baking time between the third shelf  and the floor of the top oven in my 2-oven Aga. No soggy bottoms!
All done.
Note: I used a different brand of puff pastry than my usual and was not so happy with how it baked. Usually the rolls are a tad more greasy. This time they were much drier. Not sure if this is down to the turkey or pastry. I'm going to try again with the other pastry and see.
These sausage rolls are brilliant to serve in the evening of Christmas Day or during Boxing Day, when no one needs much more to eat. Add some cold meat, cheeses and salad, and people can help themselves buffet style. I've taken the pork sausage version to parties too. (Ahem.. might have made a bit more of an effort in the presentation of those ones….)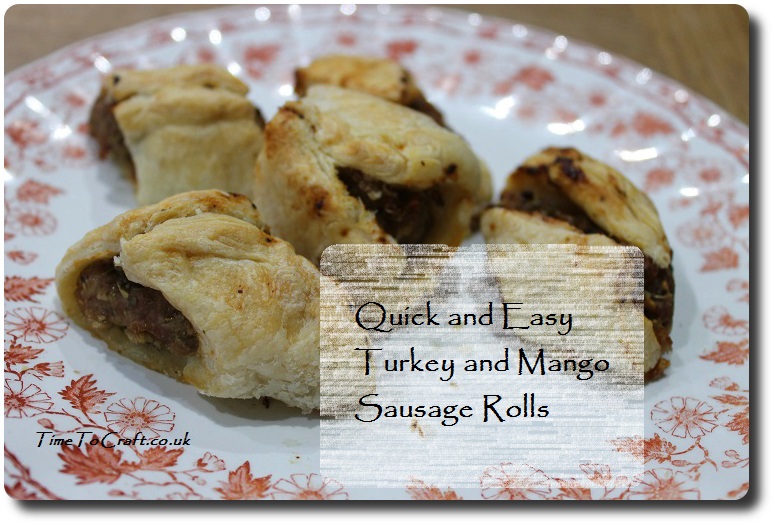 Anyway, these turned out yummy and I reckon will be brilliant to use up the left-over turkey, without being obviously left over turkey. They taste great straight from the oven or cooled down the next day. Although I prefer them warm. The mango sweetens and makes the rolls fruity. And morish. Don't say I didn't warn you.
(*includes affiliate link)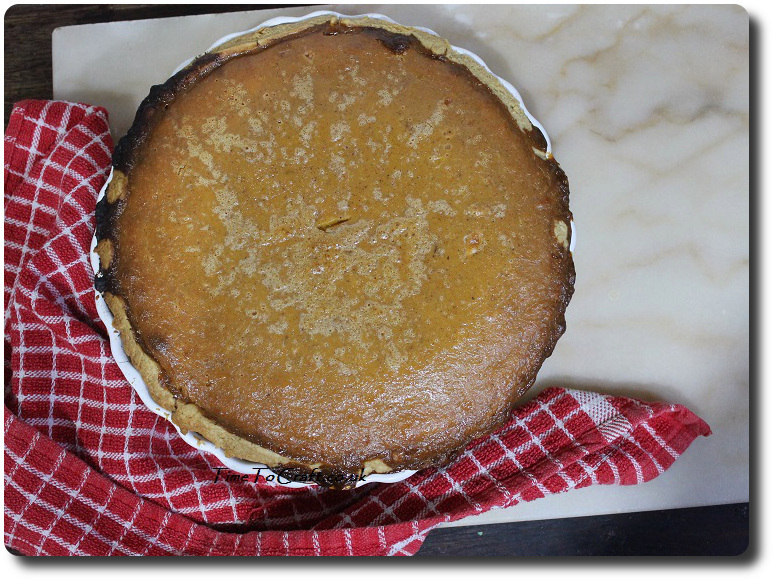 This is only the second pumpkin pie I have made. Ever. The last one was so long ago, that it was only as I tried to carry the over-filled pastry case to the Aga, that the memory came flooding back.
Funny how something can bring it all back.  This time it was the trail of spilt pie filling on the floor. Oh yes, then I remembered that next time I made it, I was going to add the filling once the pastry case was already in the oven. Might have avoided the burnt spilt effect around the edge.
Sigh
So a quick note to future self (and anyone else that might want to make pumpkin pie in an Aga):
Recipe – for a simple, but tasty pumpkin pie, I used this one (instructions are for a conventional oven). For the pastry case, I used my usual sweet pastry recipe. Rolled out, put in a greased pie dish and left to rest in the fridge, while I prepared the rest.
Ingredients – I used a pumpkin that was for cooking not carving (£1.20 from Sainsburys), which I de-seeded and sliced up. Then roasted on the floor of the roasting oven. Took about 30 minutes. Easy to scoop the flesh out of the skin.
Preparation notes – Mash the pumpkin flesh with a potato masher to make it into puree. Squeeze as much liquid out of the puree as humanly possible.  Next, I put all the pie filling ingredients in my Kitchen Aid bowl and mixed them thoroughly with the wire whisk.
Baking notes – I put the pie on the Continue reading →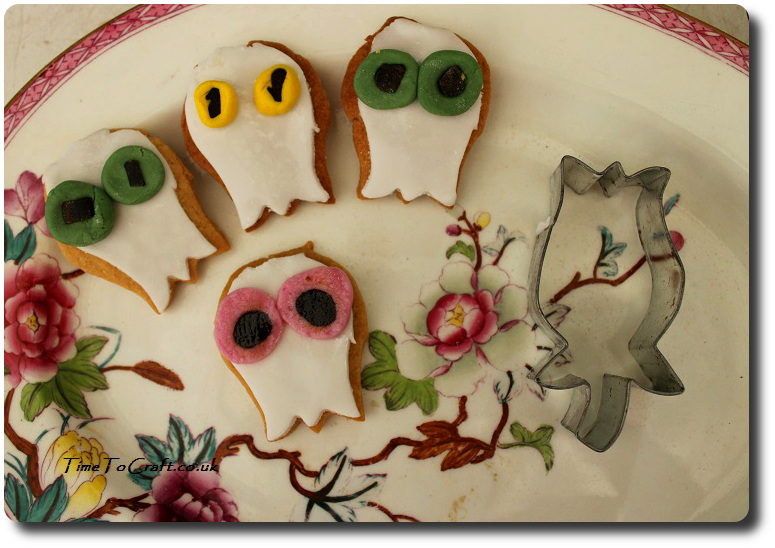 I'm not sure what this says about me, but I've always liked the idea of edible eyes. The sugar based ones that look like wobbly craft eyes. Googly eyes. Sorry? Oh no! What did you think I meant?
Eugh! No. I'm not ghoulish. We're talking sugar based. It's just that every time I see the eye cake decorations, I am sorely tempted to buy a packet to decorate cakes. I haven't. I'm yet to find a pack that I think is priced right, but the idea of putting the equivalent of wobbly craft eyes on cakes is appealing.
So instead, I experiment.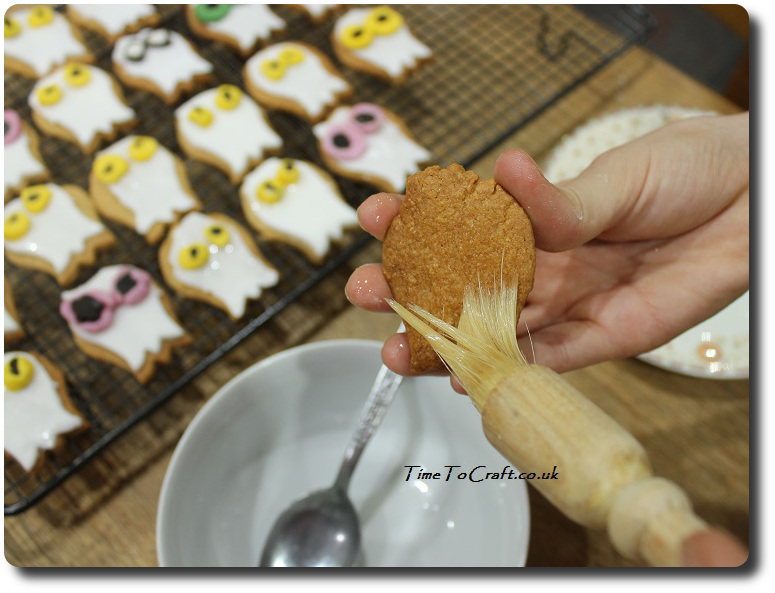 We made ghost biscuits today. Just a run of the mill sugar cookie recipe and rolled out fondant, stuck on with a mere hint of runny icing sugar. The shape is from the flower part of a tulip shape cutter.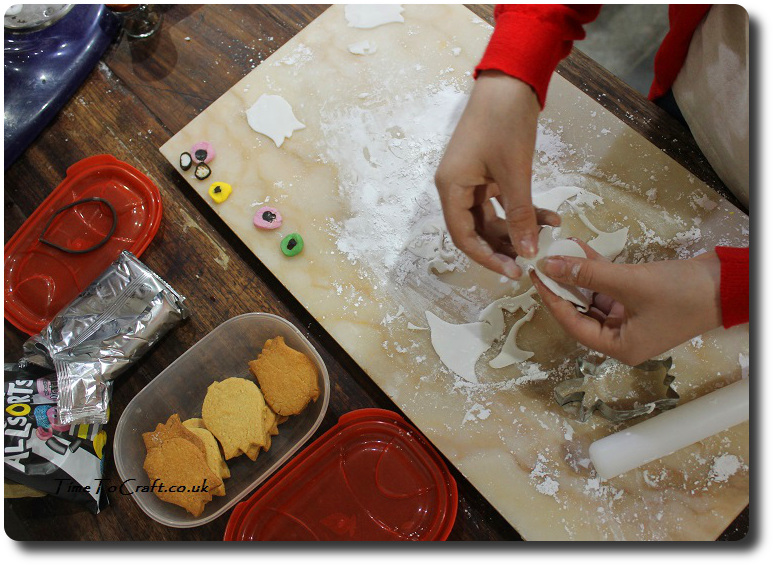 I had the idea of slicing up liquorice allsorts to make the eyes, which worked well, except there aren't enough round sweets in a packet.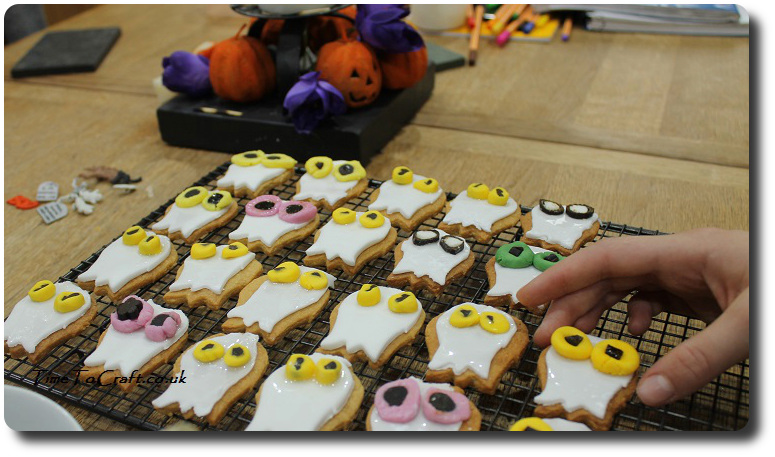 Next, I hit on the idea of wrapping coloured fondant around little bits of liquorice. We had lots of fondant left over from a project one of the children did at school. It gave me a chance to use some of it up. It worked best if I made a small ball of fondant, flattened it into a disc and then popped the liquorice in the middle.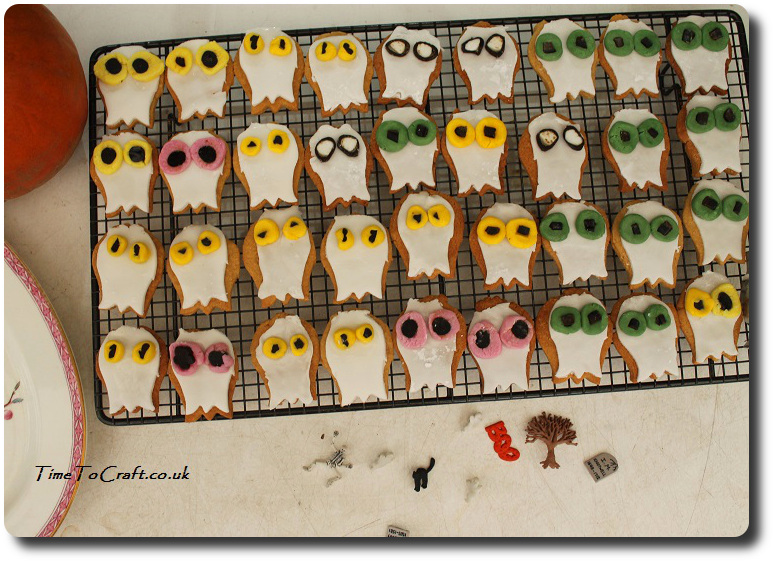 I'm calling this one. These are super, cute ghosts. They each have a bit of individual character. I'm sure the shop bought eyes would have looked good too, but not so much fun to make.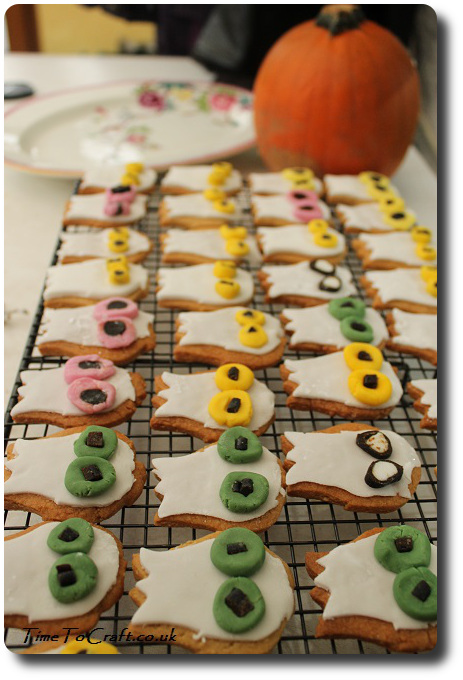 The ghosts aren't perfect, but they won't last long, so no one minds. The children worked as a team and that is far more important to me than a perfect biscuit. They made memories together. They'll be able to reminisce about the time, in years to come, when they made ghost biscuits with huge, staring eyes!
And how their mother insisted on shouting Boo! every time one of them asked for another.
And how they didn't roll their eyes. Not once. Oh, how they laughed. (Ok, made up that bit)
Another fun Halloween activity for the children ticked off my list, this half term. What next?
Photos
There have been cases when people lifted my photos and words, and used them without credit to me or asking permission first. Using them for their own commercial gain. I have now added a level of security to deter people from doing this. Apologies to people who do play nicely. If you would like to use any of my photos, please contact me.
Copyright notice:
All my words and photos are copyrighted to me. They cannot be used for commercial benefit by anyone else. If you would like to use any of them, then please ask me first and don't just take. Written permission only. Don't pass my words, photos or ideas off as your own. It's not nice.
Cookie Policy
Our web pages do not use cookies however this website uses Google Analytics, a web analytics service provided by Google, Inc. Google Analytics uses cookies to help us analyse how people use our site. The use of cookies by Google Analytics is subject to change.