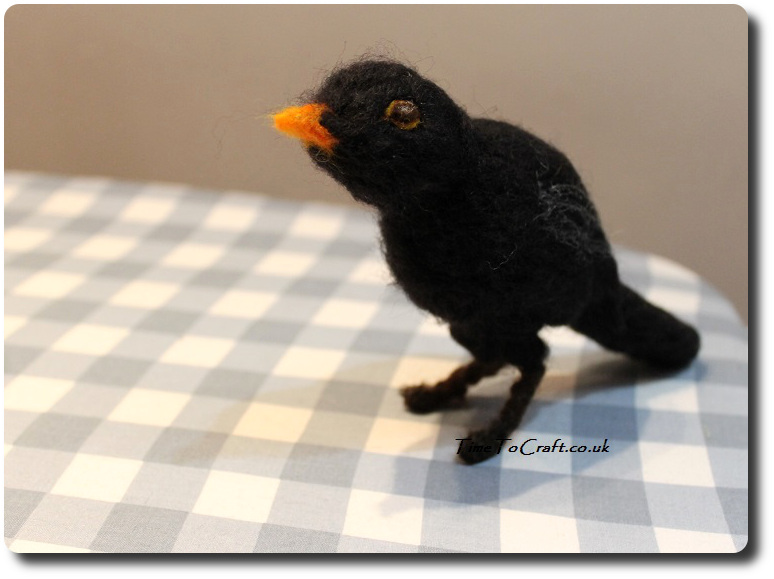 Some birds seem to just get us humans, so to speak. There will be individuals,  that interact with us on their own terms. They learn our habits, evaluate advantages and assess our risk factor. Before long, us humans give them names and a routine of interaction is established.
One of my family had just such a relationship with a blackbird. He called the bird Blackie. The bird learnt to trust his human and would come to be fed when called. He was quite a character. Every time we visited, we heard more of this blackbird's antics.
Blackie raised several clutches of little blackbirds, over the years. Always keeping his nests in close proximity to the dwelling of his human friends. Then one day, he didn't turn up. No-one knows what happened. His adult offspring are still around, but not Blackie.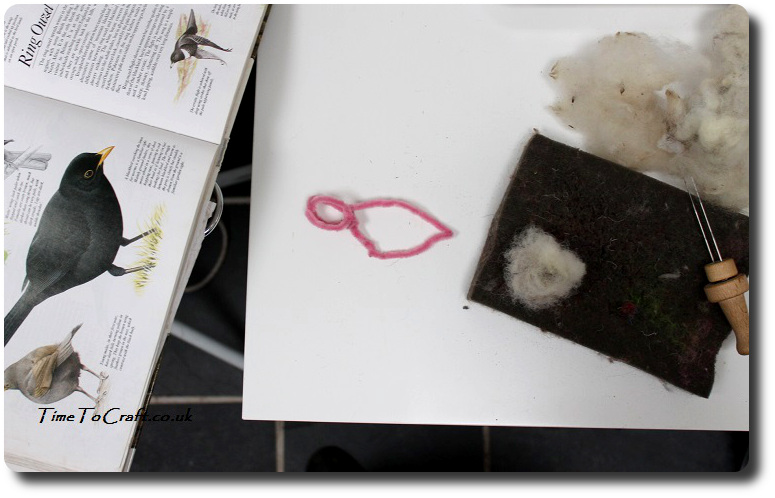 So I decided to make Blackie. A young version. Why not?
To start, I used pipe cleaners to form the frame. Makes it easier to shape and re-shape, I find. The white is from a Jacob sheep fleece which forms the base. It is springy and felts up to be a firm structure.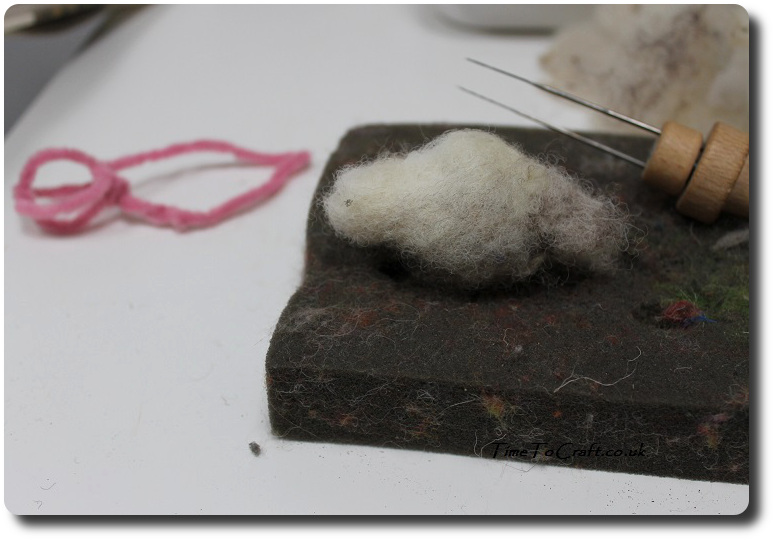 I felted the base of the body, tail and the head separately and fitted them into the pipe cleaner frame, then felted more white fleece over the top, until the pipe cleaners were hidden and I had the right shape.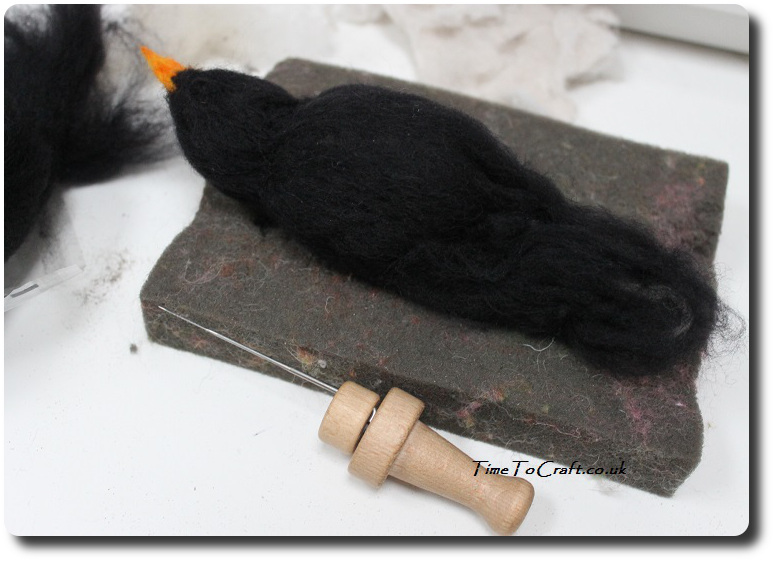 Next the black. I kept the length long, so it covered the whole length of the body. It was at this stage I knew I was getting the shape right. It's very difficult stabbing a needle into something thats starting to look like a living creature.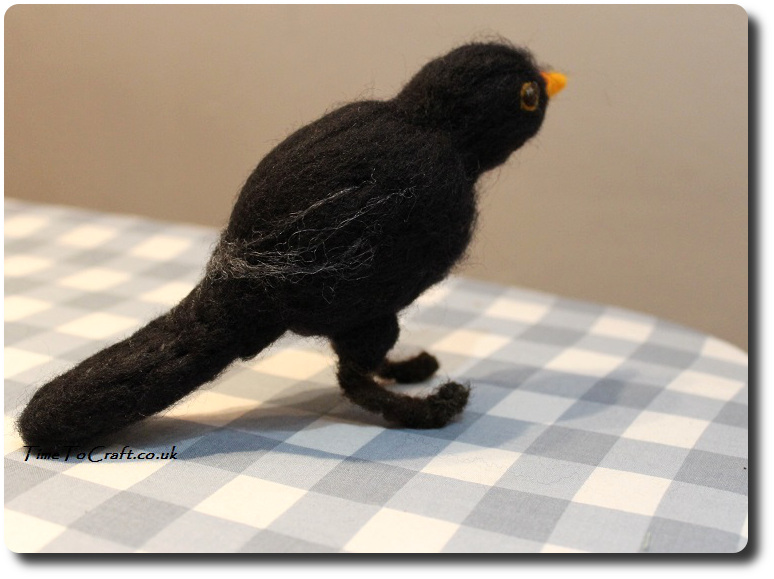 The legs are wire, covered in brown fleece. I used silk filaments to give the impression of wings folded back along the body.
The eye is a felted circle of yellow, with an inner brown circle. I added a touch of white, for a sparkle in the young blackbird's eyes. Giving him character. The beak was a mixture of orange and yellow, that I hand mixed, to avoid a solid block of orange.
I took these photos, to check the shape. Afterwards, I thinned down the tail, added shoulder definition, flattened his back and chin. Totally forgot to take a final photo.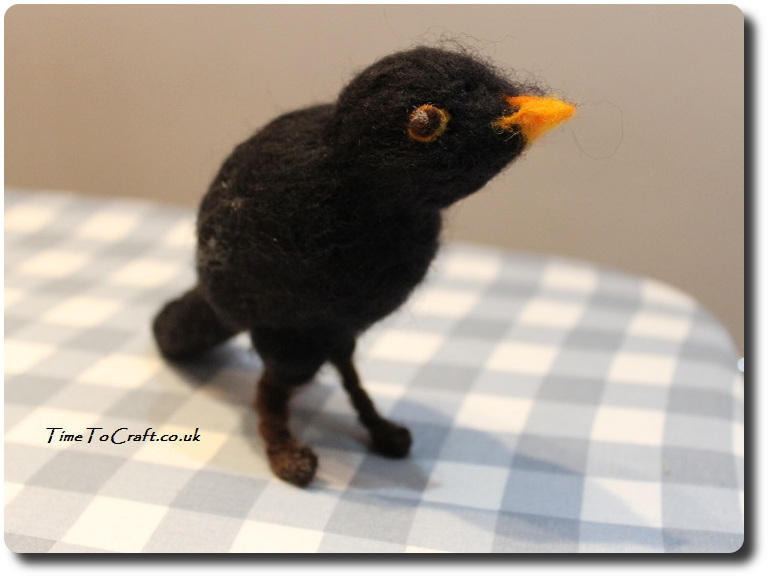 Blackie has now been gifted. I could have played with the shape for longer. I wonder if I would ever be totally happy with it. Probably best that he's gone to live somewhere else.
---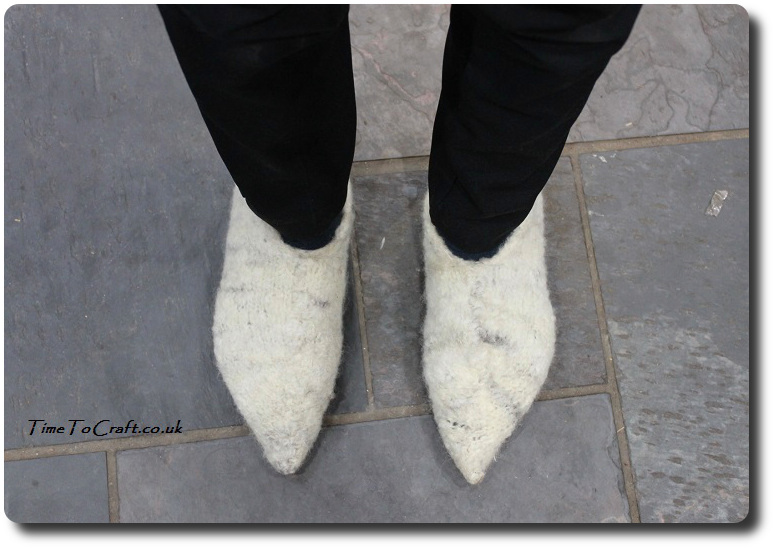 First craft project of the year is complete. It's a simple one, made more complex by its numerous stages. For the sake of sanity, this process was fortunately spread out over successive years of near inactivity. Slow crafting at its best. Allowing plenty of thinking time.
Do and leave. Repeat till done.
Some projects seem to mature with time. This was one of them. Let me tell you its story.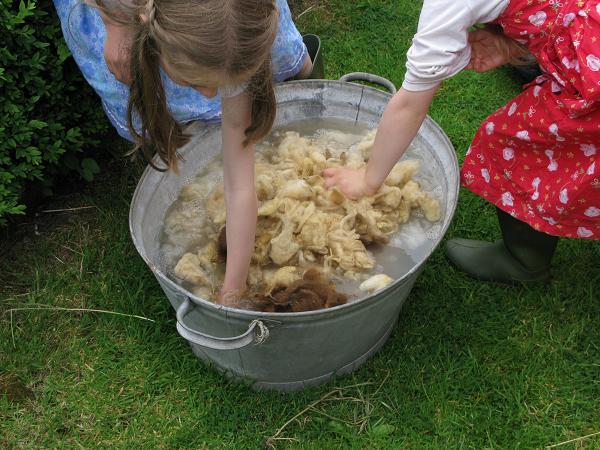 The beginnings of this project arrived in our kitchen in the form of a bag of sheep's fleece. Excess to a friend's requirements. Did I want it? Otherwise it would be wasted.
The photo above dates back to summer 2010. A year that lent itself to washing and drying fleece. Making the most of the gentle breeze and warming sun.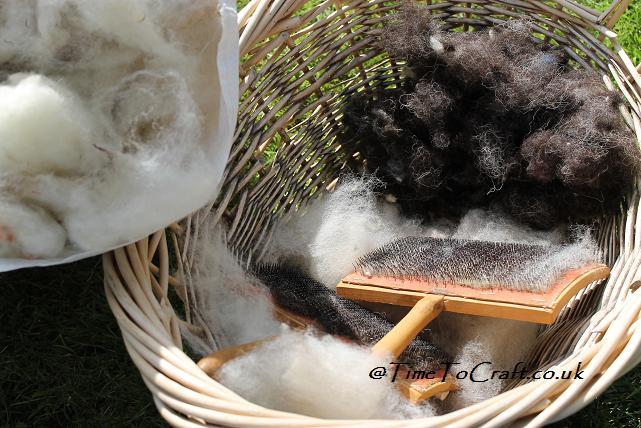 Roll on two years. (I said it was slow). On a warm spring day, out in the garden, the clean fleece was carded and sorted. Then hid in sacks ready to use, another day.
It stayed hidden for another three years. Until, one evening, I spun it up into balls of yarn. Returning it into hiding, in a drawer, until the time was right to use it. The photo is from January 2015.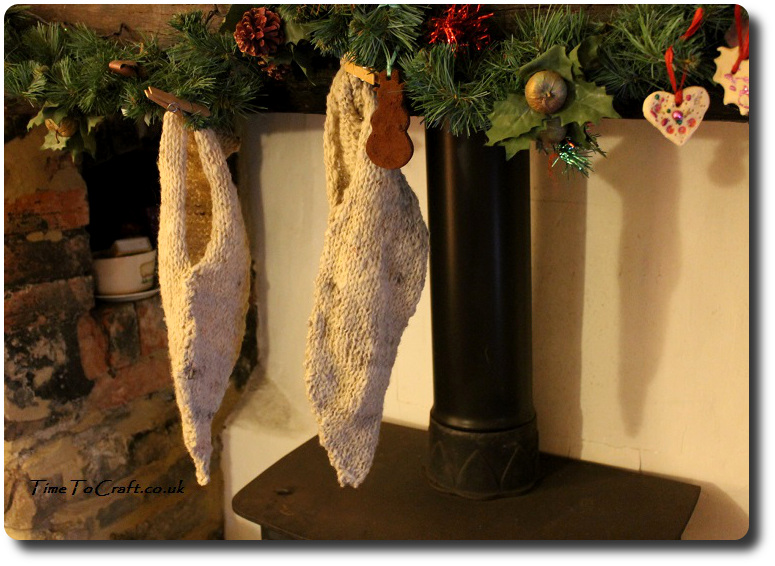 Until finally, this month, this year, it's ready to use. The fleece can finally be transformed, by knitting (and a need and an idea).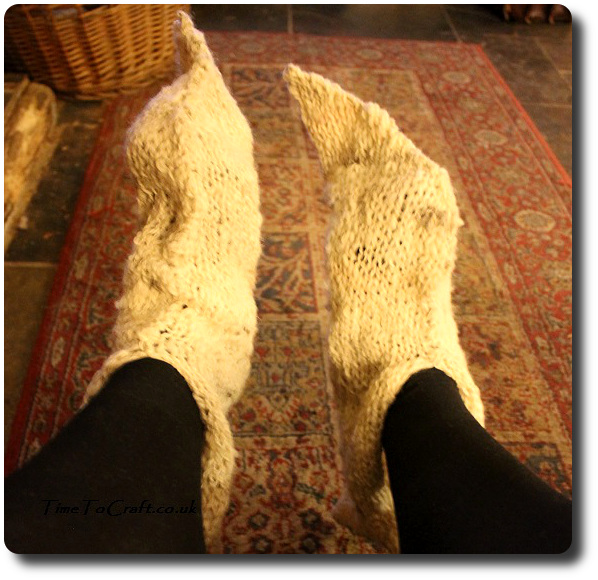 The story is not yet ended. They are now two, not one. Still not ready. They need one last stage before my work is done, but a pre-felting photo is compulsory. Right?
One day later, they are finally transformed into something useful. After time tumbling in the washing machine, with towels and jeans, they have taken shape. Slippers. Fun slippers. Ready for my middle girl. Once they are dry.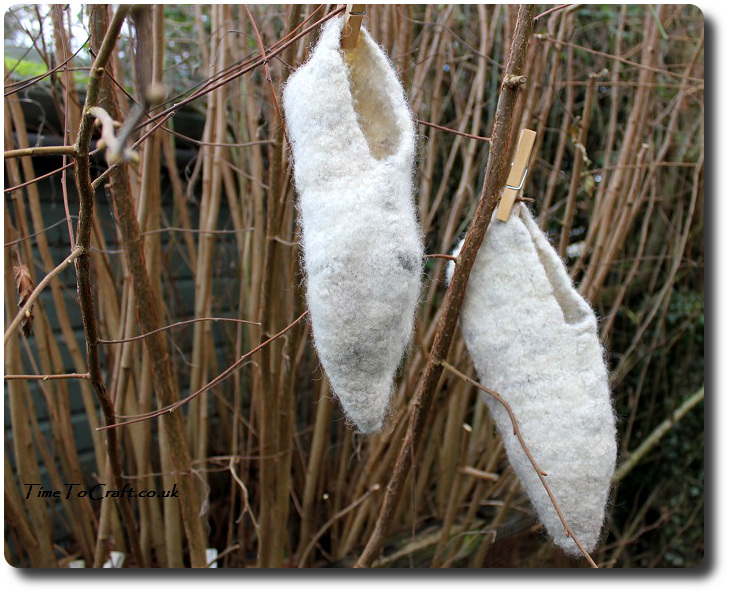 But, wait, there is something I did not intend. Something that magically happened long ago in one of the early stages. Not corrected at any of the other moments of making. Do you see it? The flecks of brown? Streaking across the felted slippers.
As if the slippers were made from the bark of a silver birch. Not fleece at all.
The fleece is from a Jacob sheep. Brown and white. When we separated out the colours, some small flecks of brown must have sneaked into the cream mix.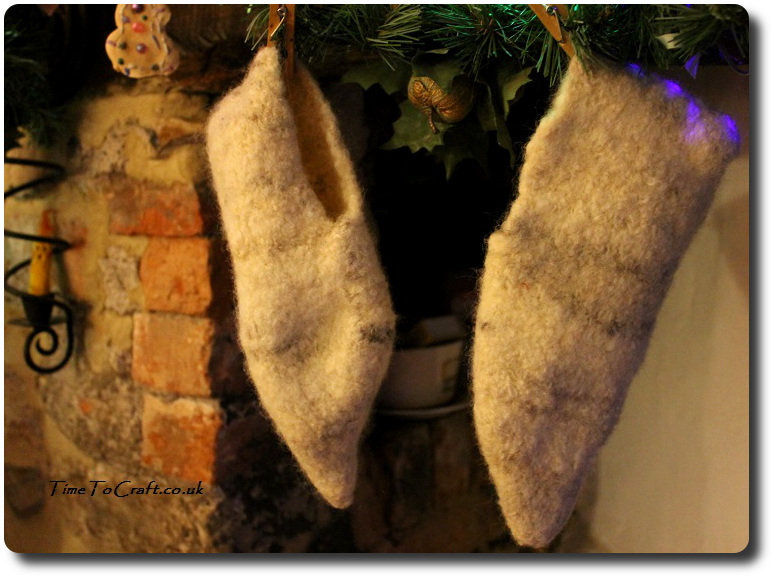 I'm sure six and a half years ago, when she helped me wash the fleece (she's the one in the red dress in the photo at the top), my girl did not imagine that it would turn into slippers aspiring to be patterned tree bark.
Or did she?
I like them. I like that they turned out not as I imagined. An unintended twist. Maybe an endorsement that some of the best things take time to grow and should not be hurried. Childhood, trees and, now, felted slippers included.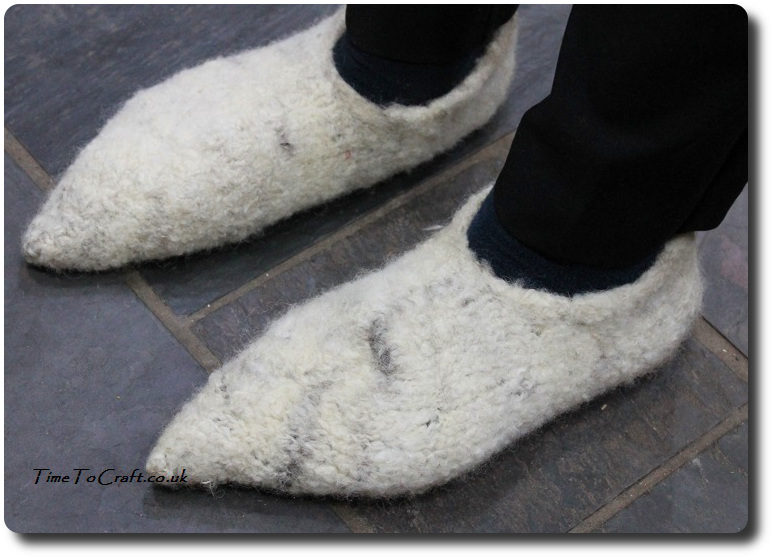 My job is done. Over to the new owner. The magic of handmade felted slippers is that the final transformation takes place on the intended feet. They begin to adapt to the shape of the feet. Working and stretching to fit perfectly, until they would suit no other.
Probably a good time to mention, that my girl hasn't got pointed toes. That is my added fun to the slippers. I was contemplating turning them up and adding a bell. Maybe next time.
First stash busting project complete. Right time to start another pair. Let's see if I can beat my six years record.
Linking up to #Trash2Treasure and Made By You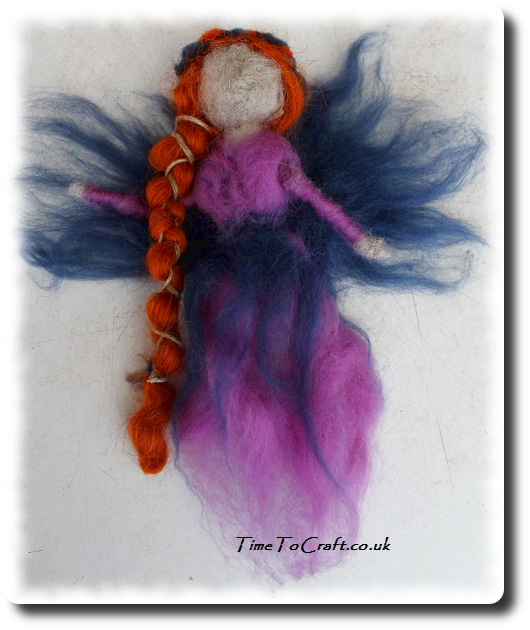 It can be tough for the children of a crafter to find their crafting niche. At first they follow their mother's footsteps, but sooner or later they need to branch out. Some give up. I've spoken to so many adults that talk about their mothers making dresses/ knitting jumpers for them, but they never got the hang of it.
I don't want my children to give up.
Both my girls can draw and paint. I doodle. They have already started to pull away from me in that area. I envy their ability to shade and make something look 3D. They have offered to teach me.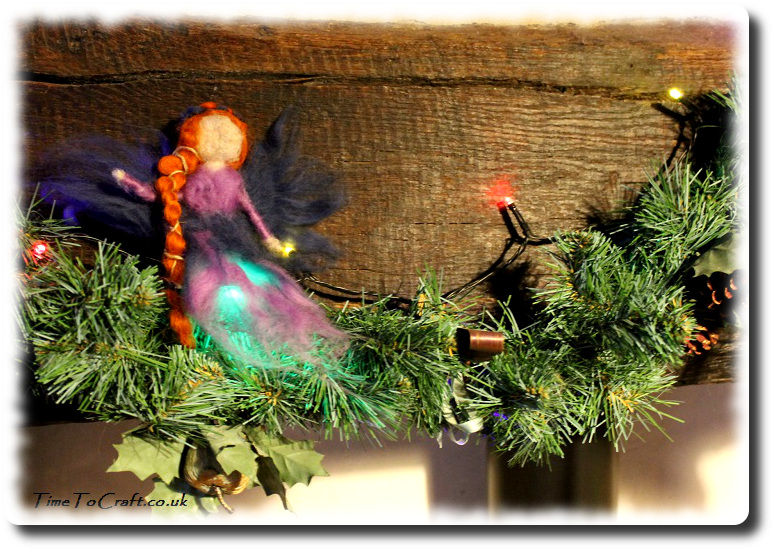 They love to watch me needle felt. So much that each of them now have a needle felting kit. Middle One received hers for her 12th birthday back in November. It is just a needle in the holder, a foam pad and a bunch of colourful wool. She has to supply the imagination.
This weekend, she borrowed her sister's wool fairy book, looked up images of other fairies on the internet and made her very own fairy. All by herself. I've never made one. The only input I had was to point her in the direction of the pipecleaners (Lift arm. Point. Its a strenuous job, but someone has to do it) and suggest a special wool for the hair.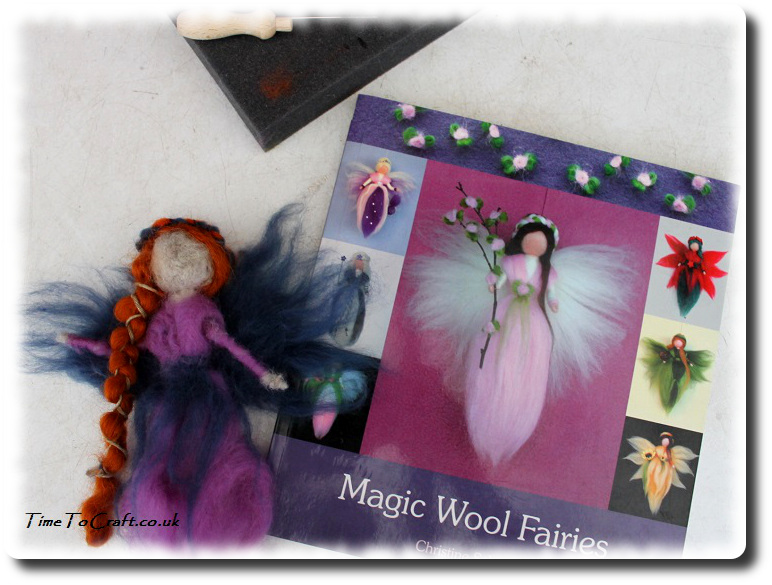 I bought the orange hair wool years ago, when I made waldorf style dollshouse dolls and the bigger type too. The brown string running through the doll's hair, keeps the curls in place, while being stored. Middle One decided she liked it just as she found it. So the string stayed put.
I really, really love what she has made. First attempt too.
I should talk about the lack of facial features. I know it can bother some people. It is the style, often adopted for waldorf style dolls. Either no features or just the merest hint. The simplest way to explain this approach is that the viewer supplies the expression. If the doll has a fixed happy (I'm looking at you Elf on the Shelf) or sad look, then it never changes. This way, the doll reflects your feelings. Or at least, does not challenge them. You'll know what I mean if you have ever felt the urge to throw a doll across the room.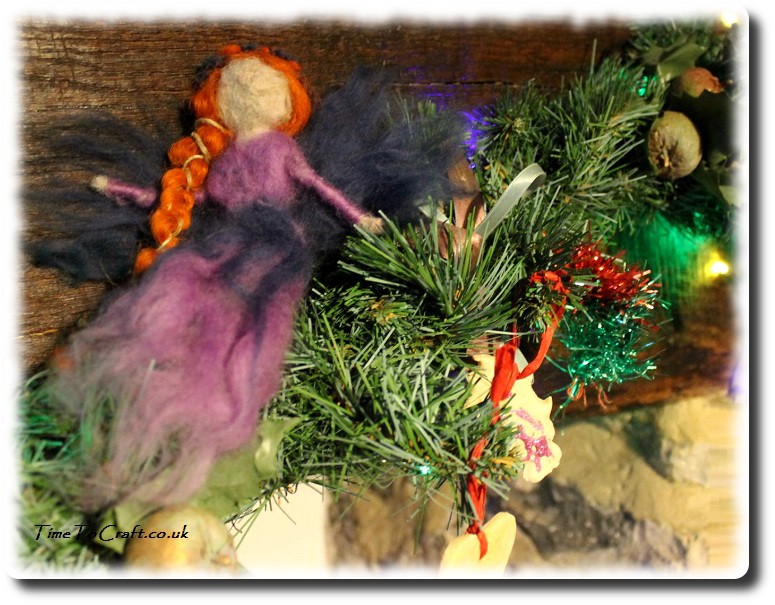 She wants to make more. Possibly one for her bestie, if I can dig up a bit more flesh colour wool. We went though my collection and nothing was suitable. It was all too bright or too dark. She didn't like my suggestion of green. I see now why they sell packs of flesh colour wools.
If you are looking for a crafting kit as a gift inspiration, this Christmas, for an older tween/teen then I can recommend needle felting. It does take patience and fingers do get stabbed ocassionally, but it is also a wonderful, calming hobby, promoting imagination and creativity. The book is one that Eldest chose and bought for herself a while back. She loves using it and getting more ideas.
I quite like the fairy hiding in the garland. I wonder if I can persuade Middle One to leave her there.
---
Affliated link.
Photos
There have been cases when people lifted my photos and words, and used them without credit to me or asking permission first. Using them for their own commercial gain. I have now added a level of security to deter people from doing this. Apologies to people who do play nicely. If you would like to use any of my photos, please contact me.
Copyright notice:
All my words and photos are copyrighted to me. They cannot be used for commercial benefit by anyone else. If you would like to use any of them, then please ask me first and don't just take. Written permission only. Don't pass my words, photos or ideas off as your own. It's not nice.
Cookie Policy
Our web pages do not use cookies however this website uses Google Analytics, a web analytics service provided by Google, Inc. Google Analytics uses cookies to help us analyse how people use our site. The use of cookies by Google Analytics is subject to change.