Way back when…ok a few years ago…, I joined in a washcloth knit/crochetalong. The idea was to make as many as we could and cheer each other on. Exchanging patterns and inspirations.
I think most people were making cloths for washing dishes, but I took it to mean face flannels. So I made flannels. Lots of them. Perfect for grubby toddler faces, as it happened. We still have them. The flannels, not grubby toddler faces.
Roll on to the present time. The toddlers have indeed been replaced by teens and almost-teens. Taller, and an answer for everything, but more to the point, able to wash their own faces. Along the way, they have grown to love face wipes. Disposable face wipes. Not eco-friendly, but quick and easy to use in their morning routine.
This is not ideal.
The wipes are used once and then flung away to start their journey to the landfill, along with the packet that they arrived in. I have no idea how long it takes for them to breakdown. How long those one-use face wipes are hanging around. Probably worse is the packet they came in.
This has to change. Now.
The solution is obvious.
Step one – I need to stop buying the face wipes and ensure that the flannels are used instead. I've moved the flannel collection from the airing cupboard into the bathroom, in easy reach.
Step two  –  to talk to the children. They like the idea and they understand why we need to the change.
Step three – to set up a routine to wash the flannels. I need to swoop in, on a regular basis, and whisk the flannels off to the washing machine. This needs to be fine tuned. There needs to be a balance between how many times the flannels are used between machine washes, which has its own green issues. Phew. Nothing is simple.
Step four – to make some more flannels. I've dug out a length of bamboo towelling from my fabric stash. It is supersoft, but sheds little bits of thread like crazy. Hemming required.
First bamboo flannel is made. I have a feeling that the bamboo is going to be popular as it has a pure luxury feel to it. So soft when I was sewing it, I could barely feel it. Like silk. Who says that when you take the eco-friendly route, that you have to rough it?
I'll make a few more over the next few days. I might add smaller, two-layered versions, that would be perfect to use with make-up remover, as well. I used one of the knitted cloths as a size guide, but seeing it makes me want to dig out more yarn and knit a few too.
So far, I've been operating the new regime for over a week and it's working. Fresh flannels available and being used. No more disposable face wipes for this house. Although I may make an exception for holidays. Especially as the Teen is off overseas with the school soon. Best to take one step at a time, as far as change is concerned.
I am so pleased to be getting this one off my getting-greener list. Are you taking any steps to reduce the things you need to throw away?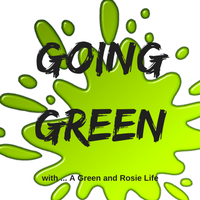 ---
You'd be forgiven for thinking I've forsaken all other craft apart from knitting recently. I guess it's temporarily true, but not for the want of trying. The problem is that I lack machine oil. It's on order, but it does mean the sewing projects lined up are sitting idle, while my knitting needles are left to click.
So here I am again talking knitting. Although I do have another yarn to share too, but first it's Wednesday, which means it's time to share my latest book and knitting project.
My sock knitting, from last week, is waiting in the wings. I added a bit more, but a more pressing need raised its head, or maybe I should say hands. A small pair of cold hands. Regular readers will have seen my finished grey gloves. For me.
You might remember that I had almost a full ball of yarn left, which I was eyeing up to make a pair of gloves for my youngest. Would it work, or would it not? Curiosity got the better of me and I went for it. Casting on for a smaller pair of gloves.
I've finished one glove, but now I'm playing yarn chicken with the second. I've warned my boy that I may not have enough yarn and the glove will be unravelled, but I'm also thinking creatively. I have no similar yarn to mix in, and, as I'm on a stash busting year, I'm not going to buy any more. They may become fingerless gloves. I may have enough yarn. We'll see.
Book-wise, I'm still reading Incredible Numbers, but as a lighter book, I've chosen a Rumpole. I really don't want to read anything heavy in January. It is a month that needs every help it can get. For me at least. Something light, witty and cheery. Rumpole. To be precise Rumpole and the Angel of Death, which now I write it down, doesn't seem like a cheery title at all. Maybe we shouldn't judge a book by its title, as well as its cover.
Now to the yarn, I promised at the beginning. We've solved our own mystery this week. Playing Rumpole, indeed!
Back in the summer, we grew sunflowers to store for the winter. The idea was to bring a sunflower head out for each of the cold months, to feed the birds. So far, so good. We've learnt a few lessons along the way, but it has been a success. We'll be planting more ready to repeat this again, this new year.
Anyway. First month, I put the stored sunflower head out. The little birds loved it and pecked it clean within the week.
The next month was colder, so I put out a bigger head. I stood back ready to enjoy the sight of little birds pecking happily away. Not to be. Within a day, it had disappeared. Gone. Completely. No trace. I checked the garden, but there was no sign. It was a big head. I put it down to an ambitious crow and drew up plans to nail the next one (sunflower head, not crow) to a fence post. That would sort out any crow shenanigans. I continued to mutter about how crows should stick to the surrounding farm fields.
Then this weekend, I was talking about the Fibonacci sequence with middle daughter, and how it's easy to find it in nature. I produced a stored sunflower seed to demonstrate my point.
I wasn't ready for what happened next. The pup, who had been fast asleep, or so I thought, suddenly leapt up and tore the sunflower head out of my hand. She started to rip the dried leaves off and toss them above her head. Sending them flying through the air and scattering sunflower seeds around the kitchen.
She knew what this was. She'd played with one before. It made a wonderful crunchy noise. It was fun. Lots of fun, which she intended to repeat with this new sunflower head. How kind of her mistress to bring her one again.
I think we've found our culprit. (oops! Sorry, crows.) Rumpole would be proud.
p.s. Before you start searching, I don't think John Mortimer wrote a book with the title Rumpole and the Sunflower Thief, as my blog title might suggest. Although if he did, I bet it would be a good read.
Linking up with Ginny
---
I've been thinking. Fabric and yarn kind of thinking. As I scrolled through my photos from last year, it struck me that I'd probably bought more raw materials than I had actually turned into finished objects. I know there is fabric bought that's not included in any of these photos of completed projects. Yarn stored away that could be in use.
Hmm. Admittedly, not an unknown state for me, but I can't carry on that way. Images of my sewing room door no longer able to shut, let alone the cupboards inside, start to float into my head.  – shakes head –
I think my main issue is that there will be an ever decreasing space for creativity. Too much clutter and other projects calling to me. How can I think or concentrate? I do like to start a project with a clean slate. A clear desk. No baggage from the previous one. Let alone the last five.
I need to store what I can use. Use what I already have in my cupboards. Be ruthless with the rest.
I want a clear working area.
So this year I am going to endeavour to use more of the materials I have in my stash. Not exclusively, but it should be the first place I look. Not the fabric store. – pretty fabric, soft yarn, come live with me –
I also need to finish the projects I have started. I know I have a number of tops, dresses and skirts that I've cut out, just waiting for me to sew. I need to finish those.
I'm not after a new year's resolution. That's not my style. I would be setting myself up to fail. I just need to remind myself, or gently point myself towards, existing projects. Maybe challenge myself to make one piece of clothing for me each month from my stash. Rather than being sucked in by a new idea. Maybe.
I'd also like to finish my Dear Daughter quilt. It is time. I cannot ignore the other two children hoping I'll start one for them too. I have 25 blocks complete. It is time to lay them out and see if I need more. I will need to buy fabric for the backing and borders. Not forgetting the bit inbetween, or wadding as some might call it.
Apart from that, I hope I can have a stash busting craft year. I've already kicked it off.
A halfway through photo of my latest project. Strange looking things at this stage, I admit, but they do look miles better after a wash. As I write, they are finished and ready for wearing. I'm really excited about how they turned out. I'll share more photos tomorrow. Not only a really good stash busting project, but they also turned out with an amazing, unintended twist. Not literally a twist, I should add. More next time.
Back to the point. With cupboards bursting, I am declaring a stash busting craft year. Sleeves rolled up and ready to go. Anyone joining me?
---
Photos
There have been cases when people lifted my photos and words, and used them without credit to me or asking permission first. Using them for their own commercial gain. I have now added a level of security to deter people from doing this. Apologies to people who do play nicely. If you would like to use any of my photos, please contact me.
Copyright notice:
All my words and photos are copyrighted to me. They cannot be used for commercial benefit by anyone else. If you would like to use any of them, then please ask me first and don't just take. Written permission only. Don't pass my words, photos or ideas off as your own. It's not nice.